If you're not fortunate enough to have a separate playroom or guest space, often it's the children's rooms that have to take the slack and become all three –however, with clever solutions you can ensure these rooms don't get overly cluttered.
Firstly, consider adding an integrated bed for guests that can be neatly concealed when not in use. Life is so much easier if you have a mattress and bedding ready to pull out for a last minute sleepover arrangement rather than moving things out of the attic.
"Trundles are great for smaller children, however older kids may prefer a separate sofa or armchair bed" says Claudia.
Homes are alive and as time goes by the spaces need to be updated to adjust to changing requirements. We often work again for clients after a few years to update some aspects of their home. We recently redesigned the floor of a Hampstead family home where the older children are now teenagers whose friends don't like sleeping in a pullout trundle, so we designed beautiful slim sofa beds which really smarten their teen rooms, they are a great way to add extra texture and colour – and paired with a decorative wall light these spots are cosy nooks for reading and revision.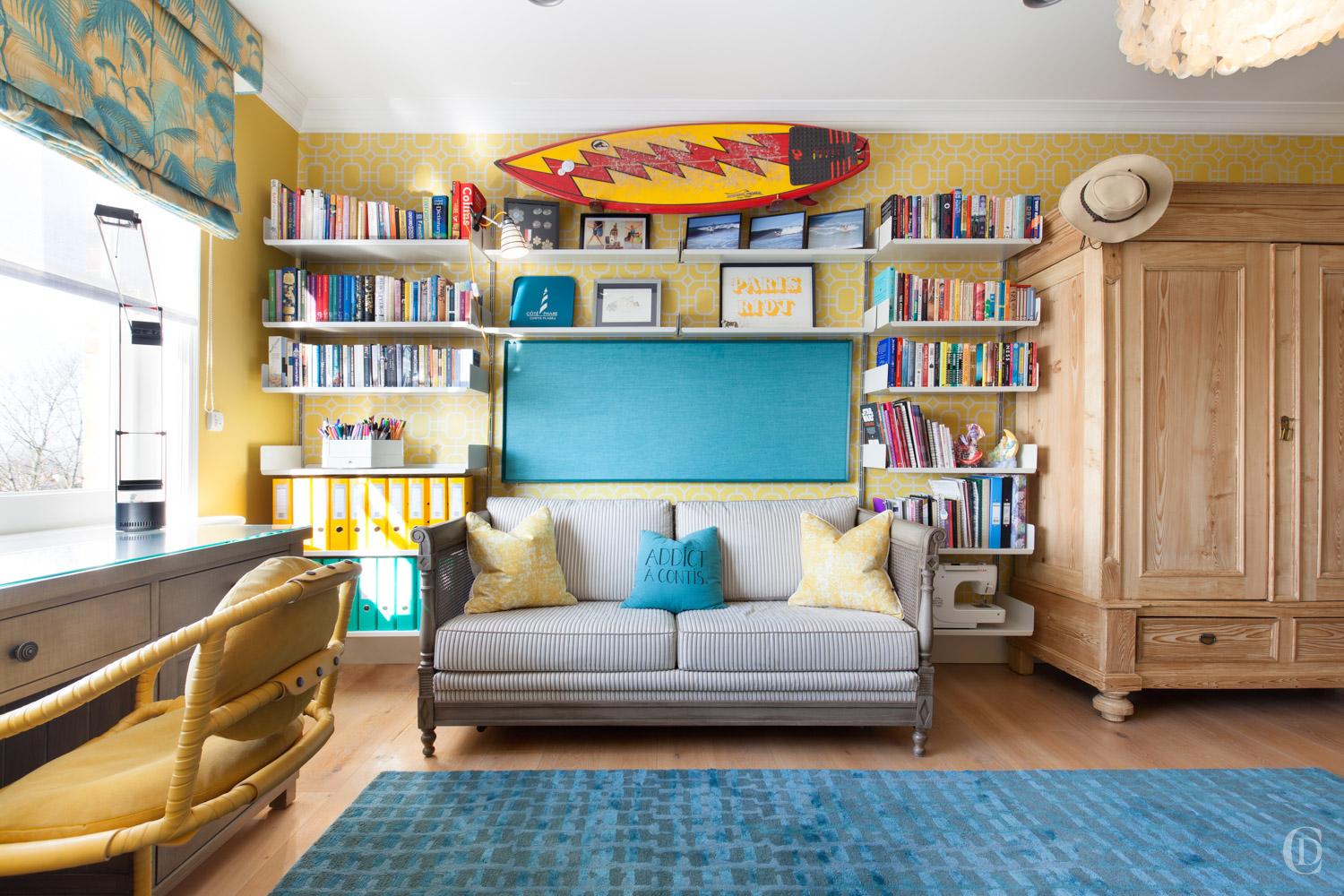 Then there's the issue of creating plenty of storage for toys, books and clothes, so everything has its place. We are particularly nifty with designing built in joinery and will use every inch of space to squeeze in an extra shelf – if you were to cut through this built- in walk-in wardrobe you would see there is no wasted space.
"If you have the space for storage to be built into the walls these solutions will keep a busy room orderly and efficient," Claudia advises.
We believe in making rooms work really hard and designing in partnership with our craftsmen to find solutions for oddly shaped spaces. These three images show the same space outside and inside – the entire bed with its shelving at the head and the wardrobe behind is a false wall that was constructed under the eaves. Originally, the room had sloped ceilings on one side, so we squared it off with a partition wall and built shelving into it, as well as a walk-in wardrobe.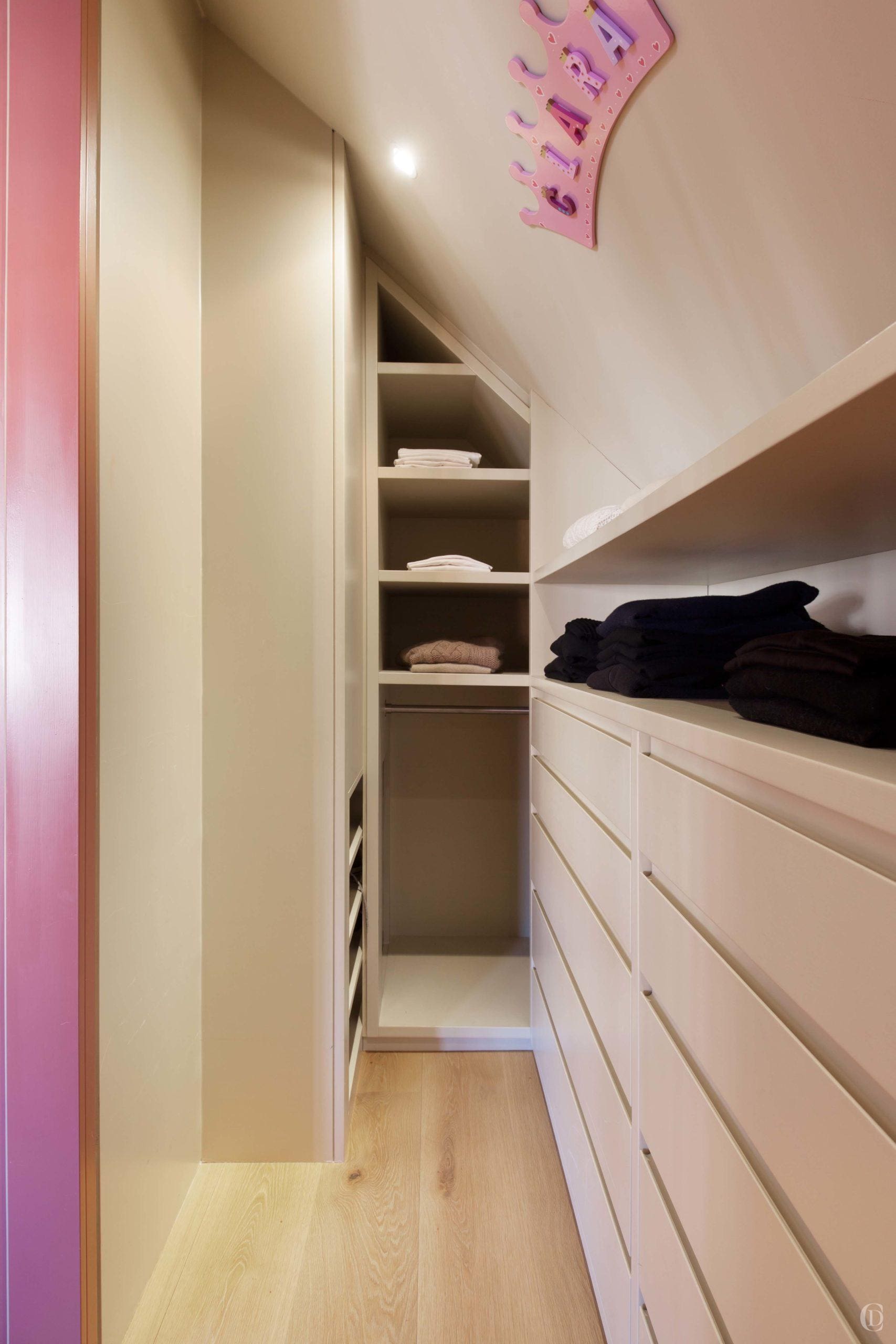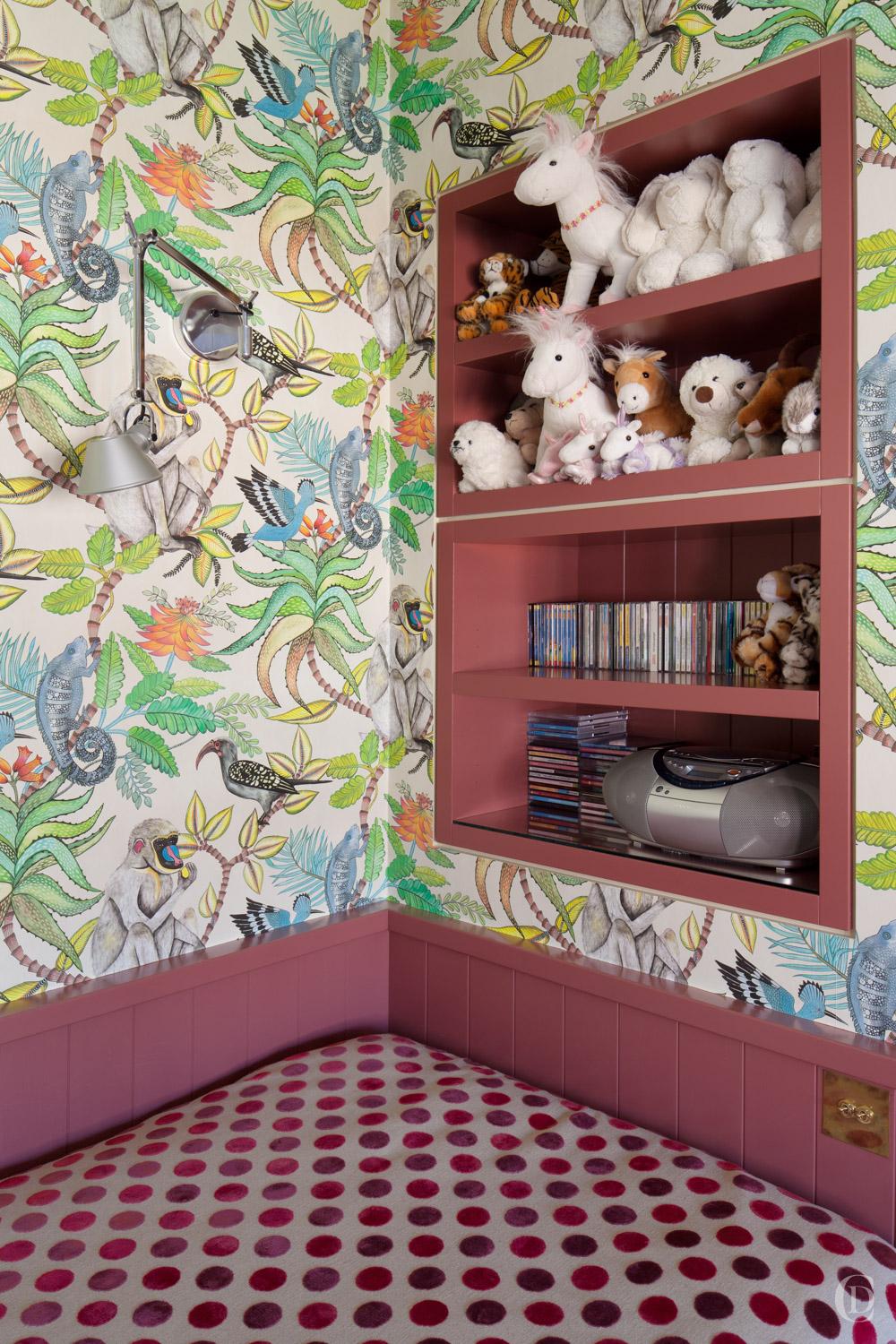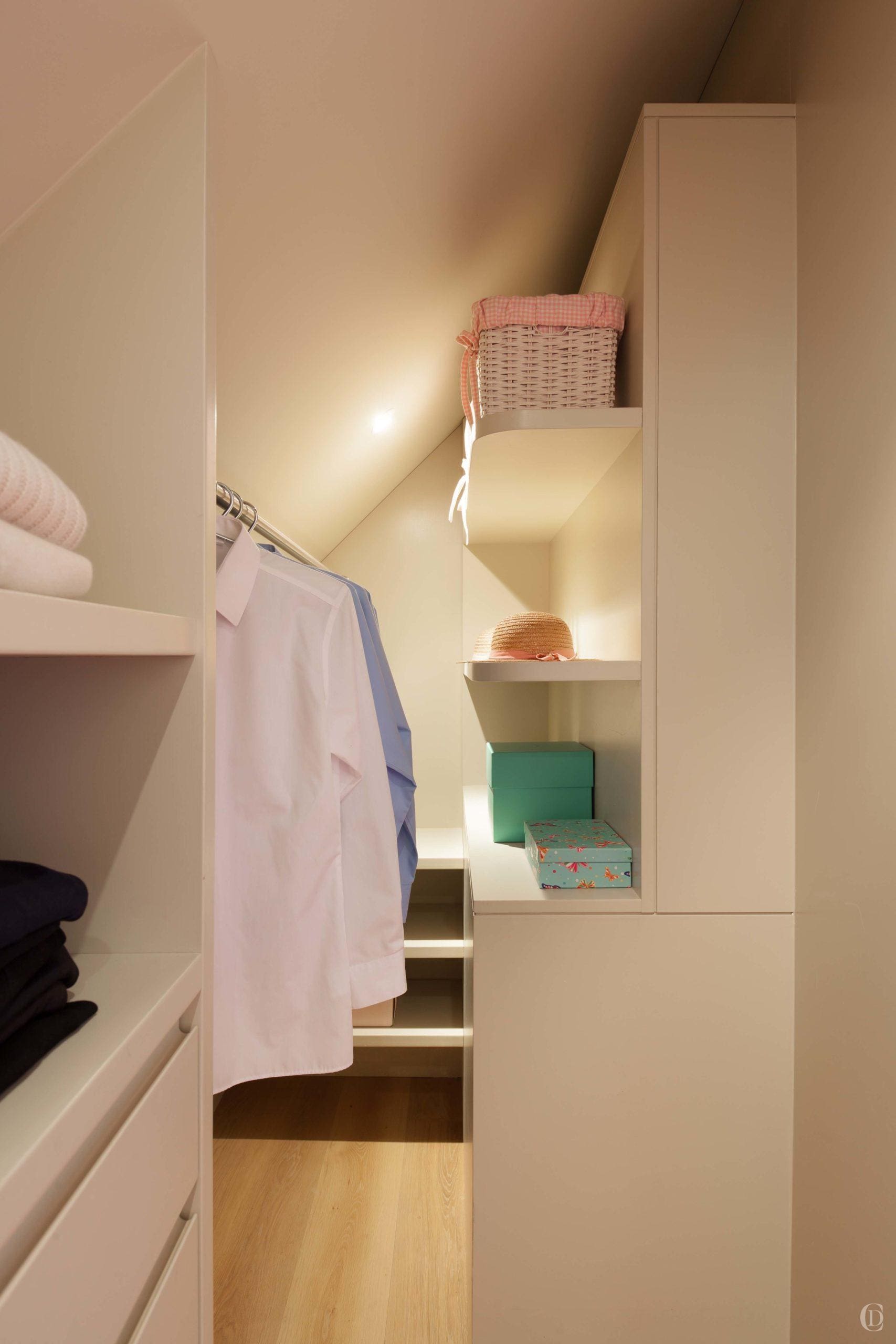 "Open the pink doors in the centre of the wall and they reveal the sloping ceiling behind where we've built shelving to fit the awkward space," she says. "It's a real-life Narnia wardrobe."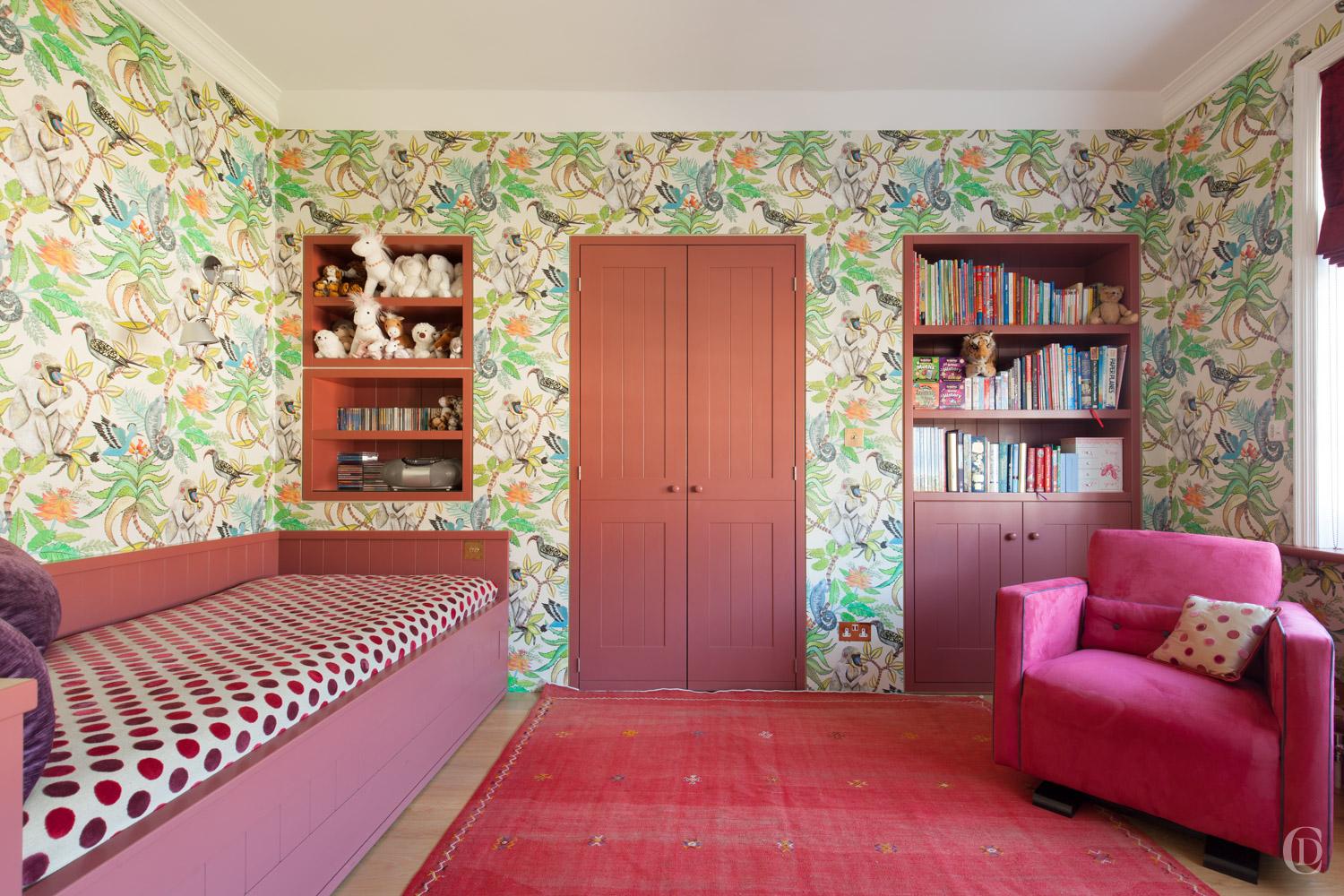 When you run out of built- in storage options as in the teen rooms, we add additional free standing wardrobes to house a growing collection of a young fashionistas' wardrobe. in this project, one of the wardrobes was a vintage family heirloom which we had bleached and stripped and then re-varnished. In the other room we painted the pink nursery wardrobe in a striking and grown up rich red and applied a trompe l'oeil paint finish which appears to have the same tongue and groove design as the built- in joinery. We practise sustainability and wherever possible we will 're-cycle' existing furniture to give it a new life.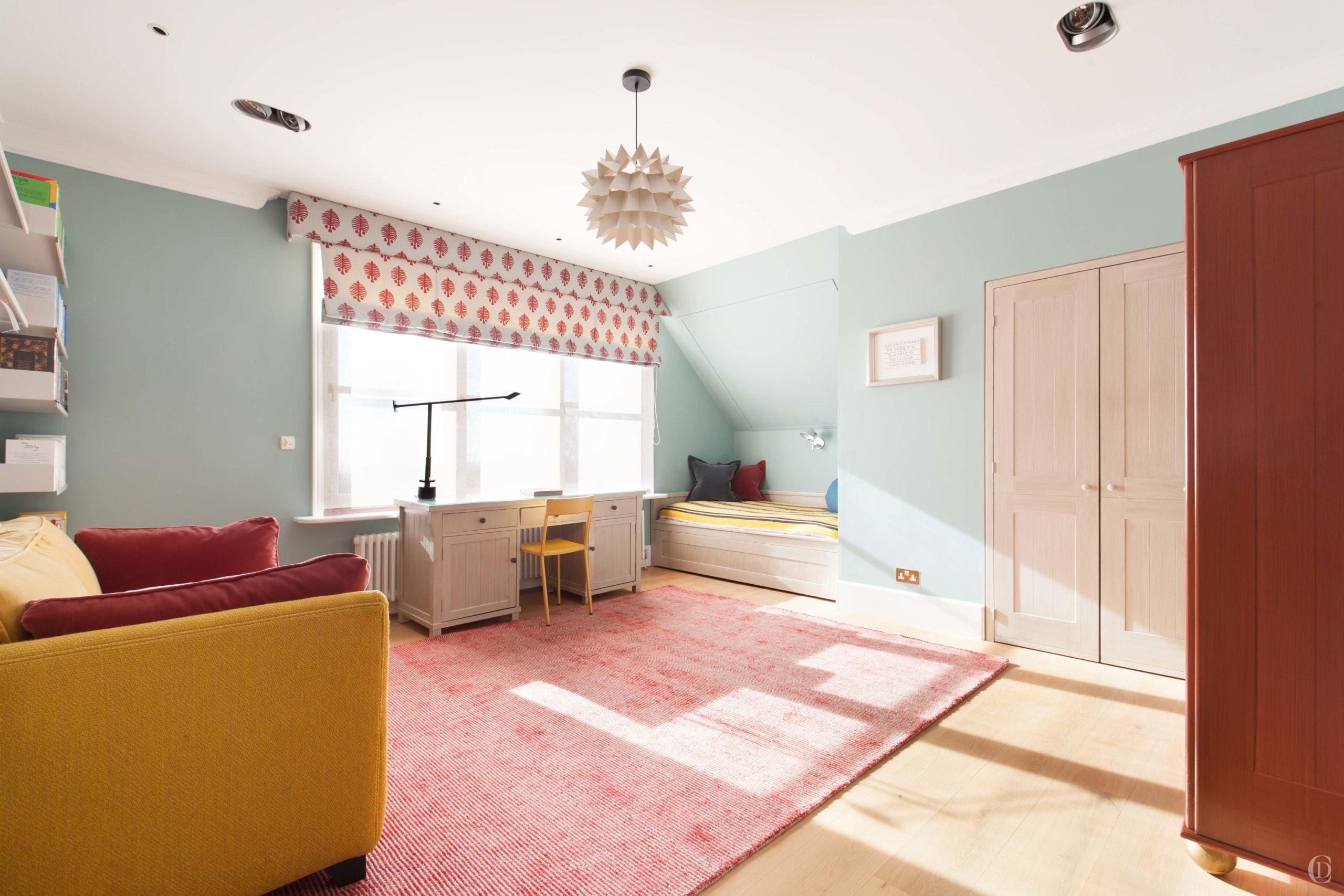 One item of furniture which we use time and again is the Vitsoe shelving system. https://www.vitsoe.com/gb It was designed in 1960 by Dieter Rams.
"Sustainable development is development that meets the needs of the present without compromising the ability of future generations to meet their own needs."
While we strive to create interiors which are inherently different and adapted to their surroundings and inhabitants, there are a few products that are so clever and fit with our vision of longevity and timelessness, that we allow ourselves to use them repeatedly. Especially in children's rooms which naturally must adapt as they grow and must allow for creativity and individuality to be expressed, we believe this shelving system is a wonderful product, one which can be extended, rehung, redecorated, reconfigured and move from child to teenager to university to first home – it will last decades.
Lastly all children and teen room need as much desk and shelving space as possible – everyone benefits from having a large comfortable desk, where books, notes and a laptop can be stretched out on for doing homework, revision or arts and crafts. The desk in this image is another vintage item, sourced just with the right width to fit between the Vitsoe tracks and that was painted to fit with the wallpaper.
''Keeping books, toys and pens closeby is essential –  and if you can fit in a pinboard for fotos, notes and timetables that is the icing on the cake for an efficient workspace.''