Creating homes that are comfortable, functional and beautiful is always our goal and this is very relevant right now as we are all isolating at home. We are in the Easter Holidays now and many of us would have wanted to travel but now we are spending our holidays at home. I want to give you ideas and tips how we approach design for certain rooms and in this series which I will be writing in the coming weeks and months I will share how we start the design journey and what you could consider if you are planning a renovation project for the future. In this first blog I will address ideas for small bedrooms. Often these small rooms are cramped or end up as a dumping ground and we really love to enhance small spaces.
Before we begin planning a small bedroom, we discuss with our clients how the room will be used, it is important to fully understand the role and function and all the demands and expectations we have for a space before 'reinventing' it. This could be a spare room for occasional guests and double as an office. It could be a child's bedroom and we have to understand if clothes storage, toy storage and a desk and bed have to be fitted. Or it could be a master bedroom and we need clever solutions for the use of space to fit the furniture – the bed, bedside tables or shelves and storage. We will also consider lighting and window dressing and art and accessories. Therefore it is an important part of the design journey to have the conversation about the rest of the apartment or house to determine which functions can be carried out where.
"Often, clients want to fit too much into a bedroom and we may discover through our analysis that the living room, the study or even the bathroom could accommodate furniture such as a desk, a dressing table, a wardrobe. We truly want to maximise available space but without making rooms cluttered."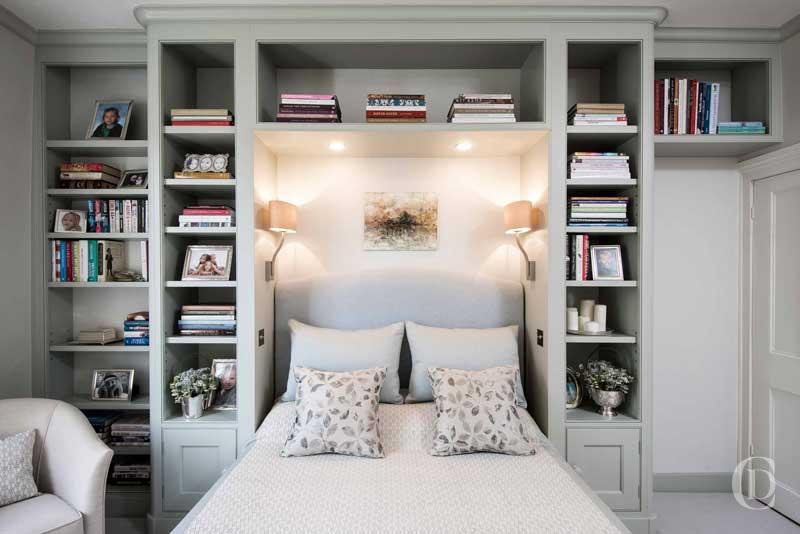 The full picture
In the bedroom the main item to consider is the bed. The size of the bed is important – we must keep in mind some proportion of the bed relative to the overall floorspace and the rest of the furniture we wish to accommodate. In the image above, the clients were used to sleeping on a 150cm mattress which was an ideal width for the size of the room and allowed us to design a well proportioned, spacious and beautiful bookcase around the bed. When clients prefer 160+cm beds we have to measure up spaces very carefully, a too large bed will incur consequences on other items of furniture. We always produce measured CAD surveys of the room and fully measured floorplans where each item of furniture is drawn exactly to scale. Sizes and proportions can be misleading if not measured and drawn correctly, so in a small bedroom where space is tight we will carefully juggle the various dimensions of the bed, the bedside tables and any other items. We also carefully consider the type of bedframe we recommend and where the bed is placed. We strongly recommend pop up storage beds and the French brand TRECA produce the best quality storage divans. The placement of the bed is equally crucial, sometimes there is only one option to place a double bed but in some rooms beds can be moved to another wall or even under a window – to make the final decision we have to evaluate all the factors in a room, we can never make a single recommendation without considering the whole picture. I would draw up various options and present scenarios before chosing the final layout.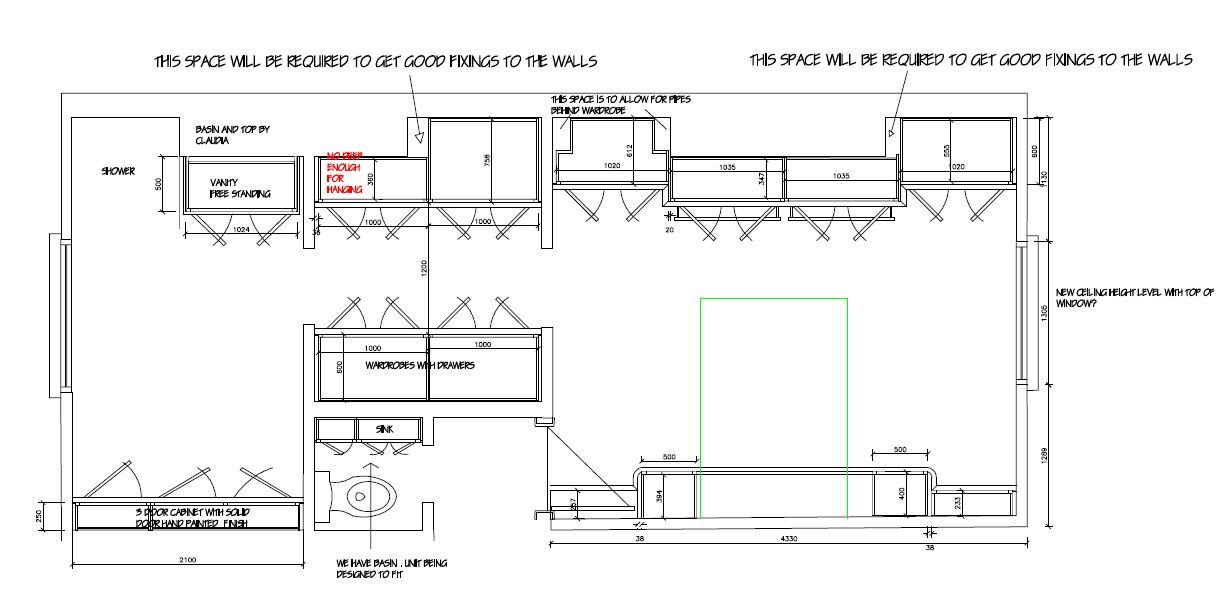 Planning the structure
In many Georgian and Victorian houses we encounter doors which swing into the room blocking the view and then 'wasting space' if the door is left open. This has a huge impact on how big the space feels. Many times we rehang the doors so it swings towards a wall and the space 'opens up'. Another great option if clients are able to undertake a small amount of building works is to turn the door into a pocket door. This is what we are currently planning for an en-suite bathroom so that the door does not impinge on the bathroom space. We then consider how to arrange the furniture. Depending on the shape of the room, we might install a built in wardrobe in the entrance, usually with sliding door as space would be tight, the doors might be covered with mirror or fabric or wallpaper or they might blend in with the wallcolour so as the atttract minimal attention and just 'disappear'. Then the rest room feels more spacious. In other situations we might design a walk through wardrobe section between a bedroom and an ensuite. In some rooms we might incorporate a small drop down study desk or a pull out vanity table into a wall of wardrobes.
Planning storage is always a priority and there are many ways we can add storage besides the wardrobe. We mentioned the pop up storage beds from Treca  https://treca.com/en/ and there might be space for a beautiful feature piece of furniture such as an antique tallboy or commode with drawers or even a very modern drawer unit such as USM https://www.usm.com/en-gb/residential/ which can contain smaller items of clothing. It is important to get the mix right between free standing and built-in solutions, we often design some form of bespoke joinery which allows us to make use of every nook of space and equally hide odd parts of walls and give a room a better shape.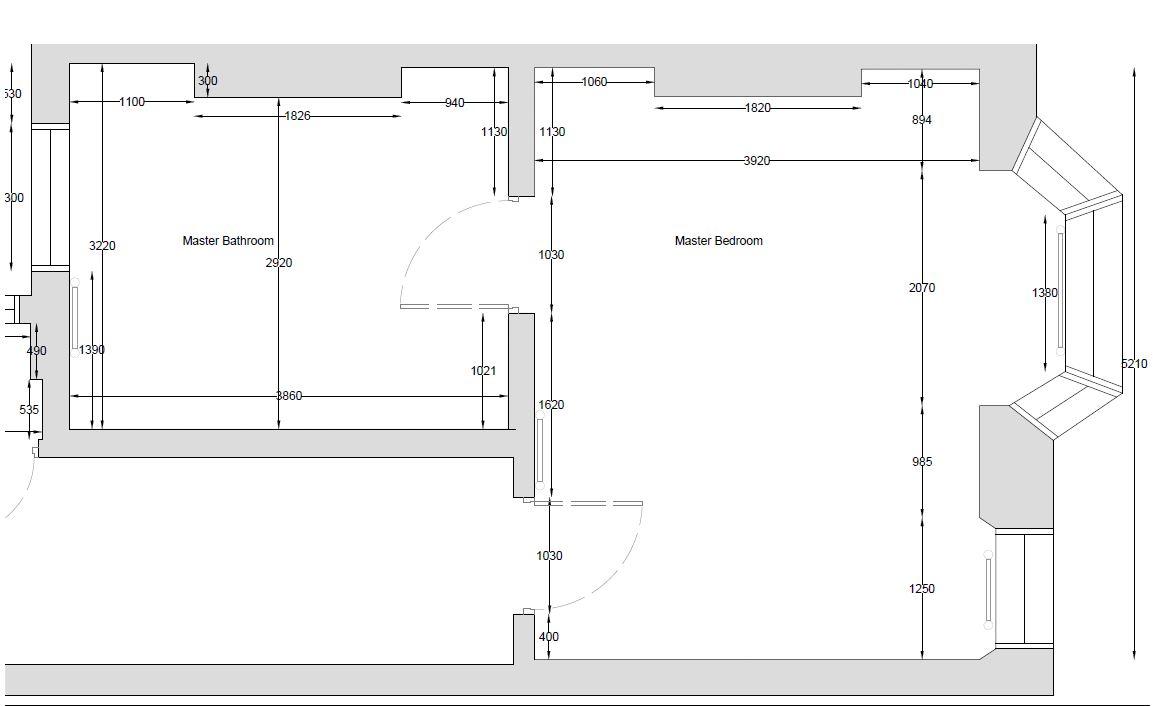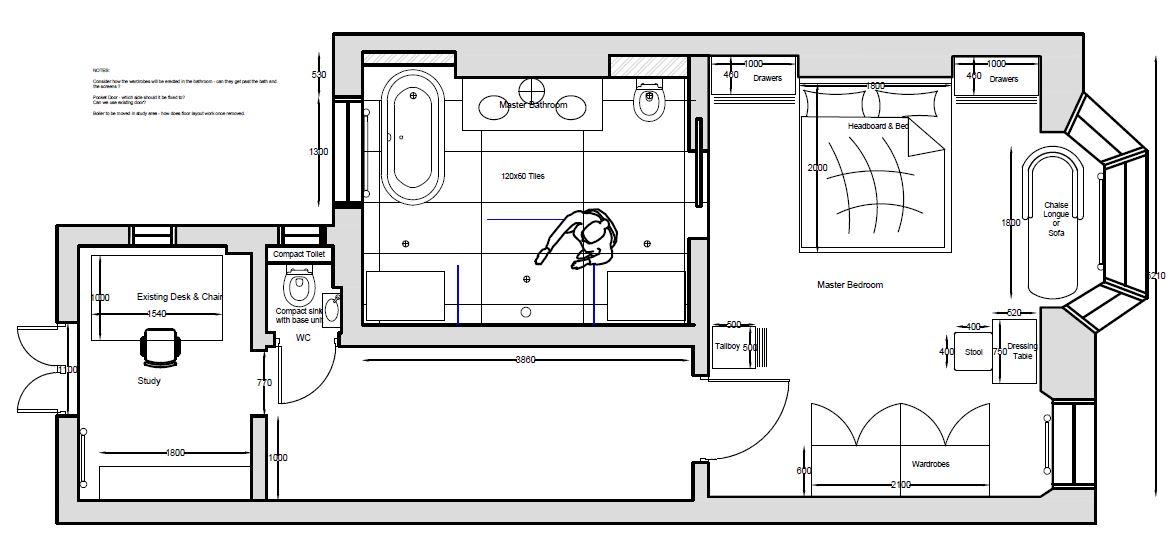 Finishing touches
Choosing colours and materials in small rooms are very important. Deep rich colours are cocooning. We have painted a room in two tones or installed a very bold rich colourful wallpaper on the wall of the headboard. A fairly monochromatic colour palette can be soothing on the eye and calming in a small space. Dont neglect texture and patterns. We often start off the soft furnishings scheme of a room by picking the wall colours, the headboard and the window treatment fabric. From those three key elements we build the rest of the scheme for the bedroom.
This will then address the flooring, rugs, cushions, bedlinen, door handles or drawer pulls, art and mirrors and especially lighting. Day light and control of light is a key factor in bedrooms. Some clients have to sleep in a pitch black room – I know this from my own children – and so this is always one of my first questions to any client: what is your tolerance on light coming in through the windows and this will influence our window dressing design.
"Curtains take up valuable space, in small rooms we recommend using rollers, shutters or Roman blinds  and if you're fitting Romans, fix them as high up as possible so they let in maximum light when they're open."
Don't be afraid to be bold in small rooms but keep in mind the purpose, the initial analysis of who will use the space, for what and when. The importance of the design process is to collect all the ideas and the requirements and consider all the factors which will enter into the scheme and then weigh them up, edit and consider how it all fits together, the sizes and placements of the furniture, where lighting is positioned, the colours and the window treatment – try to avoid making isolated or impulse decisions or purchases, planning is really important. Designing the space from scratch can also mean you could look around your home what piece of furniture you might have elsewhere and could be re-purposed, repainted, recycled . Your home is your sanctuary and it has to be very personal, you might have a picture, a mirror or a ligt somewhere else which can used and by mixing old with new you can give new life to the space.
If you have questions please get in touch!