A Vibrant Family Home
Interior design | Hampstead Heath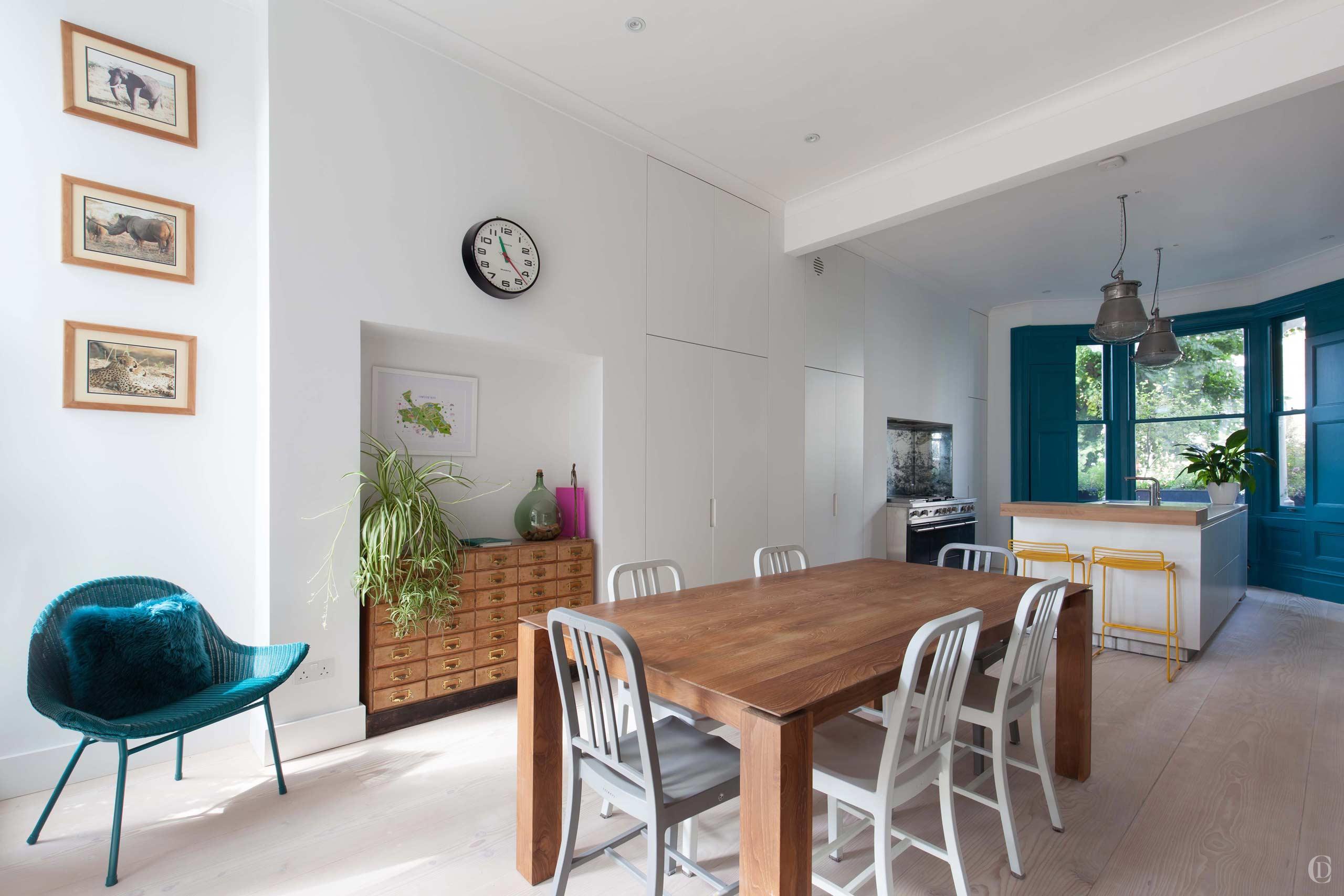 Injecting colour on a white canvas
This Victorian semi-detached house benefited from structural alterations in the last decade, but our client felt it needed sustainable interior design changes to create a vibrant living space. The ground floor was opened up and extended to create a modern Bulthaup furnished open plan floor with kitchen and  dining space leading into a family snug and garden room. A rear extension added two bathrooms and the roof conversion created a generous master suite with bedroom, bathroom and dressing room. While these works added valuable additional space, the interior decoration was kept white and plain.
The clients appointed us for a full house project. The brief was to sympathetically update the interiors with a view to creating a vibrant and practical home using sustainable interior design practises suited to the lifestyle of this family with three young children.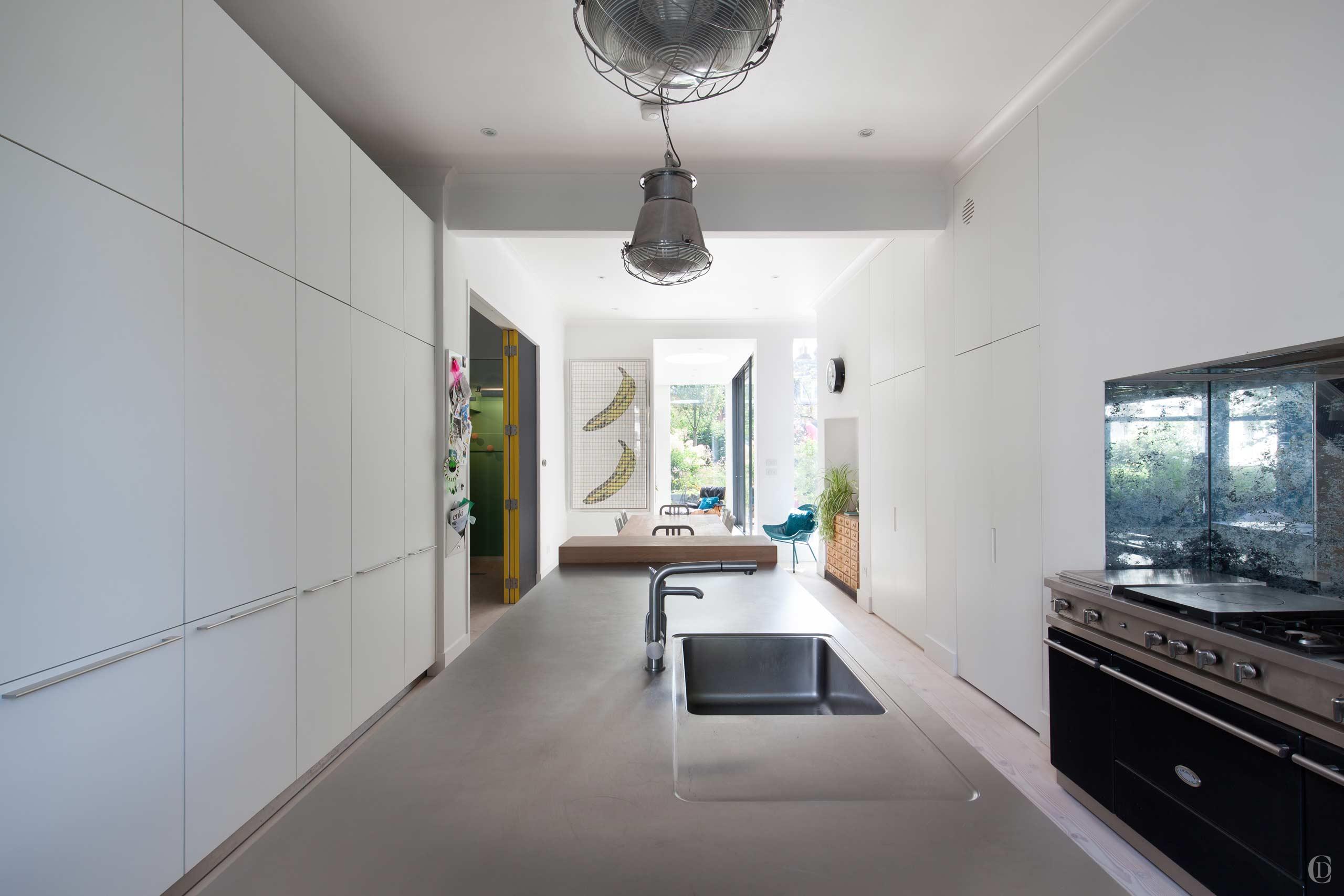 Layering of colours, textures and patterns
The first step in a project such as this is to study and analyse all the spaces in the house. We consider the architecture and its details, the artworks and furniture, the materials, fabrics and rugs, the toys and accessories. Then we listen to the client's ideas, lifestyle and aspirations and take the time to engage in conversations, sharing our analysis of the spaces.
We propose where we would add splashes of colour, where we might use textures, wallpapers or other materials.  Claudia's approach is to carefully curate a colour palette which will feel organically grown and not look 'designed'; the key is to be varied and bold yet consistent and complementary with each other and with existing furnishings. In this case we kept the ground floor and staircase walls white, but we installed bold patterned and textured wallpapers on the upper floors.
We injected colour on woodwork, carpets, staircase runners, radiators, windows and upholstery. We picked yellow and pink as the accent thread that weaves through the house in splashes, while shades of blue and green combined with red and black offer vibrant variations and complement the clients' artworks.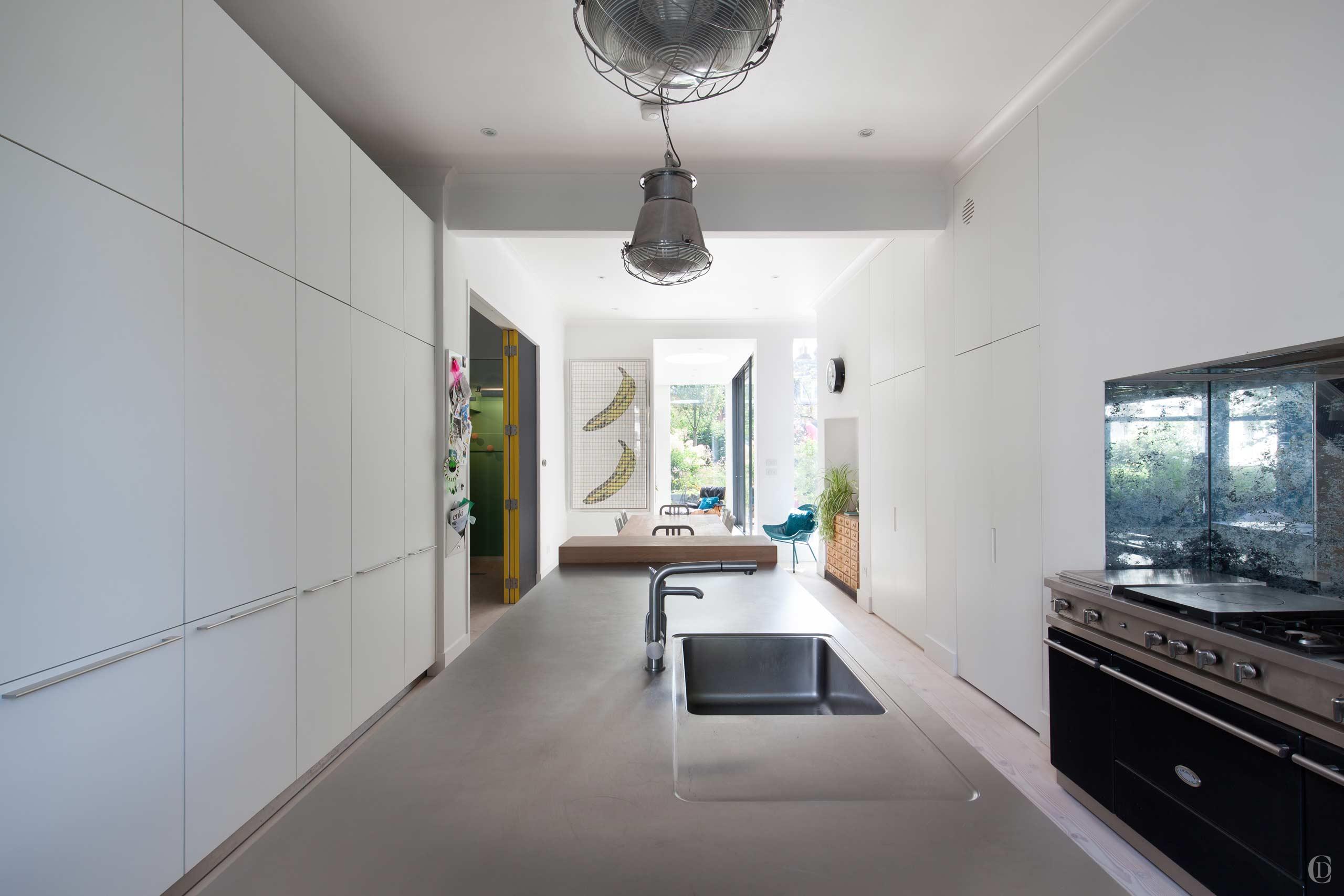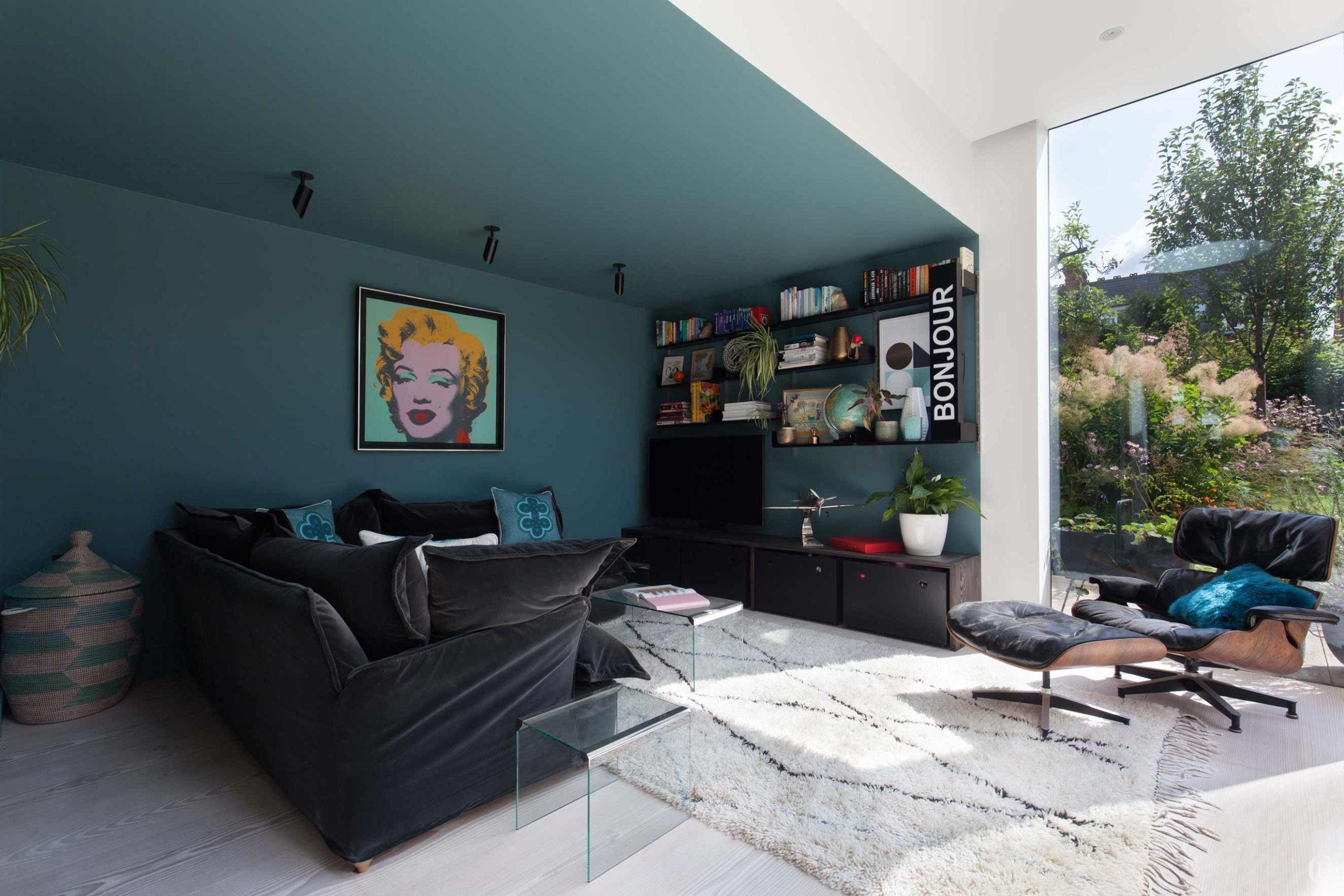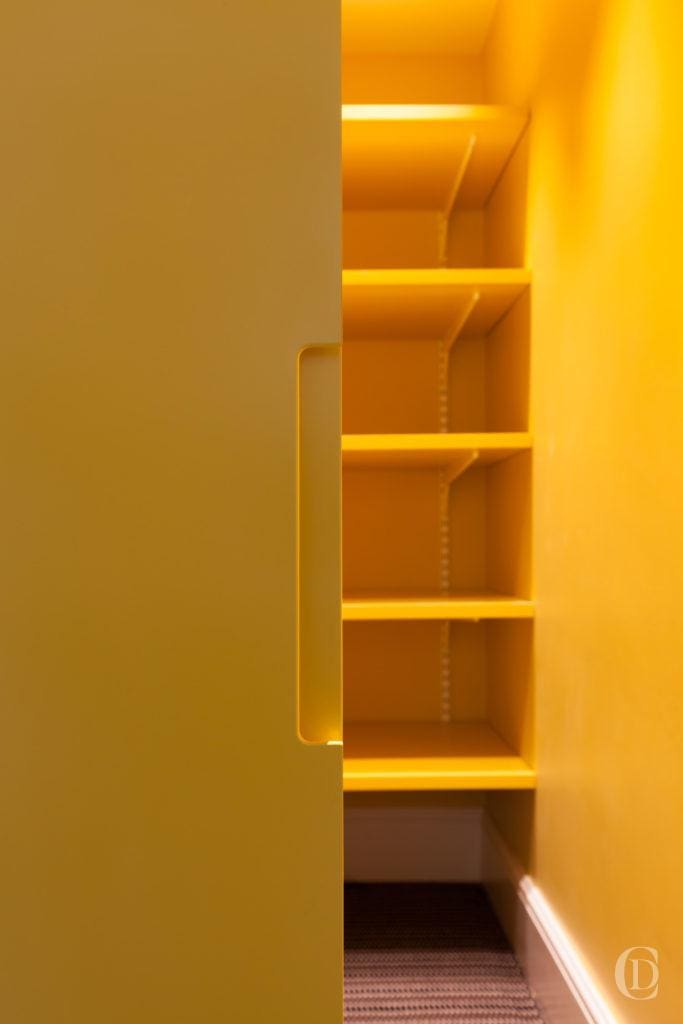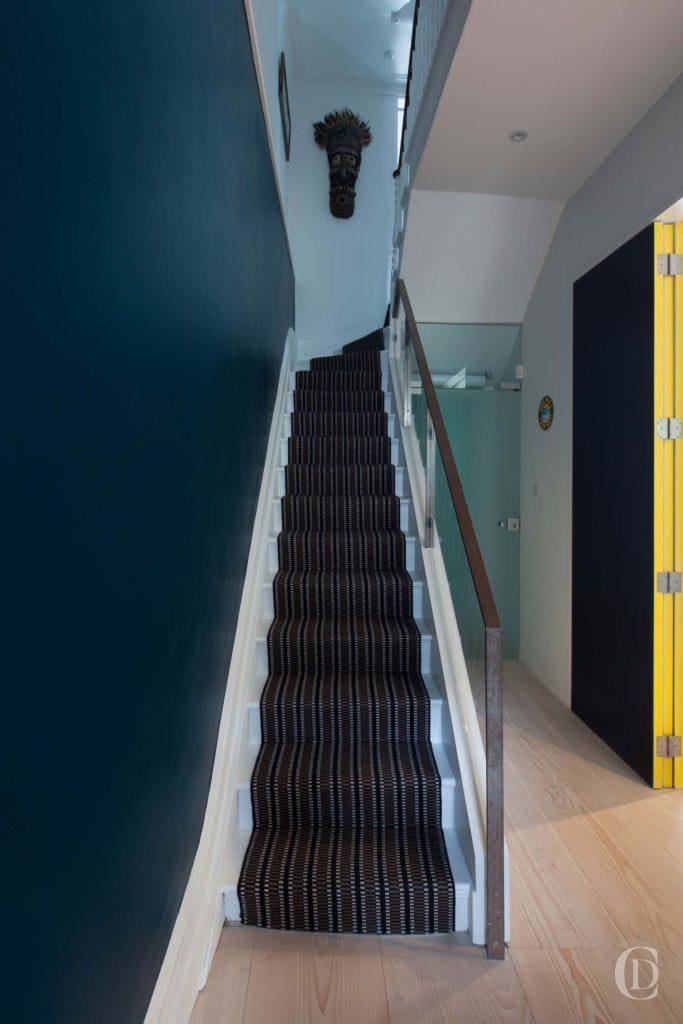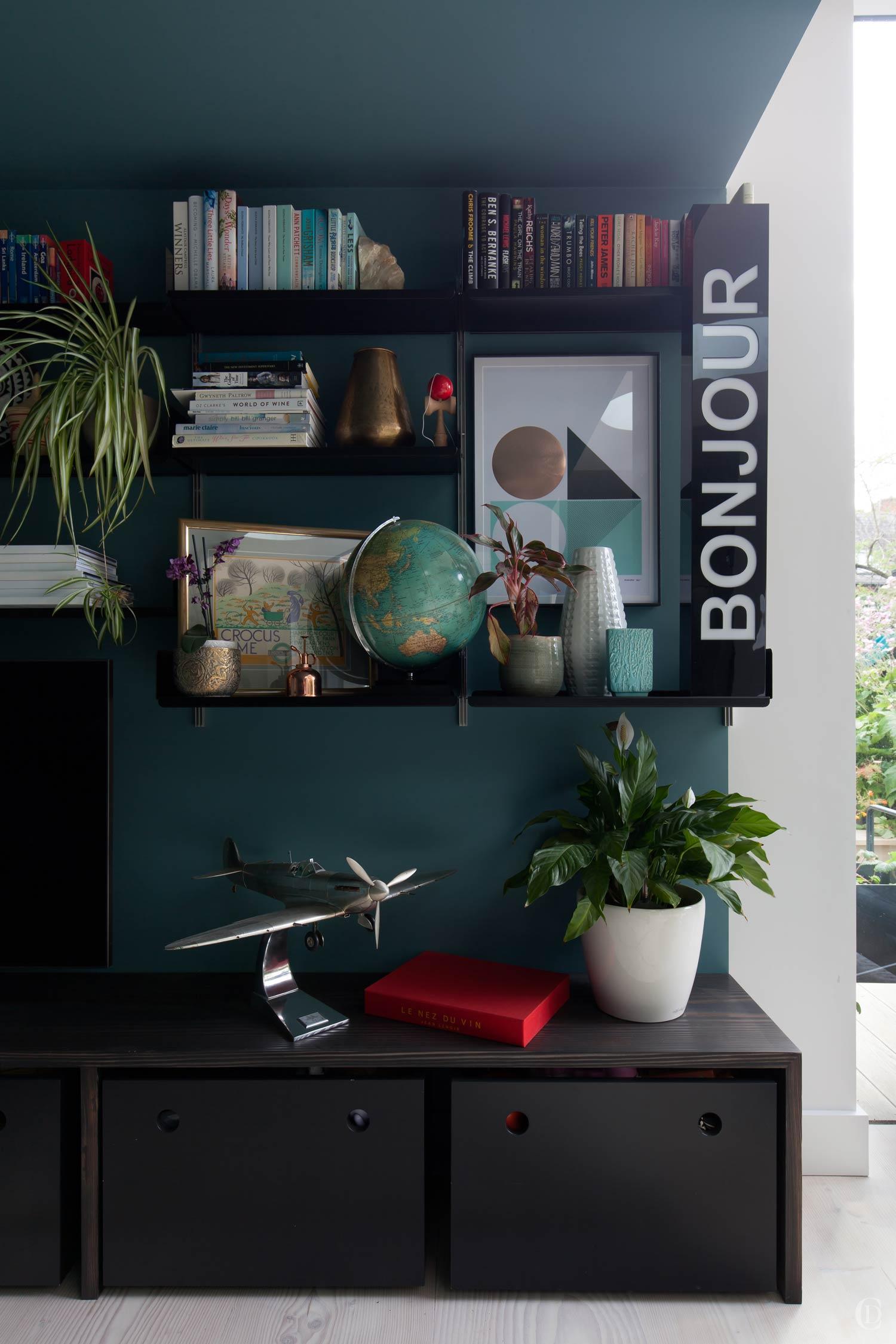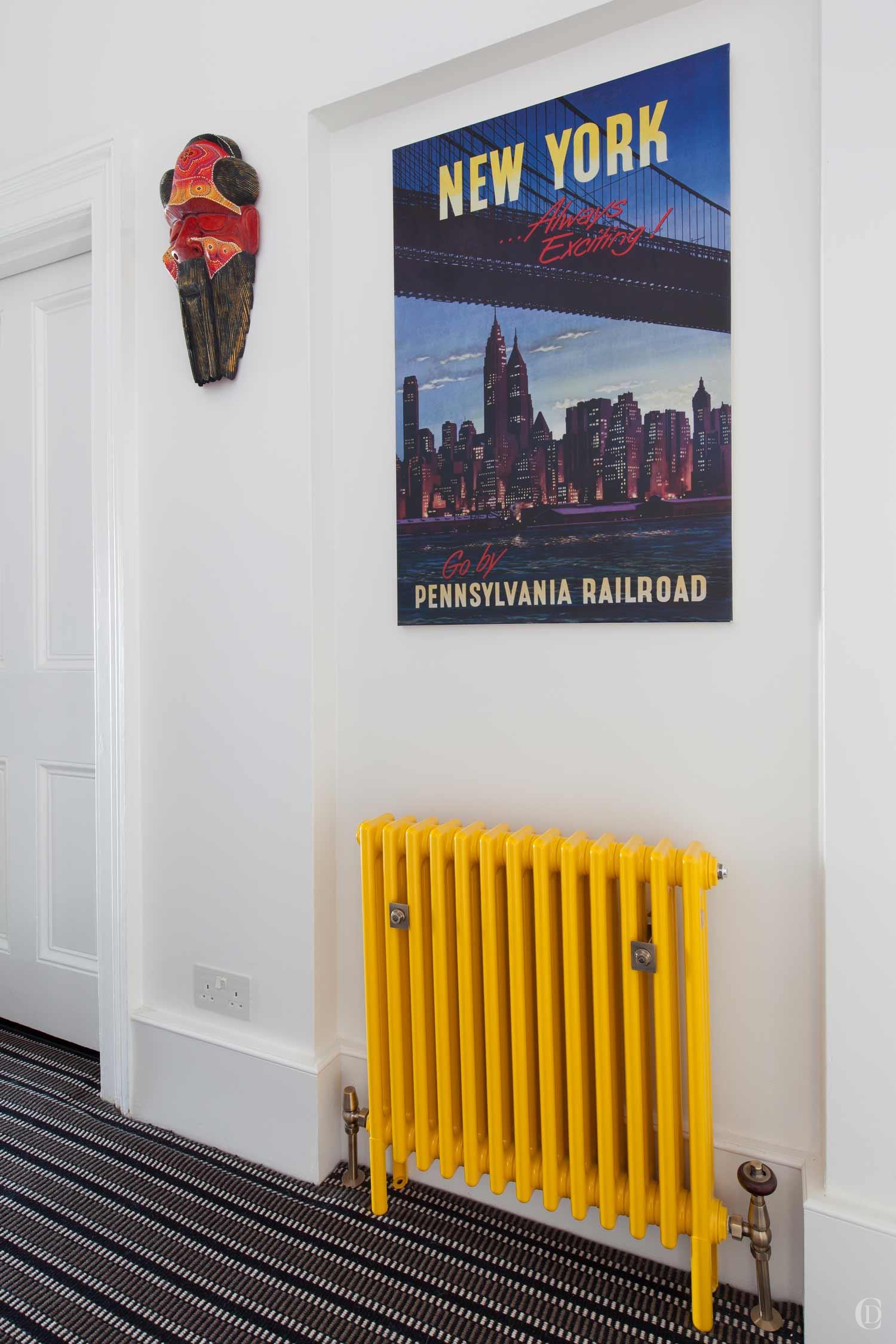 We enjoy partnerships with our clients and collaboration on a shared vision. Our client challenged us to search for and prioritise suppliers with a low carbon footprint and sustainability credentials to ensure sustainable interior design throughout. We selected British made furniture and lighting, especially traditionally hand made sofas. For all soft furnishings in fabrics, carpets, upholstery and bedding we prioritised wool, cotton, linen, feather and down. Wherever possible we upcycled, recycled, cleaned and restored existing pieces. In the formal living room we amended existing joinery with our skilled craftsmen to change sizes of bookcases and added doors to offer proper storage. We sourced vintage furniture and lighting, giving beautifully crafted materials a new lease of life.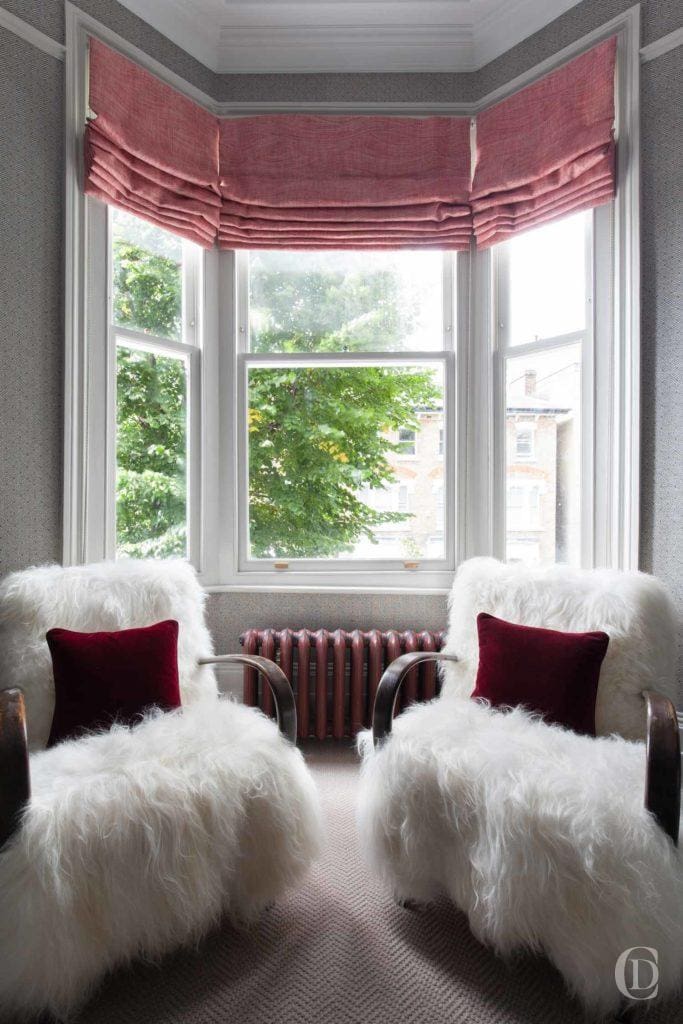 Hard working, multi-purpose rooms
Hiring a designer is an opportunity to take a step back and look at rooms from a new perspective with a fresh approach. We ask questions and act as a catalyst for change – who uses the spaces, what is missing, what is not working, what are the problems and what do you wish you could do in this space. We look at the problems from different perspectives. We analyse rooms in terms of activity zones and we consider traffic flow. Often, we identify that additional storage is required and we find creative solutions. We typically run through several alternative room layouts which we draw up and present and discuss, changing the positioning of sofas, beds, wardrobes and televisions until we find the optimal solution. Other important factors are considered in the design process – architectural features, scale and proportion, lighting and window treatments which can enhance functionality as well as aesthetics.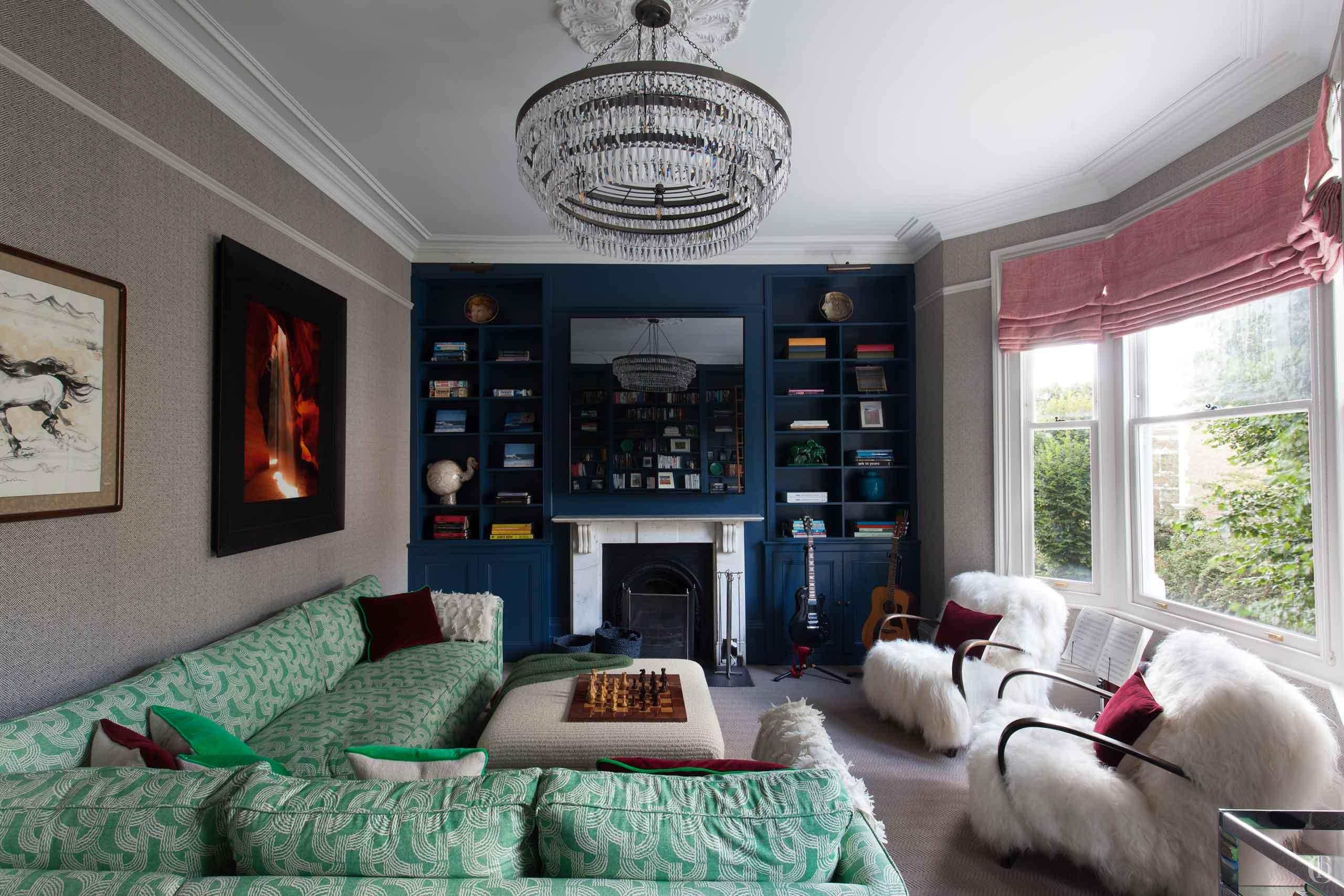 Formal living rooms for families with young children are a luxury that is hard to keep tidy. Here, we reengineered the entire room.
We removed a window seat and installed a new radiator to match the existing one. The architectural features had been lost over the decades and we reinstated appropriate cornicing and a ceiling rose. We wired new lighting circuits for the bookcases and the central chandelier.
We installed new wallpaper, new window treatments and carpet. Our skilled carpenter updated the existing joinery by adding doors to hide away toys and gadgets.
We moved an existing mirror to another room and rewired the fireplace wall to install a mirror TV which unclutters the bookcases. Finally we designed a bespoke sofa and sourced vintage furniture to finish the scheme.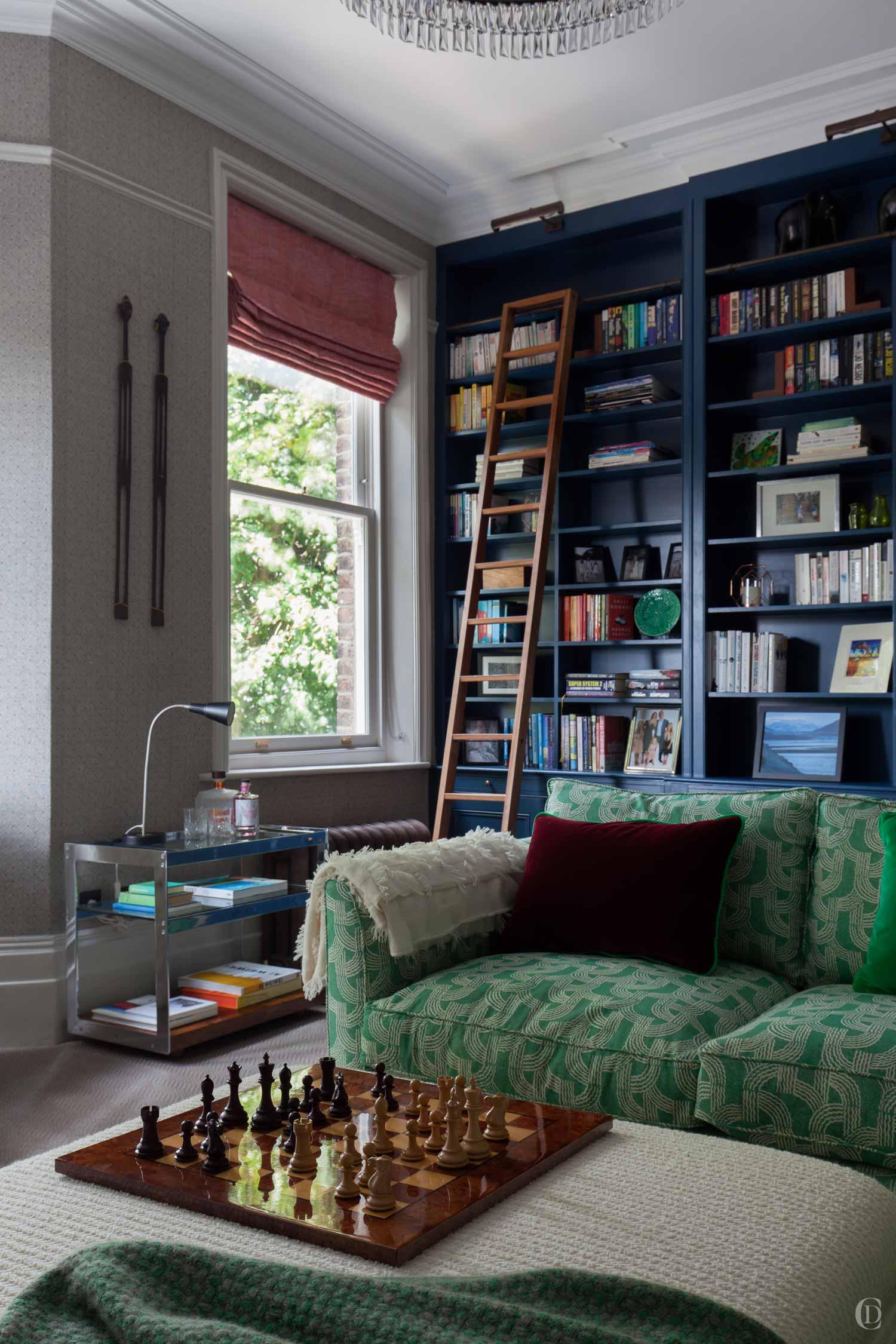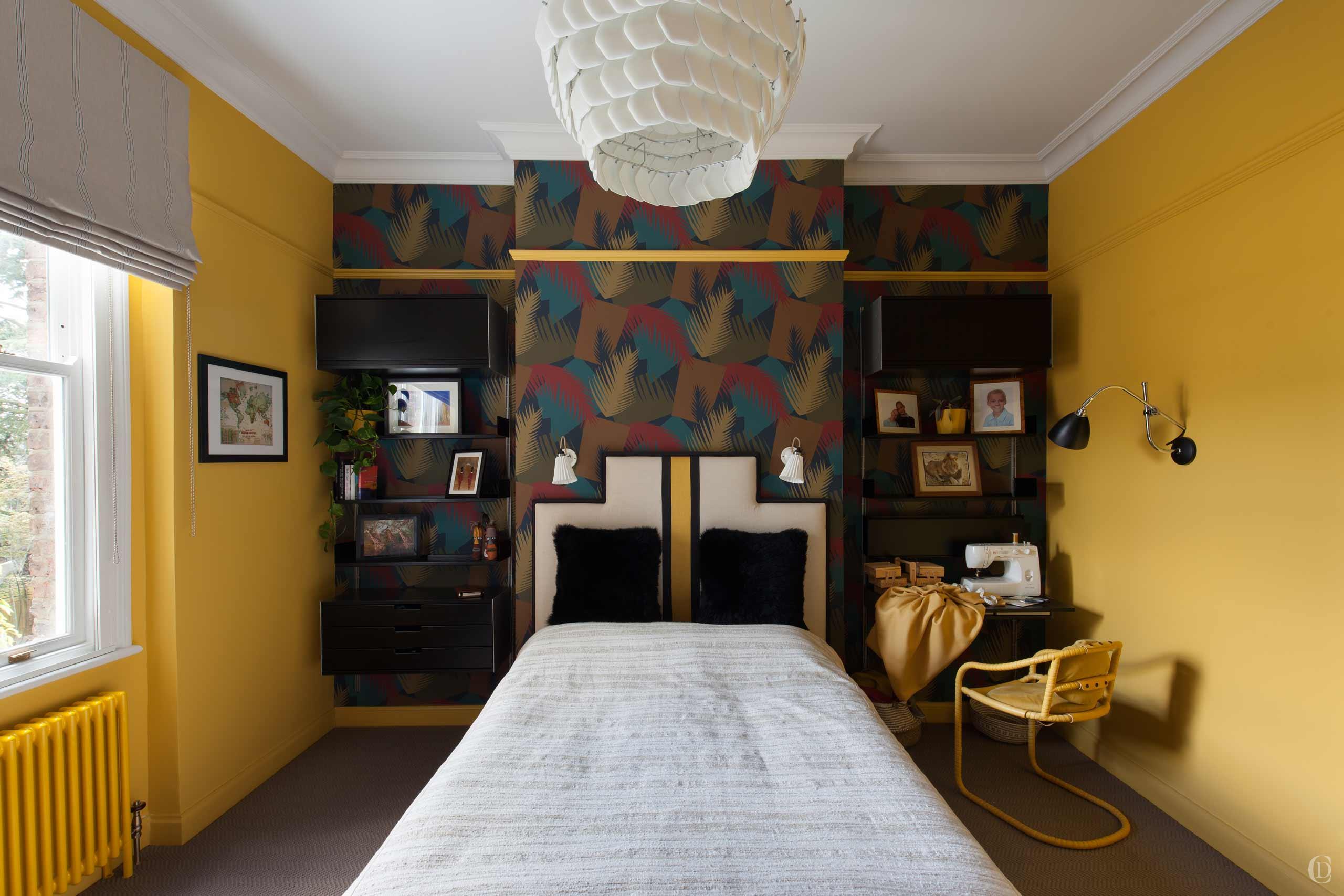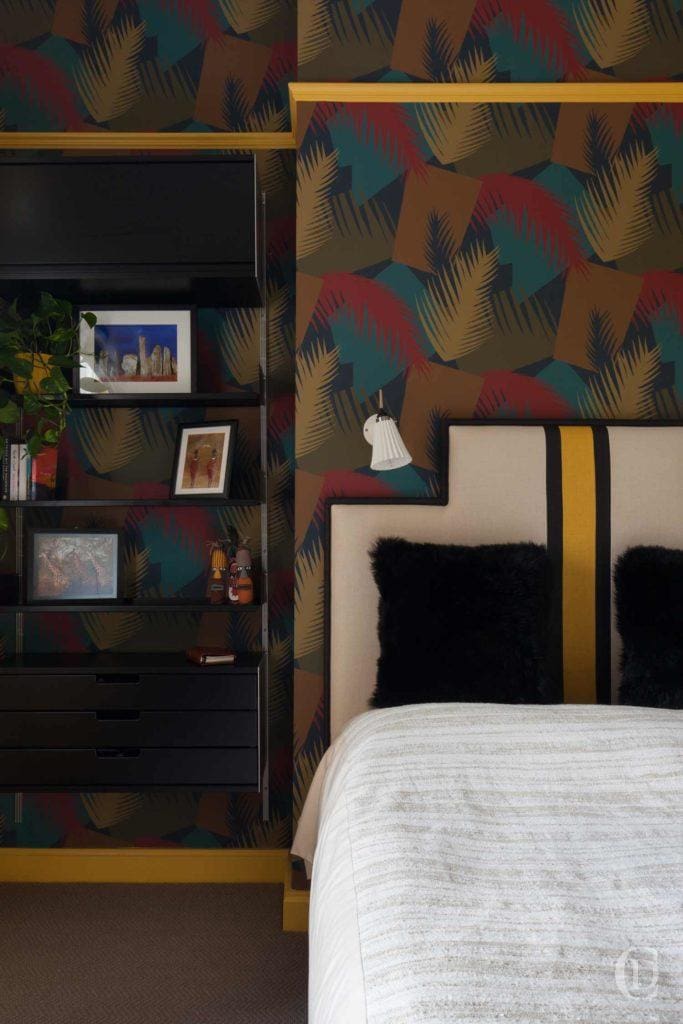 New life for a dead spaces
Guest rooms ought to offer additional functionality beyond the occasional accommodation.
We changed the layout of the room so the bed is now centred on the chimney breast. We drew up the initial design on the wall to check proportions and we commissioned a bespoke headboard. We installed a feature wallpaper on this wall and painted the other walls in a bright and happy colour. The colour scheme is inviting and vibrant and ties with the rest of the house.
A crucial requirement was additional storage. We worked through various floor plan layout designs until we settled on this one. The revised layout now fits two attractive spacious and matching wardrobes as well as plenty of shelving and a storage divan bed.
The second purpose of this room is to offer a quiet space with a desk area for homework and sewing and there is wall space dedicated for a future piano which gives this room an added benefit as a haven for music practise.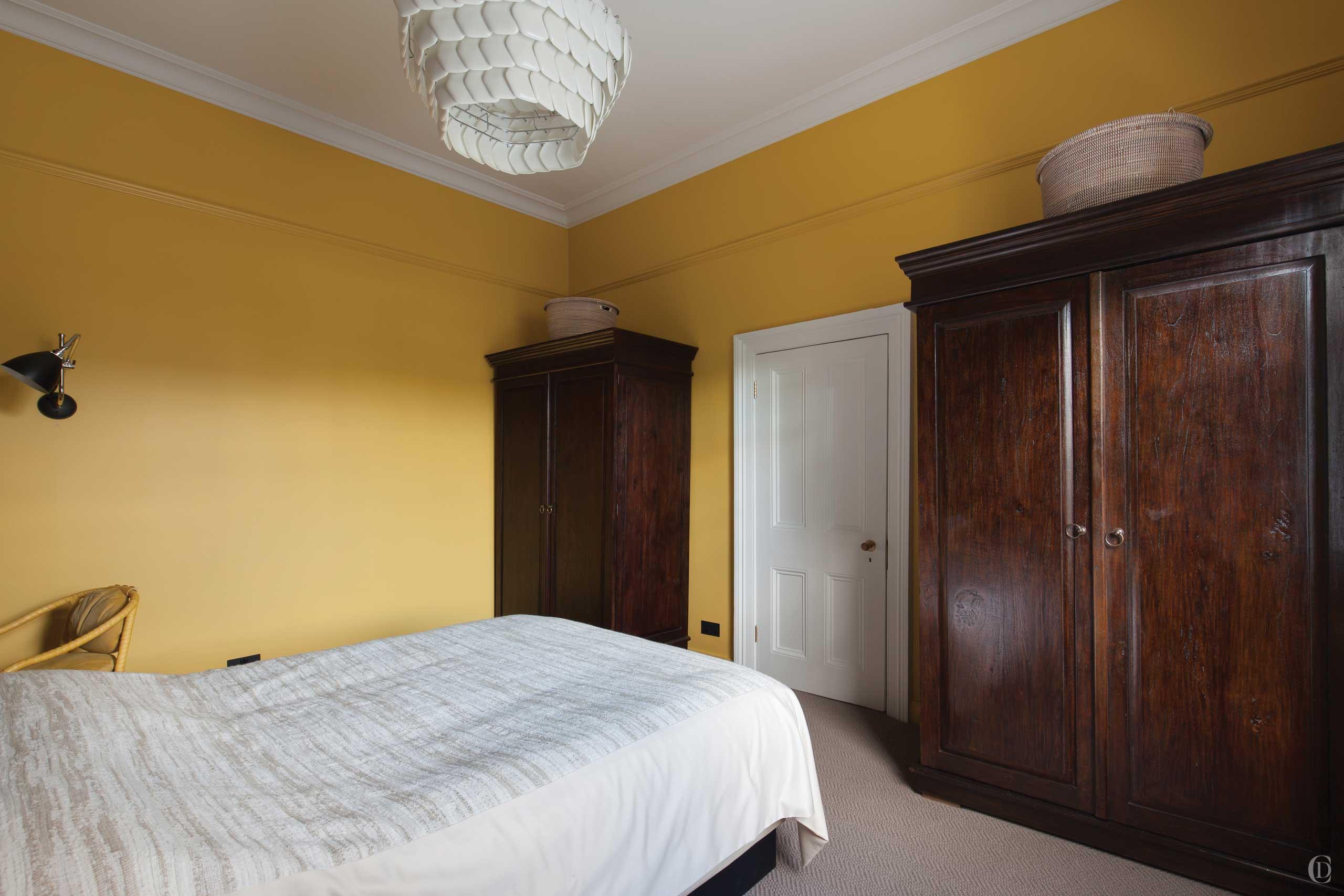 Choose once and choose well
When clients invest into upgrading and decorating their homes, we are very conscious that these decisions should stand the test of time.
We take care to research widely and meet the clients' aesthetics and criteria. What better way to provide sustainable interior design than to invest in furniture and furnishings with timeless iconic design.