True Blue
Interior styling | Finchley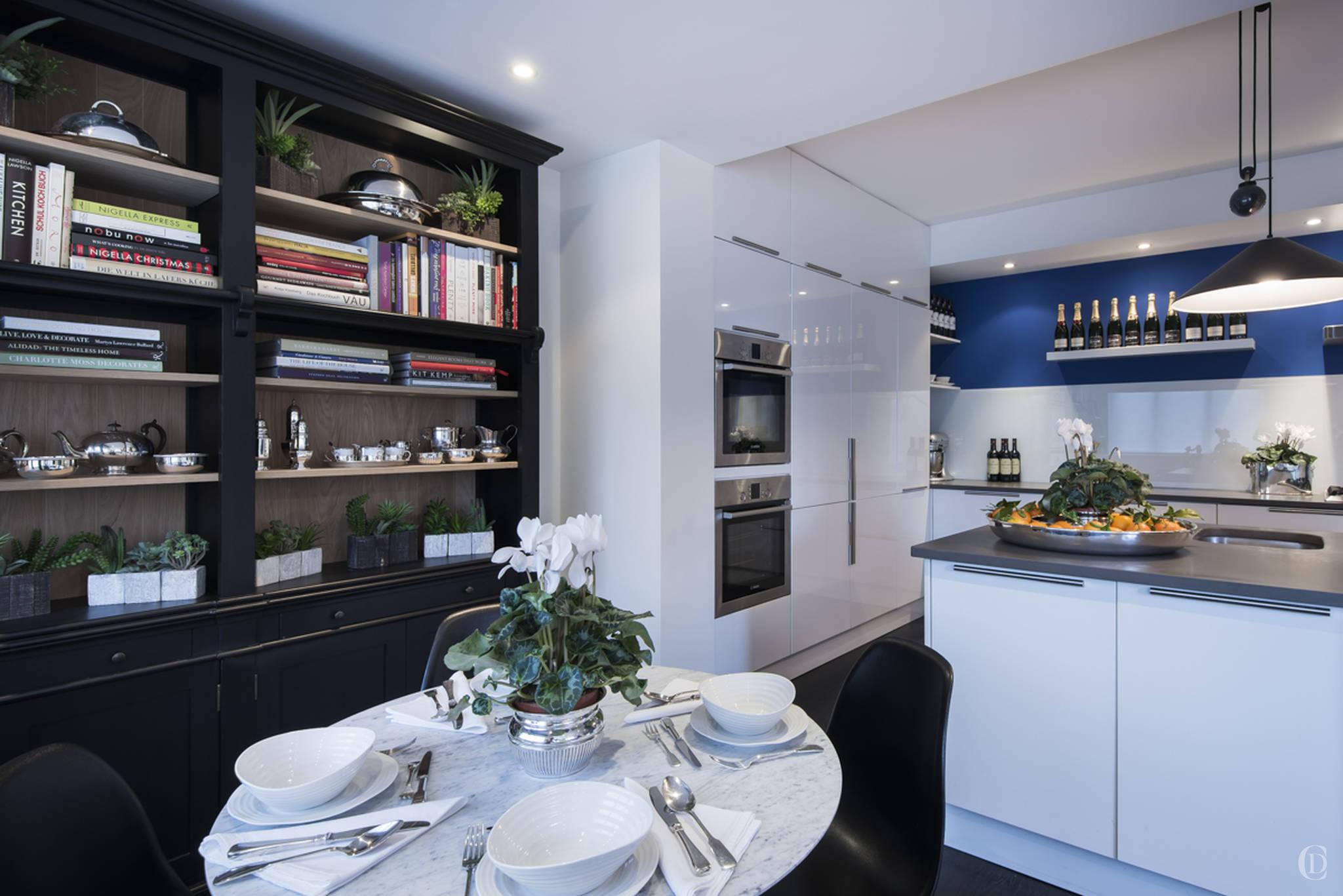 Welcoming a new family member
Our clients were in the process of taking a puppy into their family. This required some adjustments to layout and functionality of the ground floor of their property. The kitchen, dining and play area and formal sitting room are all connected and the materials and surfaces needed to be adapted for life with Simba. Also the children were getting older and family life reached a stage when mountains of toys could make way for a more civilized furnishing style in the den.
The initial consultation is a time to get to know the family lifestyle requirements, their taste and a chance to look around and spot what needs to be improved. We also actively scout for items that will serve as inspiration for the project. Colour is a major deciding factor which we discuss early on. In this project we settled on the colour blue to be our anchor. Together with the white kitchen units and the black stained timber floor boards, it was a natural conclusion to build the scheme around these colours with a mix of modern and classic furniture.
It is always fascinating to see which object might be discovered that will trigger an emotional response on the clients' part and then the project flows.
We look around the space and pick up on objects and very often we find a piece of art that really resonates such as this vintage poster. We quickly established a shared love for ski holidays in Zermatt. The incredible ultramarine blue in the poster with its surrounding shades of icy blues set the tone for the scheme.
We painted the wall above the splashback in a deep luminous blue and painted the structural column with a black chalk paint which can be used for writing notes and messages and the colour matches nicely with the black quartz worktop and black stained floor boards. The rest of the walls were painted in a soft creamy off white by Farrow and Ball.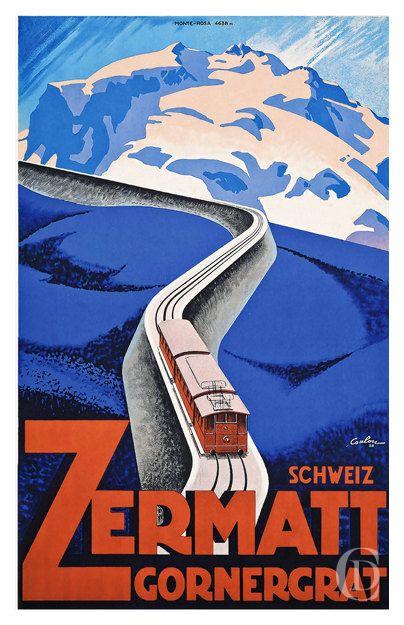 During the consultation we take measurements of the spaces we will design and then draw up floor plans, which can be turned into 3D visuals. Back in the studio we summarise detailed notes. We carefully record all the requirements which we gather from our conversations and draw up a list. In this case we noted :
All soft furnishings such as fabrics, the new rugs and sofa need to be dog proof, easy to clean but look smart;
We need a large furniture unit to store toys and books, something which looks different from the ultra modern gloss kitchen units;
The children need a new table and chairs for homework and breakfast, in addition to the main dining table. Ideally this should be round with a central leg so it doesn't take up too much space and the table top should look smart but is easy to keep clean;
Create a sitting area to watch television which is smart casual with a comfortable sofa for children and informal armchairs and a coffee table with storage option;
We need to improve lighting throughout the kitchen and add new forms of lighting besides the downlight spots
All window treatments need to be replaced and we need to suggest different styles and treatments.
The door to the garden needs to be replaced with a new sliding slimline aluminium profile door with modern design which lets in more light
The entire kitchen space needs to be repainted as well as the rear ground floor windows need repair and external painting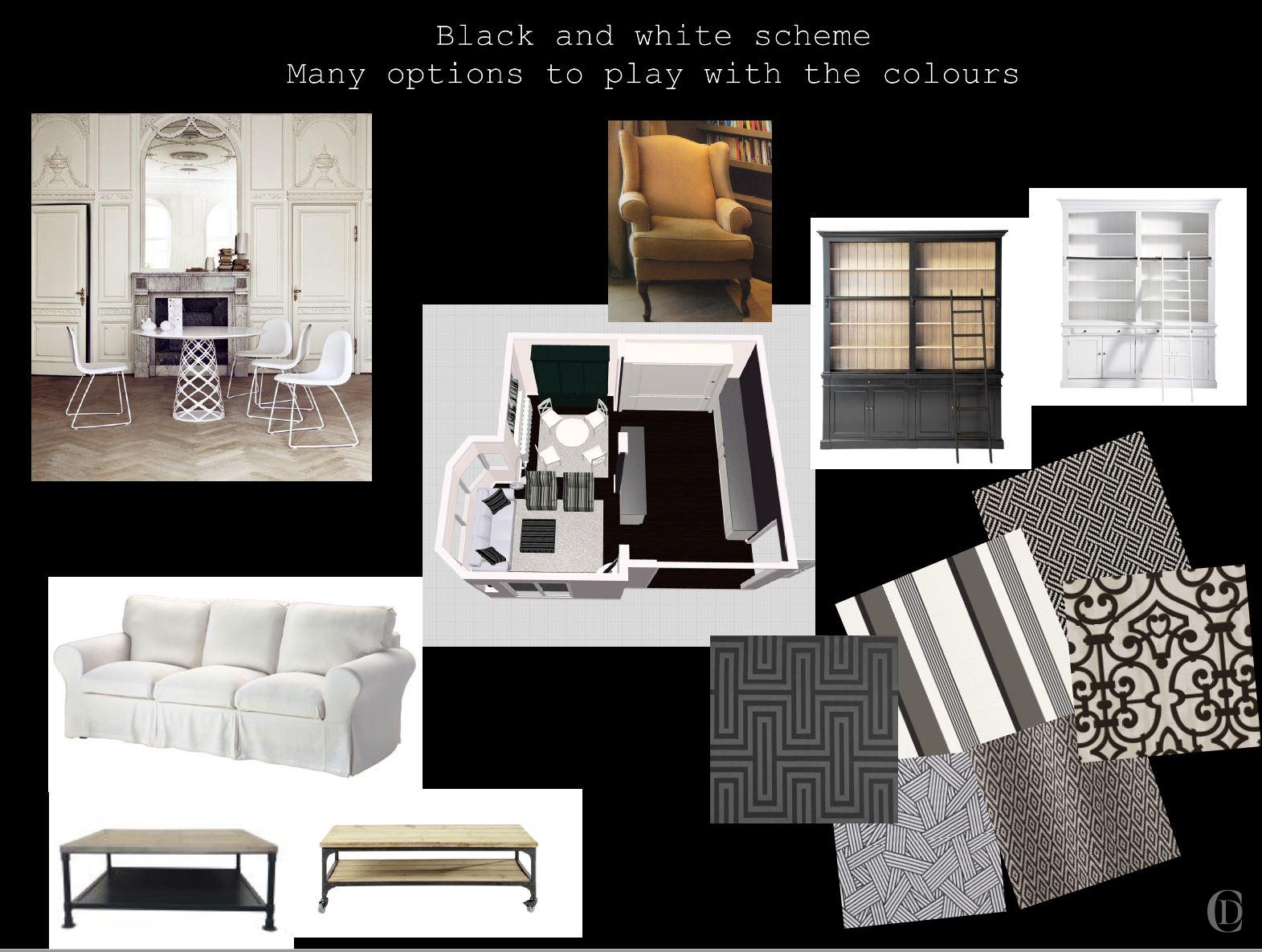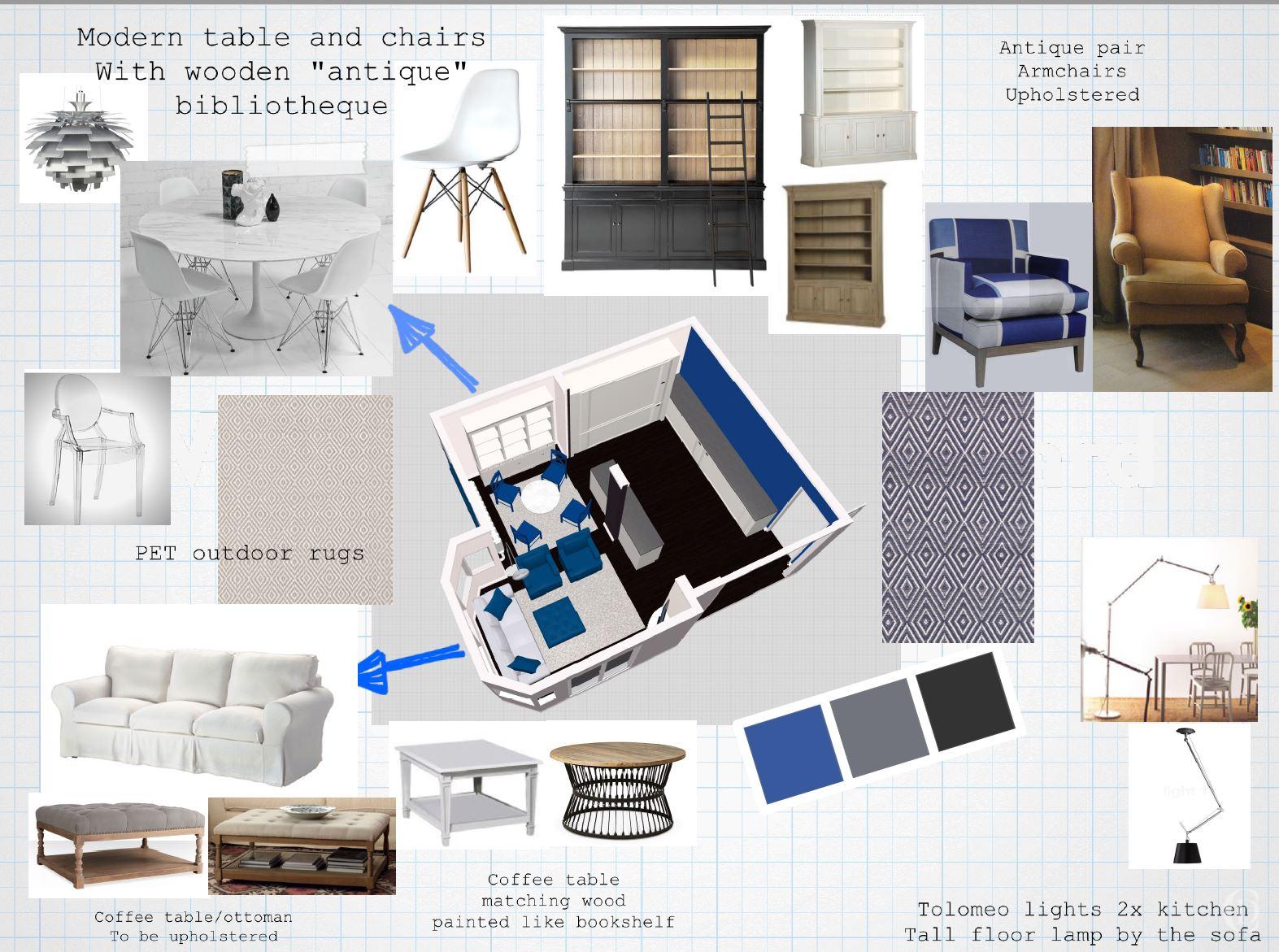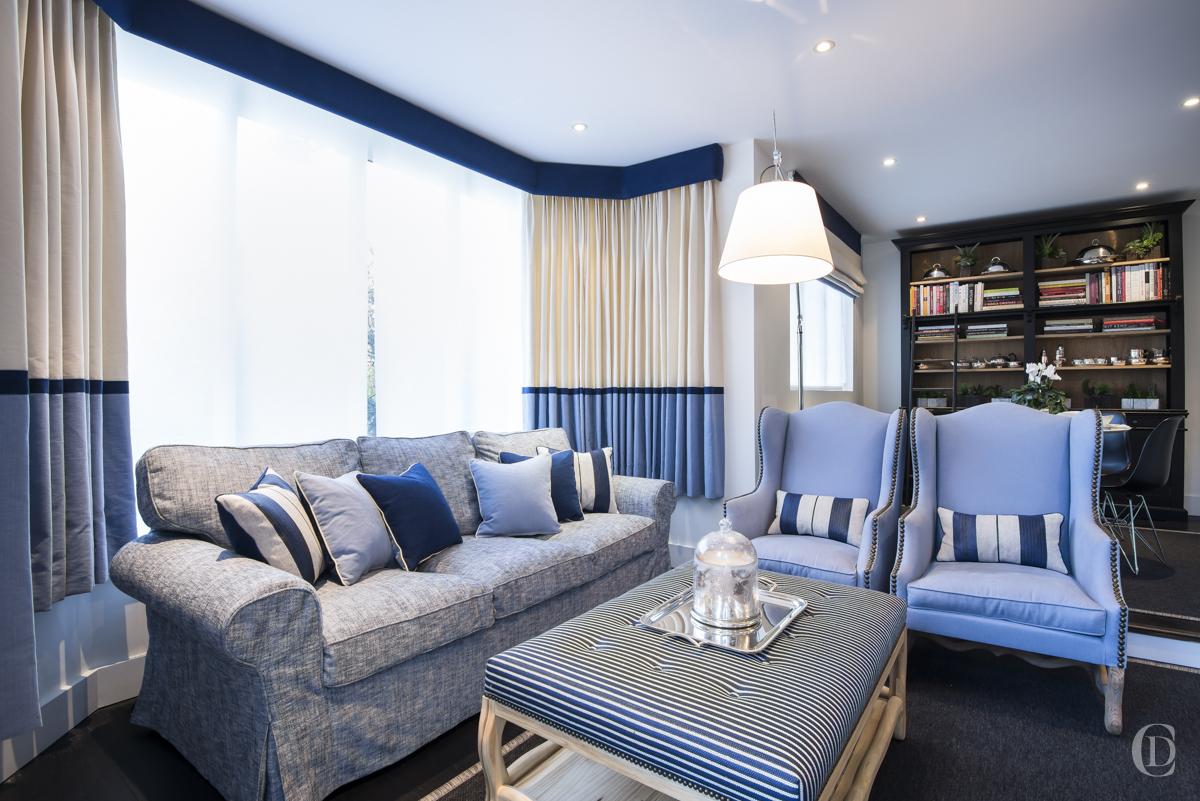 The best finds are those you are not looking for. When I go to design fairs or antique shows I visit with a rough idea in my mind what I might need for the various projects at any point in time but it is always best if I can go unpressured and hope to be surprised. This was the case with the lovely pair of 1940s French armchairs. We then upholstered them in a durable cotton linen mix and added small back cushions in a luxurious fabric.
The sofa was a much more deliberate and practical choice. As this is the kids hang out place, we ordered a simple three seater Ikea sofa and our soft furnishings workshop made loose covers in a smart and durable blue fabric. The result looks so much more upmarket.
The real joy though is when we can design something unique for a project. This almost always becomes appropriate as we cant find ready made items to fit. In this project we needed a bespoke ottoman coffee table. We designed the legs to match the shape of the vintage French armchairs. As always I get quite keen to understand the history and background of vintage furniture and I learnt that this particular type of leg style is called 'mutton' which originates from the period of Louis XIII.  The ottoman top is covered in a thick and strong smart leather and cotton blend stripe fabric and the shelf underneath offers great storage place for magazines and remote controls.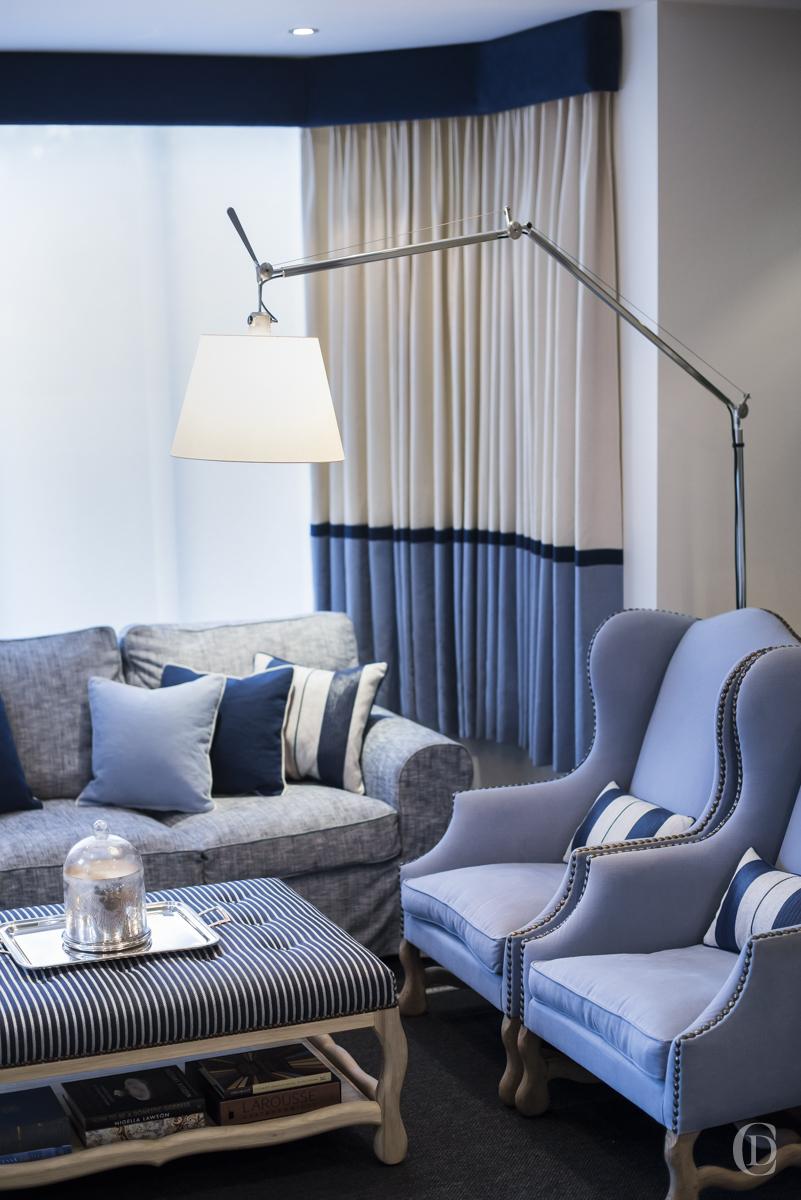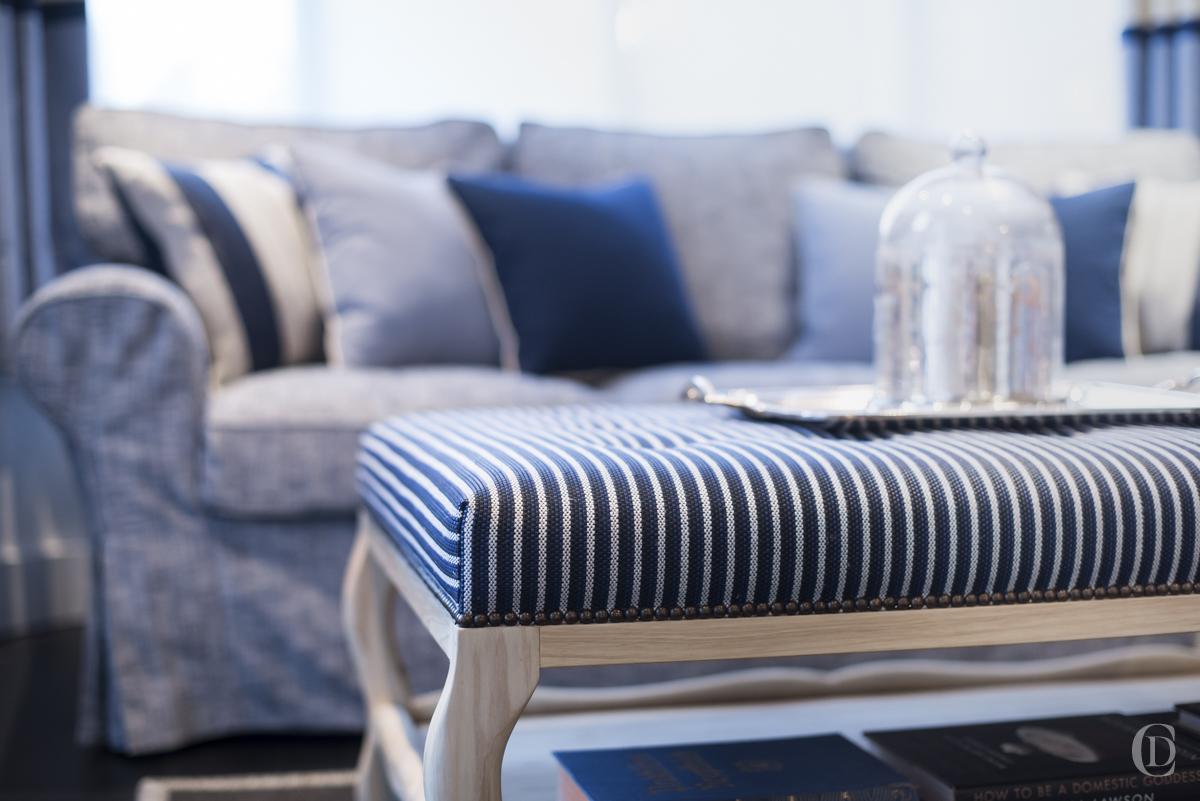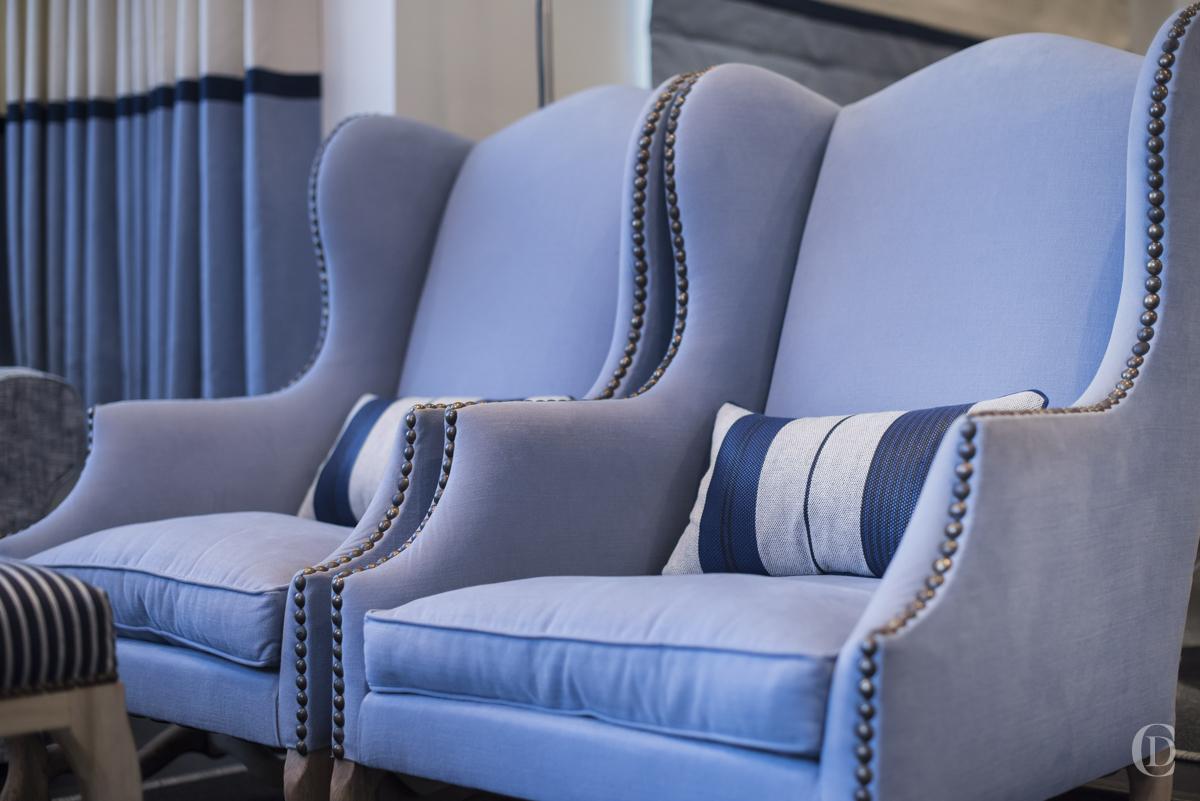 Replacing window treatments is often a crucial part of an interior re-styling project. In this case we were also asked to replace the terrace door with a new design and repair and repaint all the kitchen windows.
Bay windows can be tricky to dress and to operate. In order to improve the aesthetic and functionality we may suggest to replace the tracks or pole, install a corded system and perhaps add an upholstered pelmet which looks smart. The length of the curtains is also important. If they are running behind a sofa it is practical to design them as a ¾ length, covering the window sill.
In this case we used three colourways of a durable cotton linen mix fabric, the same we used to cover the armchairs, and we designed a bespoke pattern of horizontal stripes to fit with the entire kitchen scheme.  We drew up visuals of the curtain stripes in several options of different width and colour combinations until we felt we had picked the perfect proportions.
The final element in many schemes are sheers which create a soft glow of filtered light during the day and soften the glass panes and glare of the windows at night.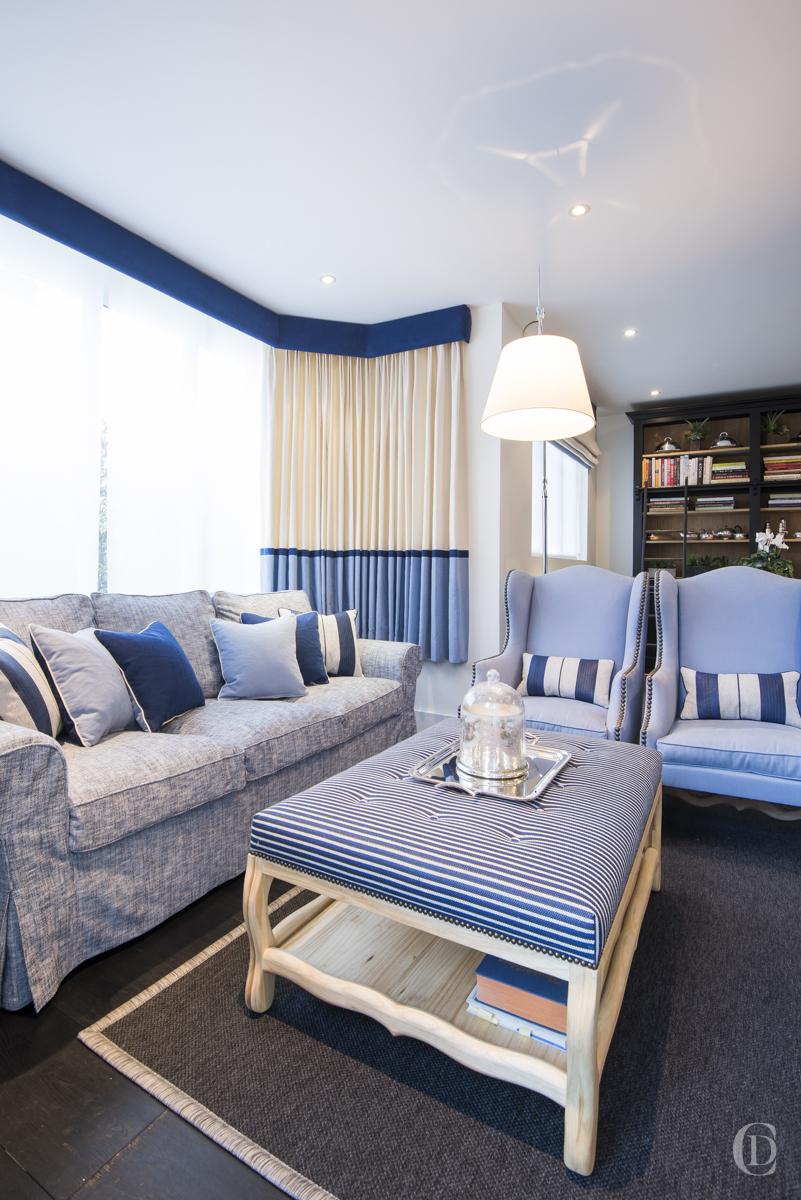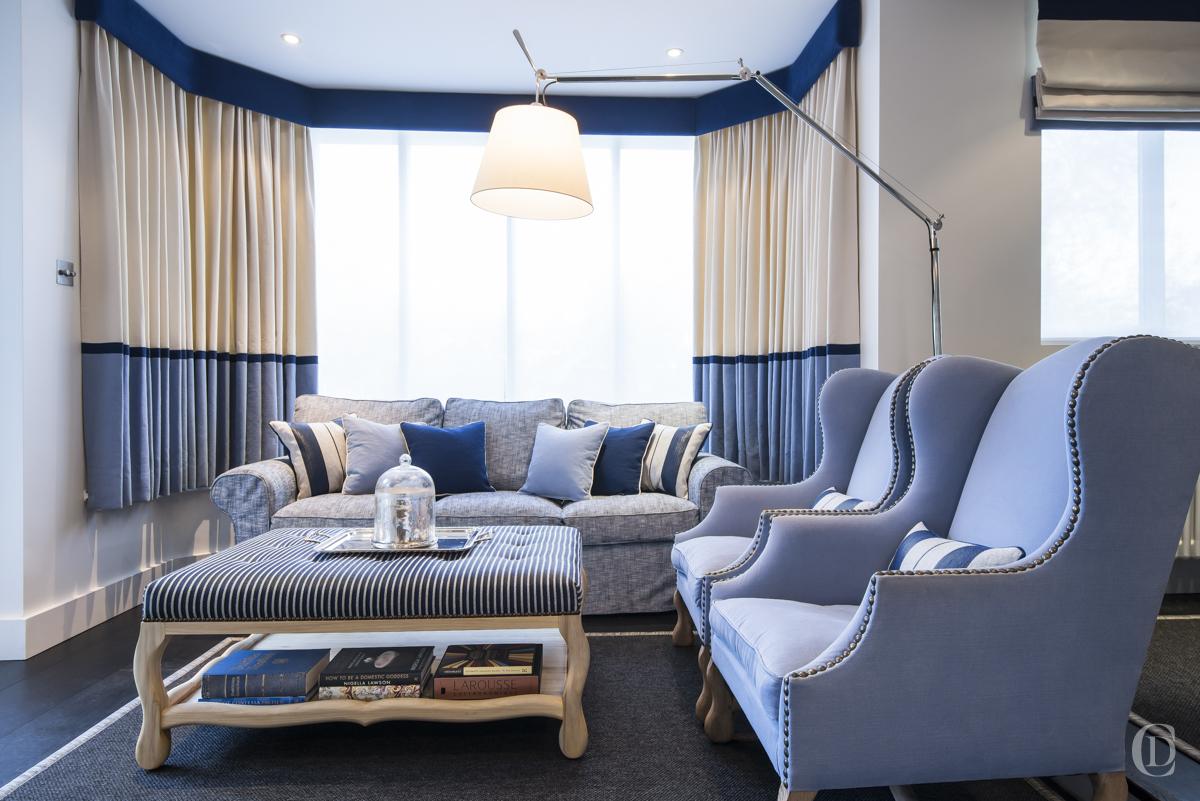 Styling the final touches
Adding the final touches and pulling a scheme together will present challenges. Sometimes it is difficult to find a particular item because we need an unusual size, or colour. While we try to source products mostly in the UK, sometimes we have to look further afield. In this case we needed a bookcase with certain dimensions and we had to ship this from France.
Rugs are another item that often has to be made in bespoke sizes if you want to create the optimal look for the dimensions of a space . In this project we needed dog friendly rugs – we work with several suppliers who offer polypropylene or rugs woven from recycled PET which can be cleaned with detergent and hosed with water, but the ready made sizes never seem to really suit what you need. Especially for a round dining table it looks great to have a square rug – or vice versa a round rug under a small square table. As the floor space in this kitchen was divided by steps we had to make custom sized rugs and we used two large squares with slim contrasting borders borders.