Inspiration for the New Year
Using colours and textures is exciting. But it can be dauting and it takes some practise and the courage to make mistakes. When I first decorated my home studio, I painted the walls in a two layer design top yellow and bottom turquoise as I wanted to capture an eternal beach vibe but I grew tired of it after a year and since that time the walls are covered in a taupe silk wallpaper.
As a designer I love using colour and patterns and choosing wallpapers but to be honest it wasn't always this way and it's an experience built up over two decades of decorating. As a student I dressed mostly in beige or black clothes and lived in a white room, with furniture made from oak planks, bricks and metal sheets – very stark and minimalist. Now I embrace colours and materials and the inspirations from so many periods and styles of design and I see myself as a kind of editor of ideas and inspirations.
At the start of each colour consultation is a visit to the space, walking around a property to get a sense for the proportions and architecture of the rooms, the light, the art on the walls, the rugs on the floors, the type, style and shapes of furniture and the colours of wood used throughout. It's a full assessment and analysis of the space and in depth conversation with the client, their interests and what they love about their home and what they want to change.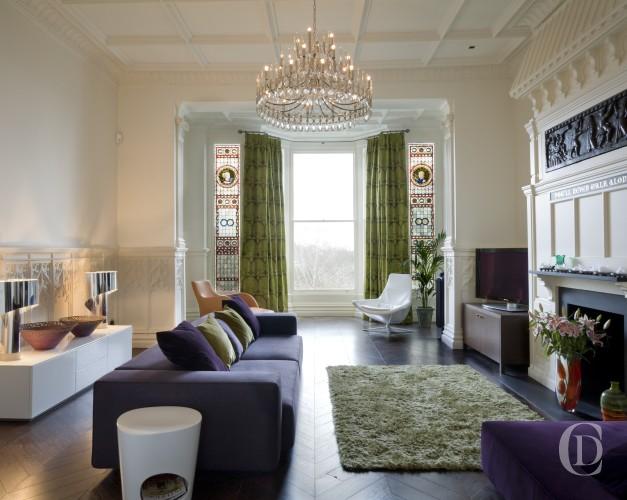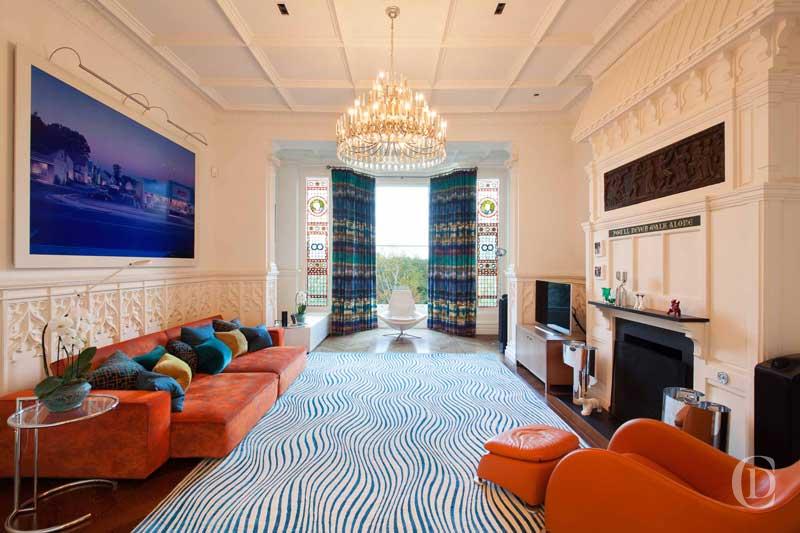 Defining the Brief
I always involve the client in the design process as we are improving the space together, I want to find out as much as possible about the story of each home and what resonates with the people who live in it. We chat about the possessions, where they have come from and what might be of particular importance. Typically, as part of the colour consultation, we can identify a particular object and one or more colours which set the tone and will act like a red thread through the decoration.
'Understanding the essence of a brief, boiling it down to a couple of key factors, defining the red thread that we weave through a project and keeping it subtle and understated – that is our aim.'
I think about the 'story' that a home will tell and colour will be an important part of that, often being the starting point of the red thread, but we don't want to be obvious or dull so there is a fine balancing act to achieve in curating an interiors scheme with all its finishes and furniture and art and making it look naturally evolved, effortless yet sophisticated not superficial or contrived.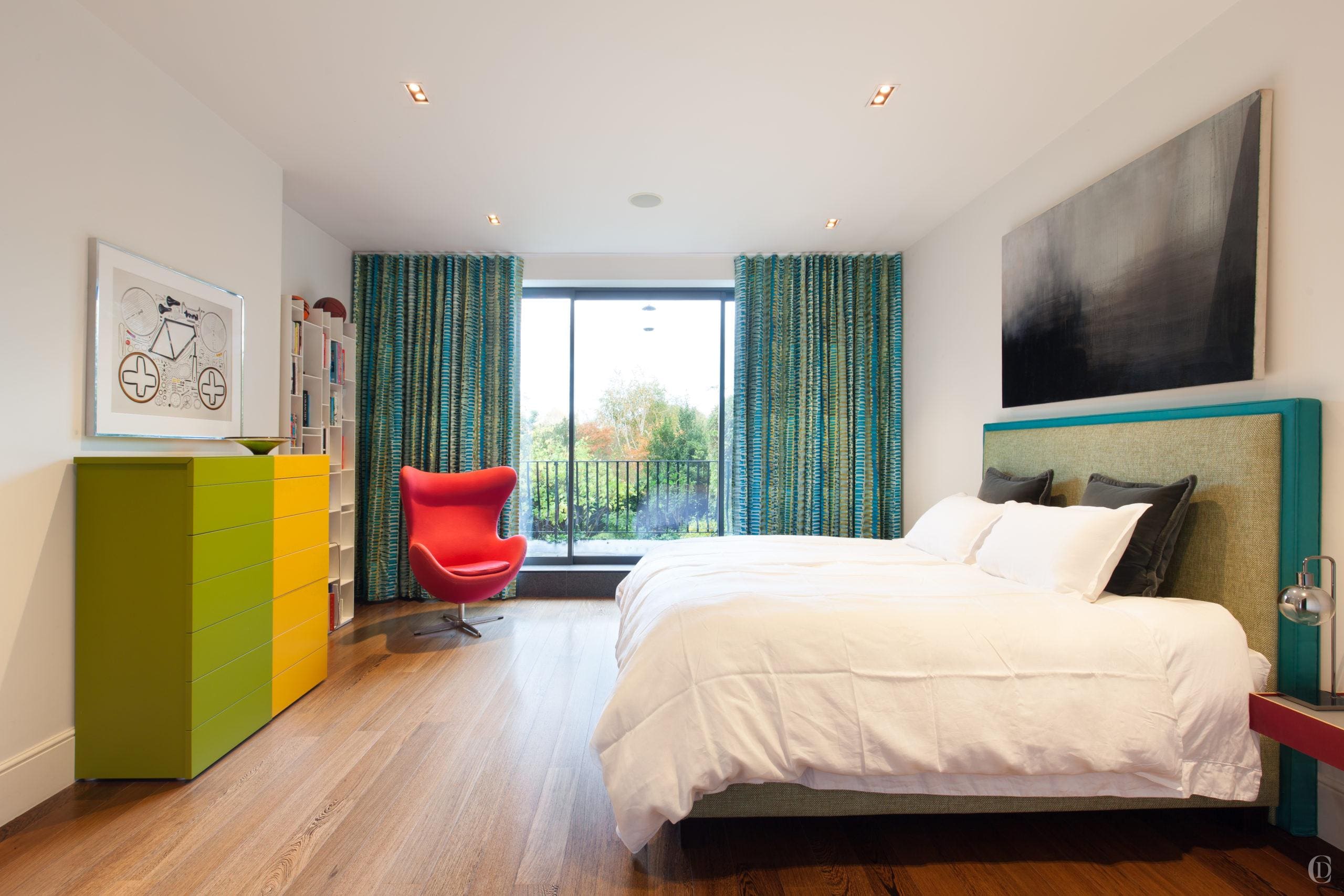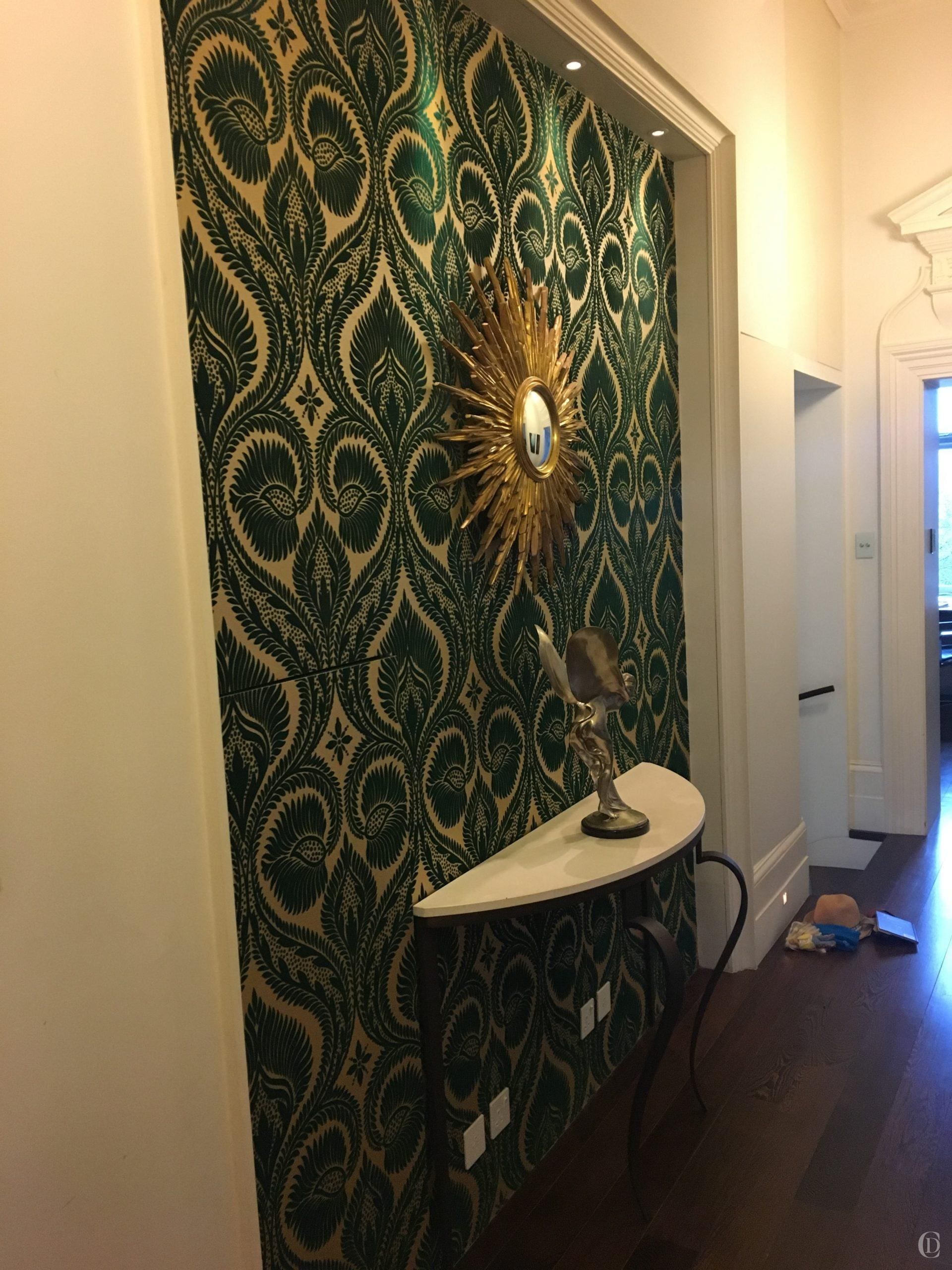 Often we will recommend to repaint the walls, which is a very powerful and relatively cost effective way to transform the mood and appearance of a space, in particular we would recommend dark strong colours in small, dark or otherwise 'challenged' spaces. However, this property had wonderful architectural features and off white walls throughout which let the structure shine and act as a canvas for a great art collection. The client was tired of the existing soft furnishing scheme and the brief was to come up with new fabrics and wallpapers throughout and 'breathe some fresh vibrant energy' into the house. Inspiration for the colour scheme was taken from the gothic stained glass window which contains red, blue, yellow and mint green, in addition I introduced orange and turquoise. It is really a very bold and very vibrant scheme where all the colours are repeated and resurface in different doses around the house. I bring with me colour fan charts of all the major paint brands and then we start by picking colours to fit a scheme, often we use paint swatches as a placeholder for other materials such as fabrics and wallpapers, back in the studio I will then comb through the library and check our online resources to select materials that will fit the colour scheme.
The final result involved recovering two feature walls in new  wallpapers, recovering a BB Italia sofa with new fabric and adding cushions to match the scheme, making new curtains and blinds for every single room, sourcing new lighting fixtures, entirely replacing the master bedroom bed with a new bespoke headboard and luxurious French TRECA bed.