Interiors with Art
Interior architecture | Canary Wharf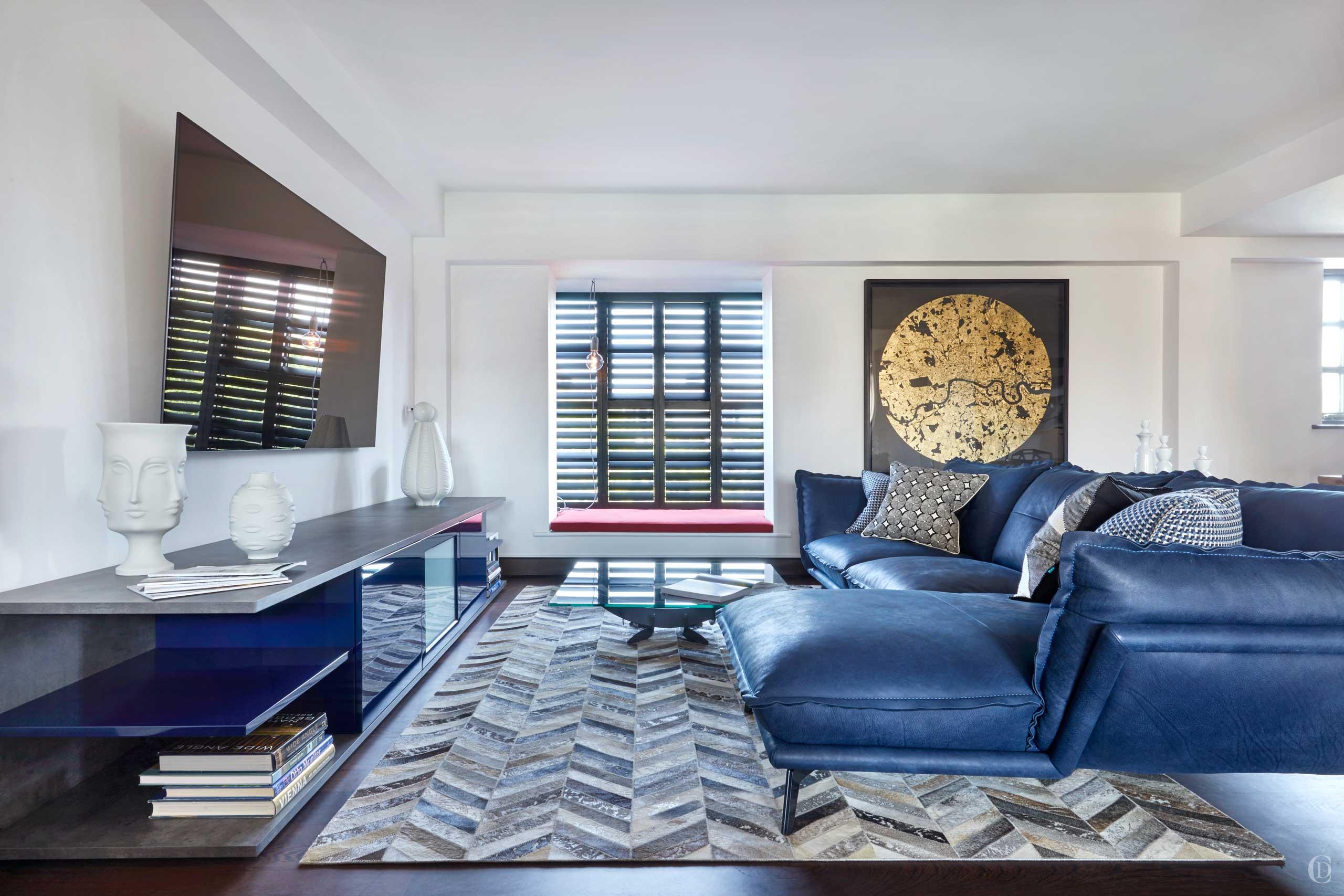 Creating a New York style Loft vibe
A young entrepreneur in the technology industry appointed us to renovate and furnish his canal-side penthouse apartment with stunning views of Canary Wharf.  With a mathematical mind, he gave us precise instructions – he did not want a cluttered 'overly decorated' home but he asked for our help to start an art collection and create a dark and moody man cave where he would enjoy entertaining, gaming and programming. For the rest of the home, we created clean open spaces to let the art shine.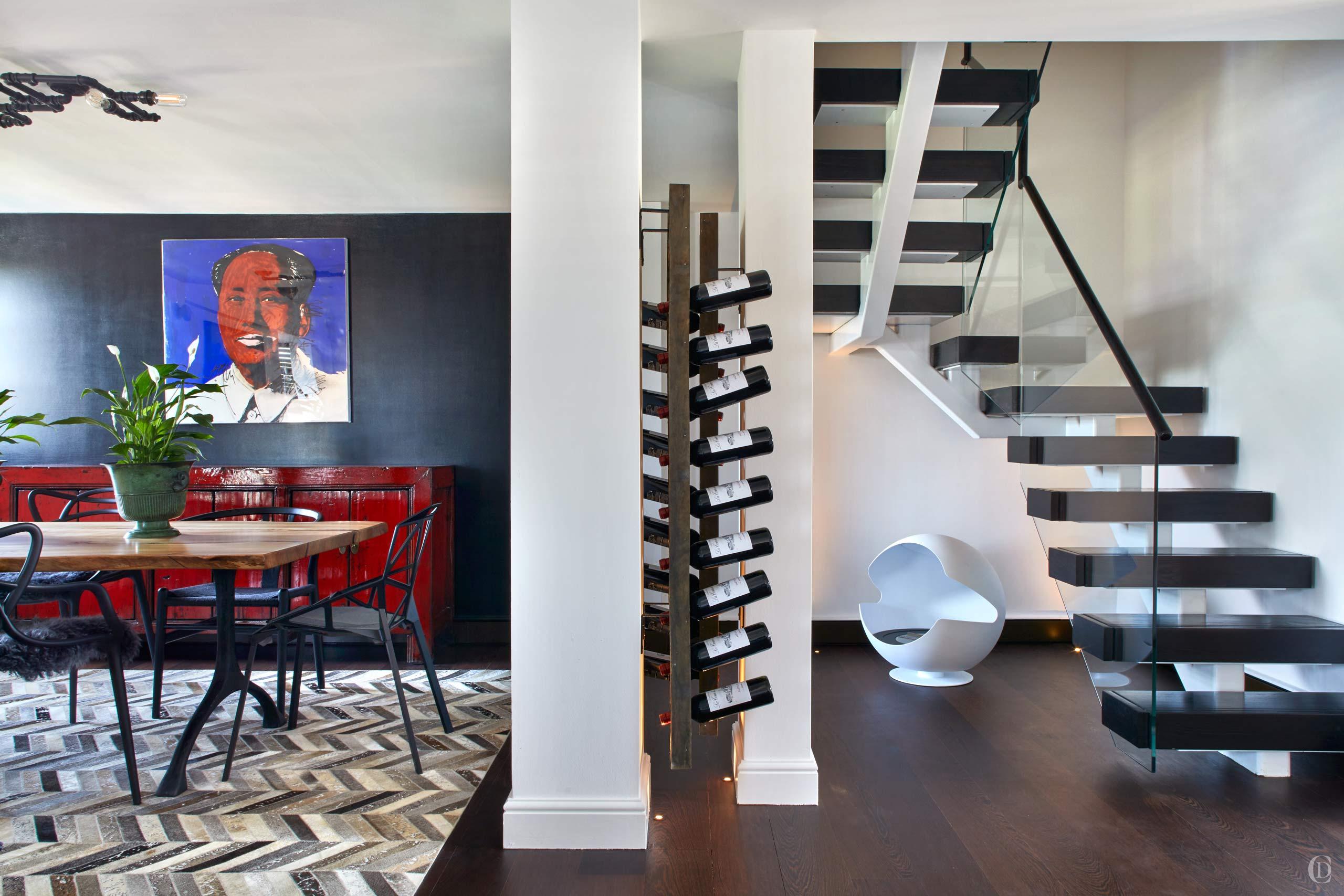 At the heart of this project was the installation of a floating spinal staircase which creates a spacious open plan floor for the dining – living – kitchen area. A moveable fireplace, dark wood American shutters and cosy window seats introduce warmth into the large white spaces. A limited colour palette of black and white with red and blue accents creates a contemporary atmosphere.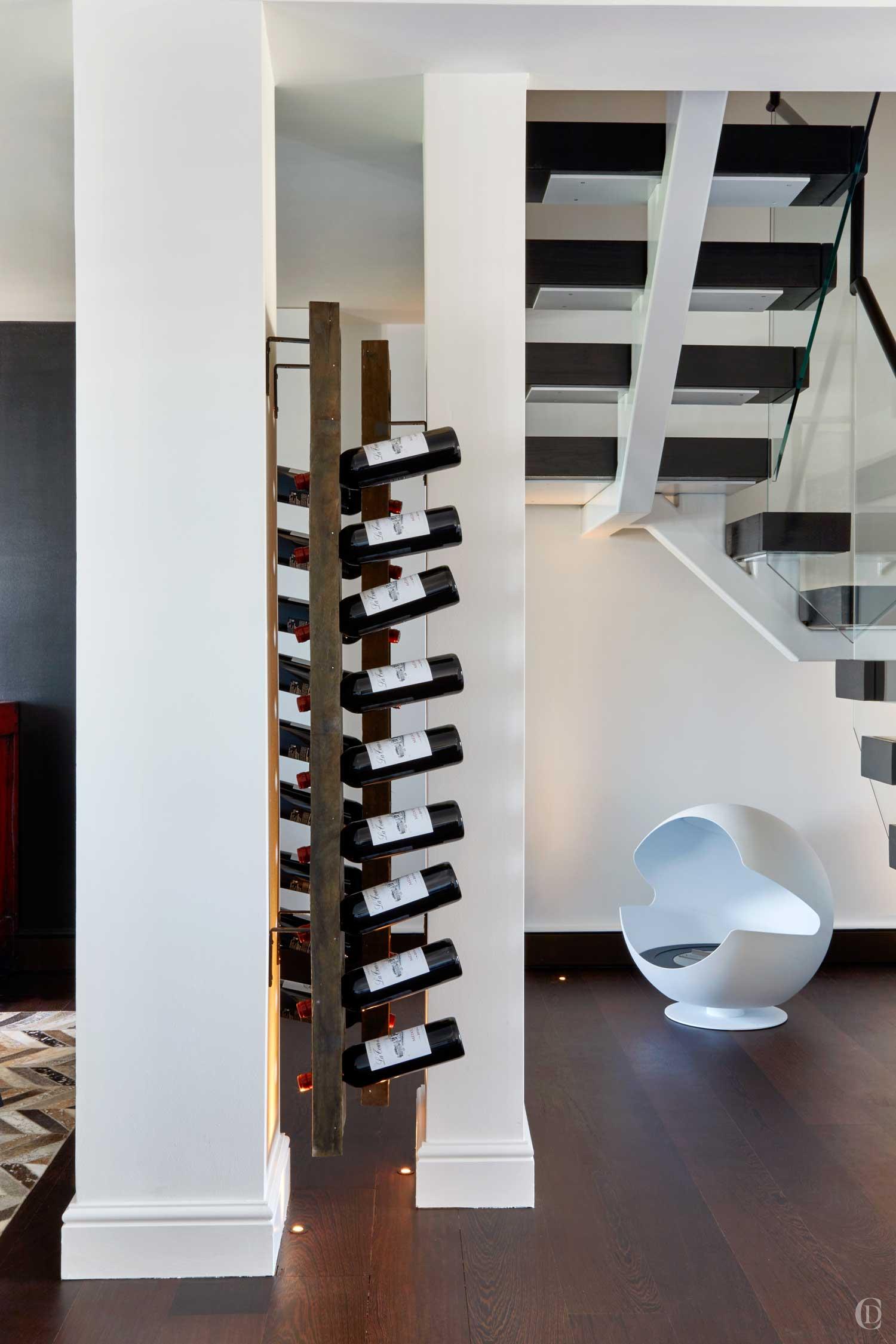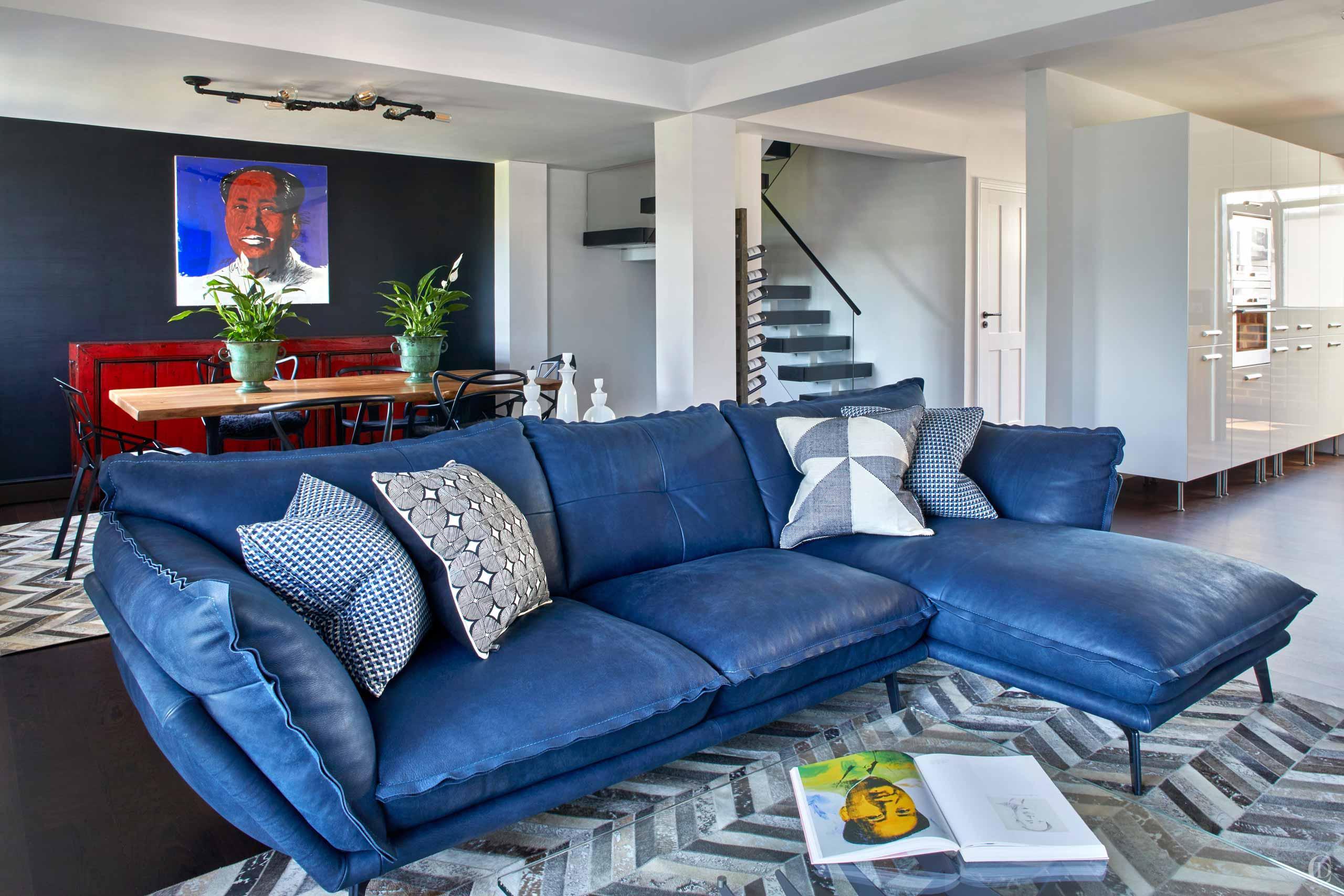 Each project has a unique lighting design but we apply to same principles. Through a carefully crafted process we consider what effect to achieve, where we need task lighting, ambient lighting, spot lights for art, or where the fitting itself is a feature and becomes part of the interior design installation – we spent a couple of hours high up on a ladder in the staircase arranging the best positions for the 24 arm spider light.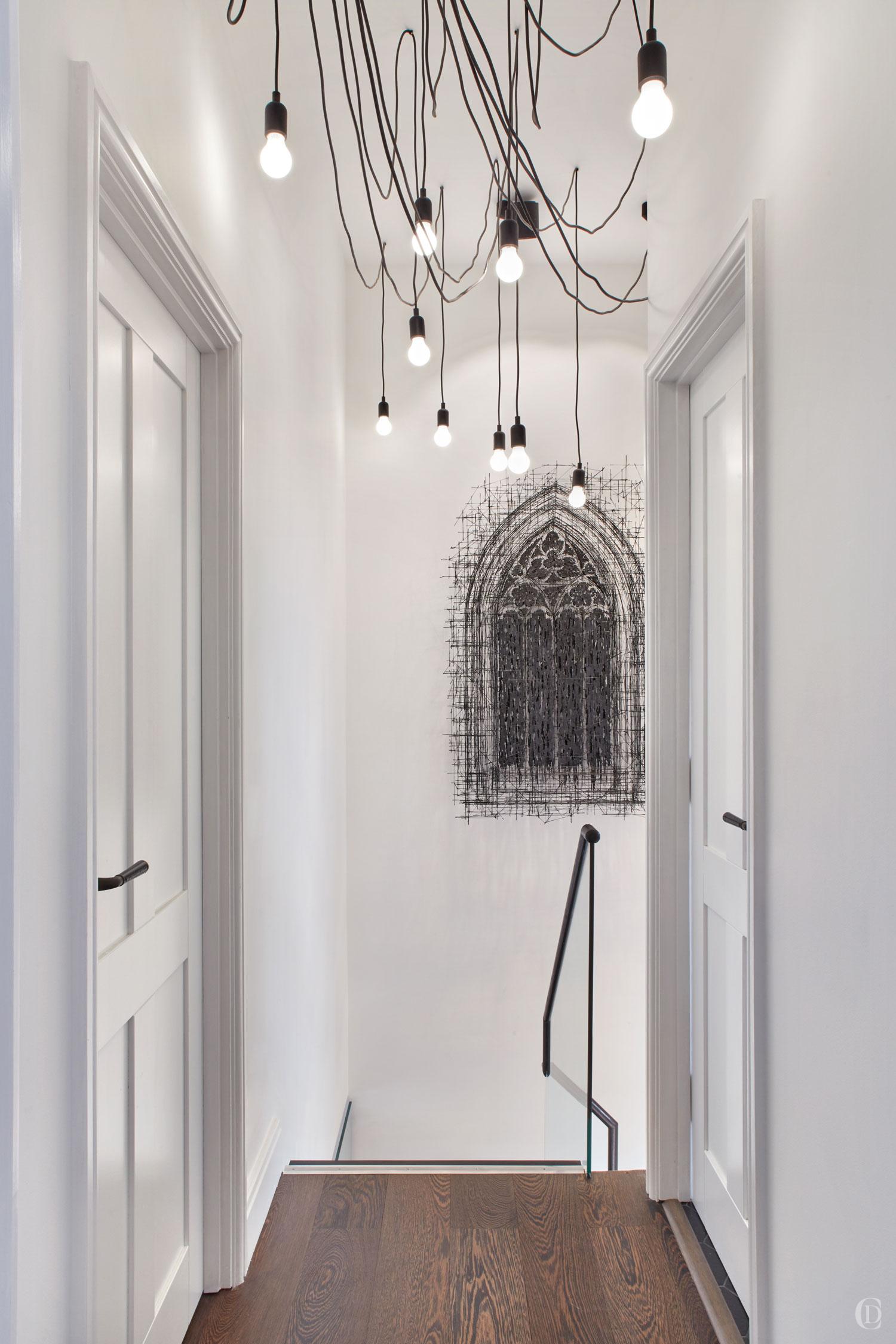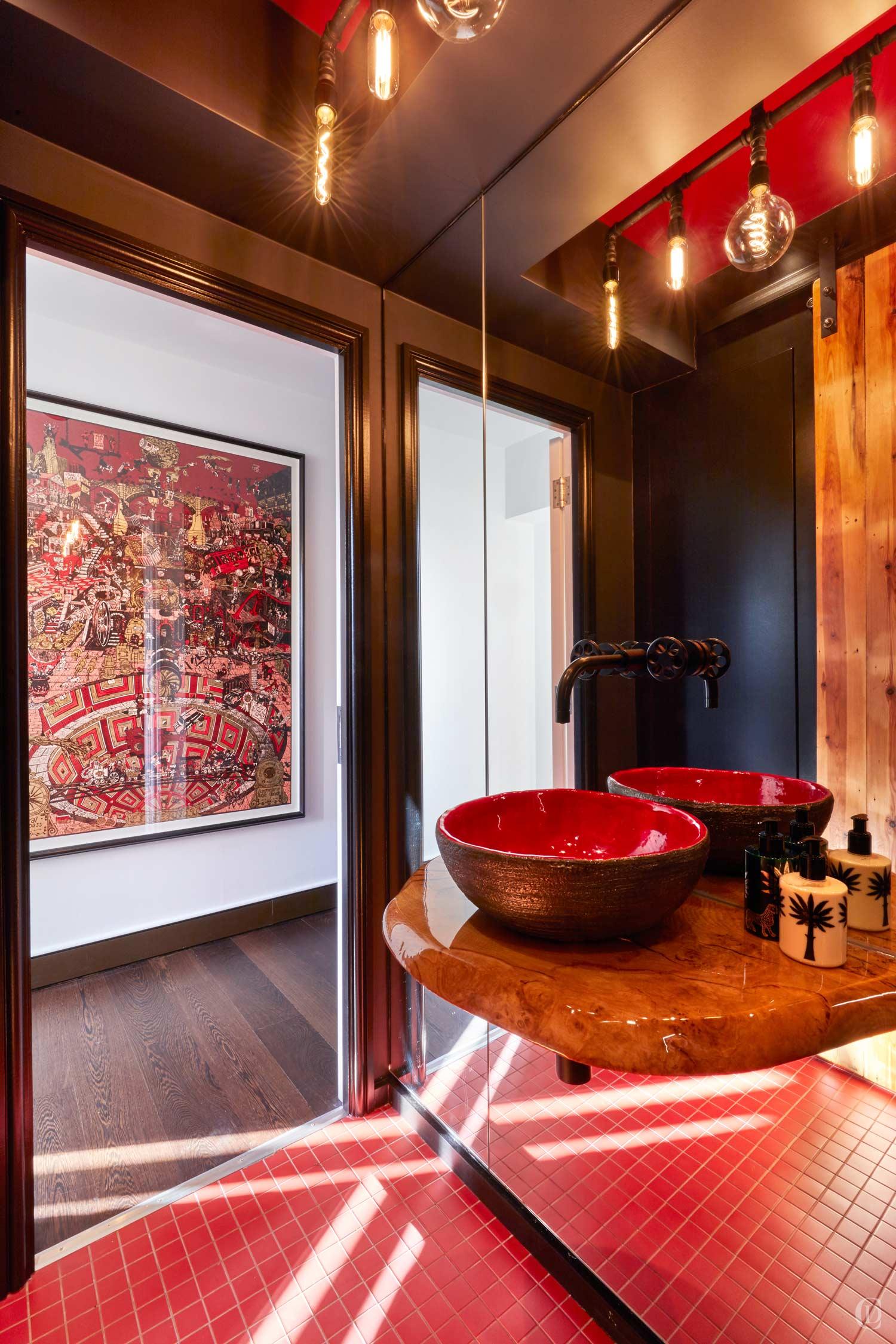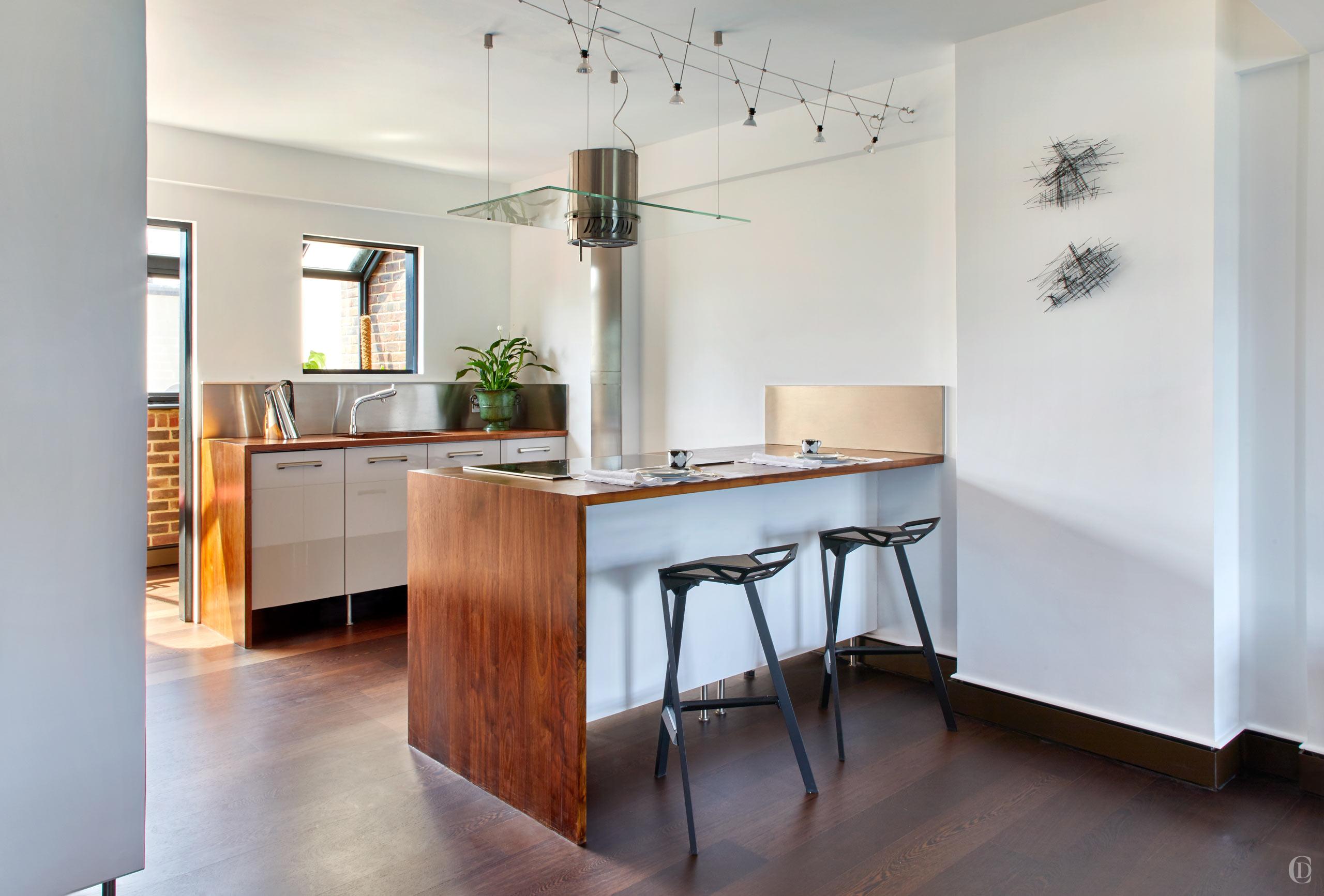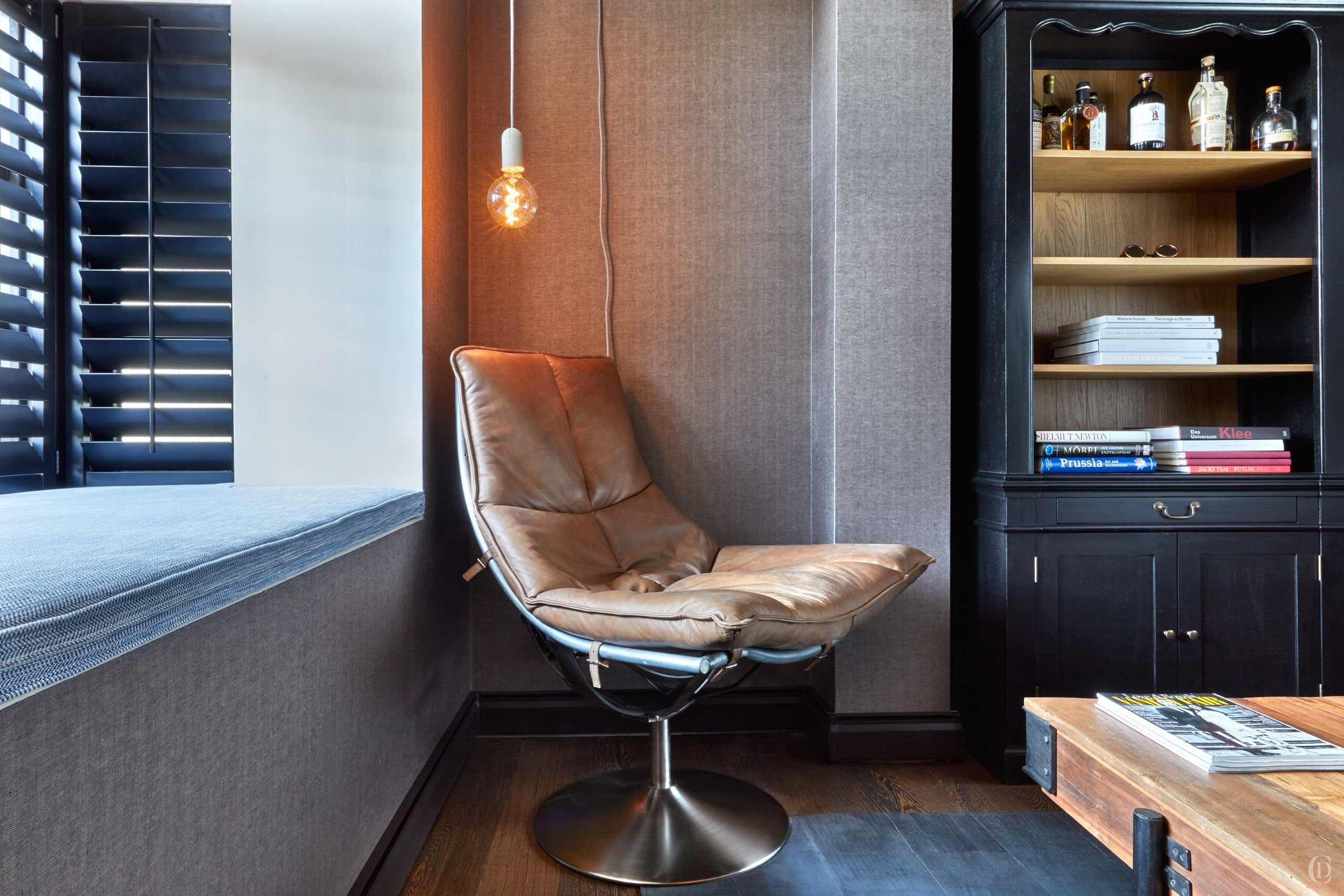 Mixing hard and soft materials
We designed the scheme using natural and vintage materials – exposed brick walls, furniture made with reclaimed wood and concrete – to soften the large open spaces.
We commissioned a live edge dining table. We transformed old champagne racks into a wall hung wine feature to decorate structural beams. We commissioned two industrial light fittings made from reclaimed tubes. The black wall at the end of the dining area has a specialist paint effect to add depth and texture and is a great canvas for art display.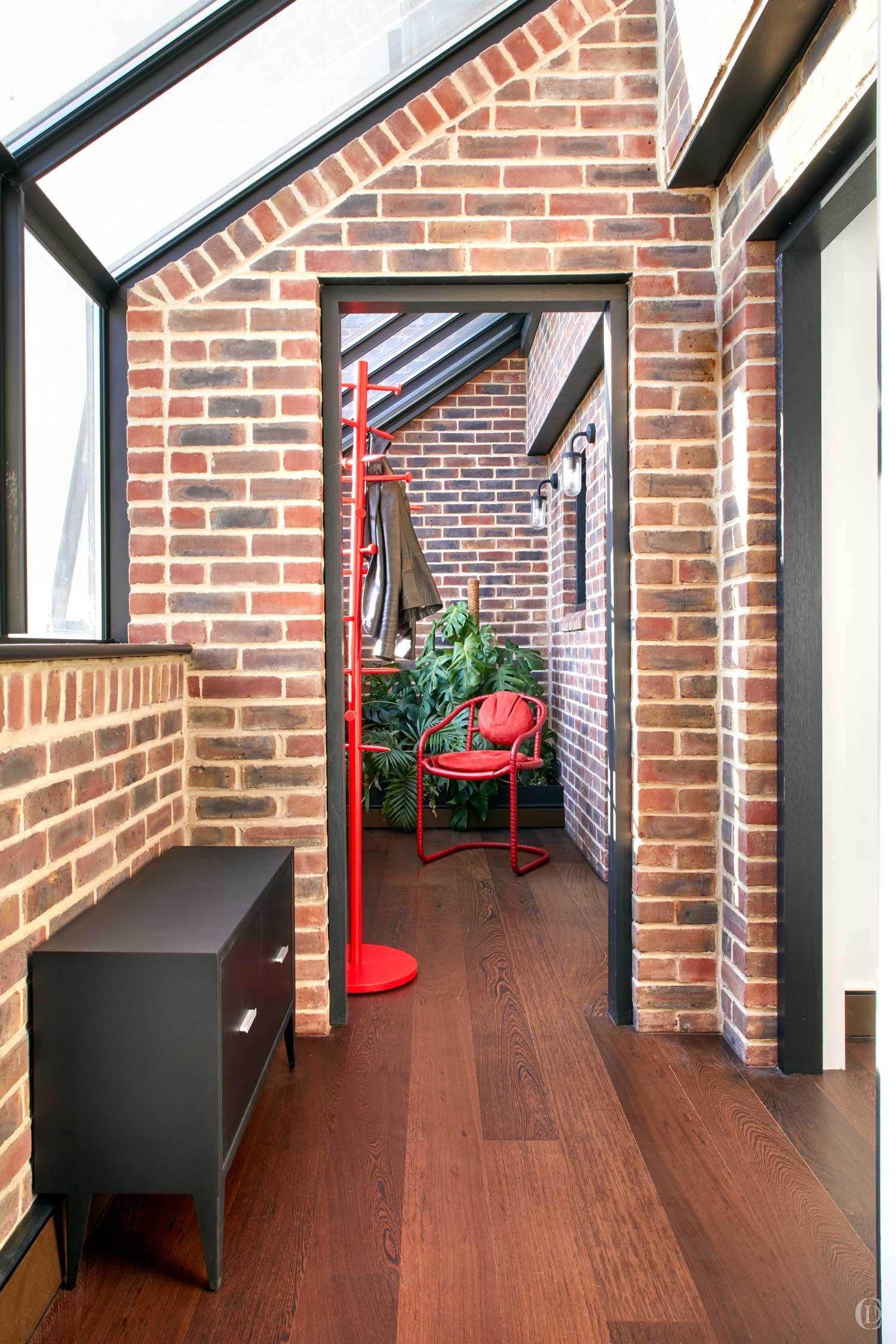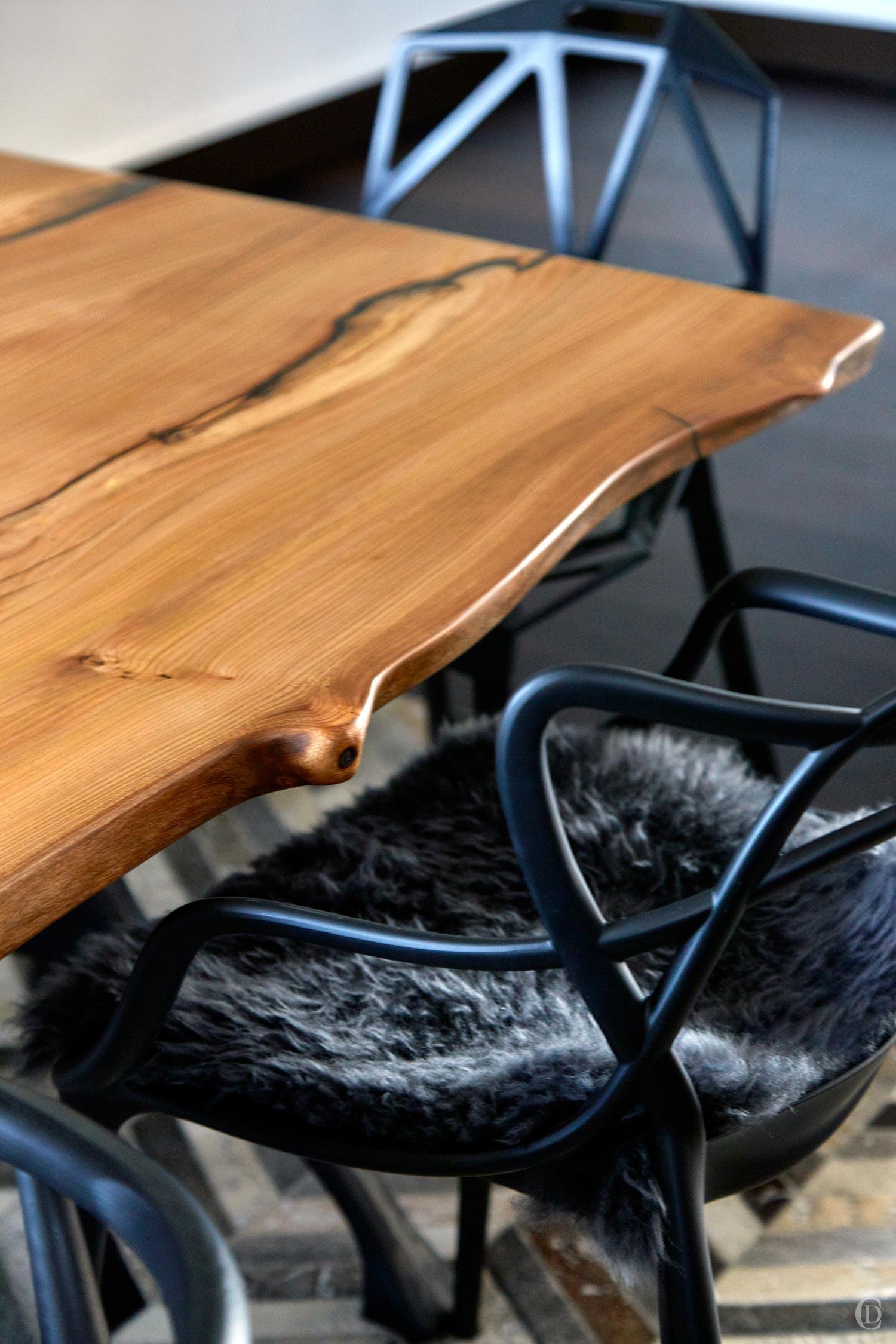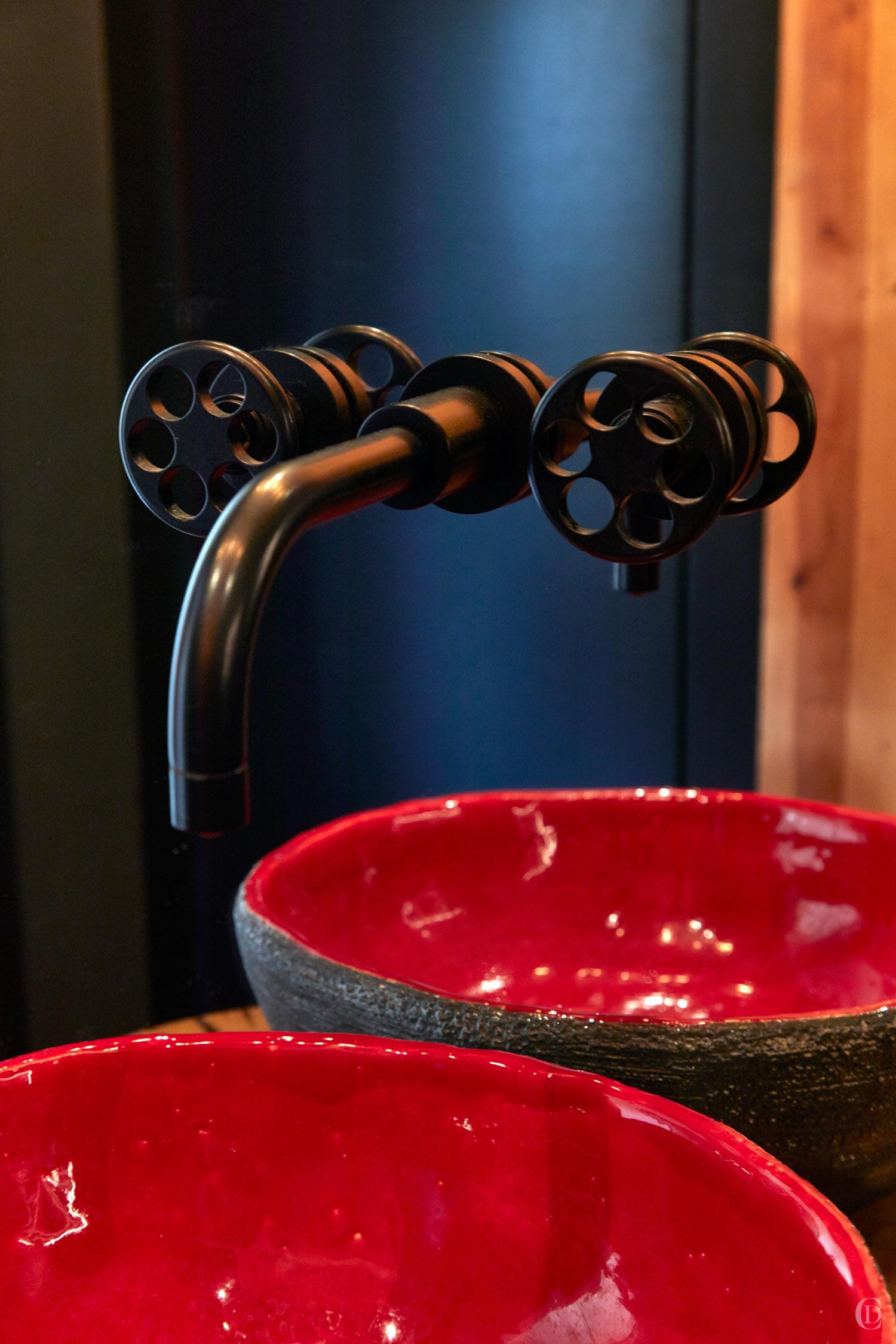 Working with artisans globally
We listen to our clients' stories and interests and design spaces and furniture to enhance their lifestyle. Claudia's signature is to treat each project as a journey of discovery and supply the owners with a project full of details and stories which they will love to remember and share with friends.
We work with artisans in the UK and abroad to create unique solutions for our project: This couple enjoys gaming and we designed a bespoke AV console in blue lacquer, polished concrete, frosted glass with recessed LED lighting to house the specialist equipment. The live edge dining table and vanity shelf were made in the UK and we hand picked the slab of wood.  The master bathroom vanity unit is a bespoke design by Claudia and made in the UK from reclaimed scaffold planks. The red and black lava sink in the cloakroom is hand made by an artisan in Poland, the industrial tube light fittings were commissioned from Australia and the powder coated steel units are made to Claudia's specifications by a workshop in France.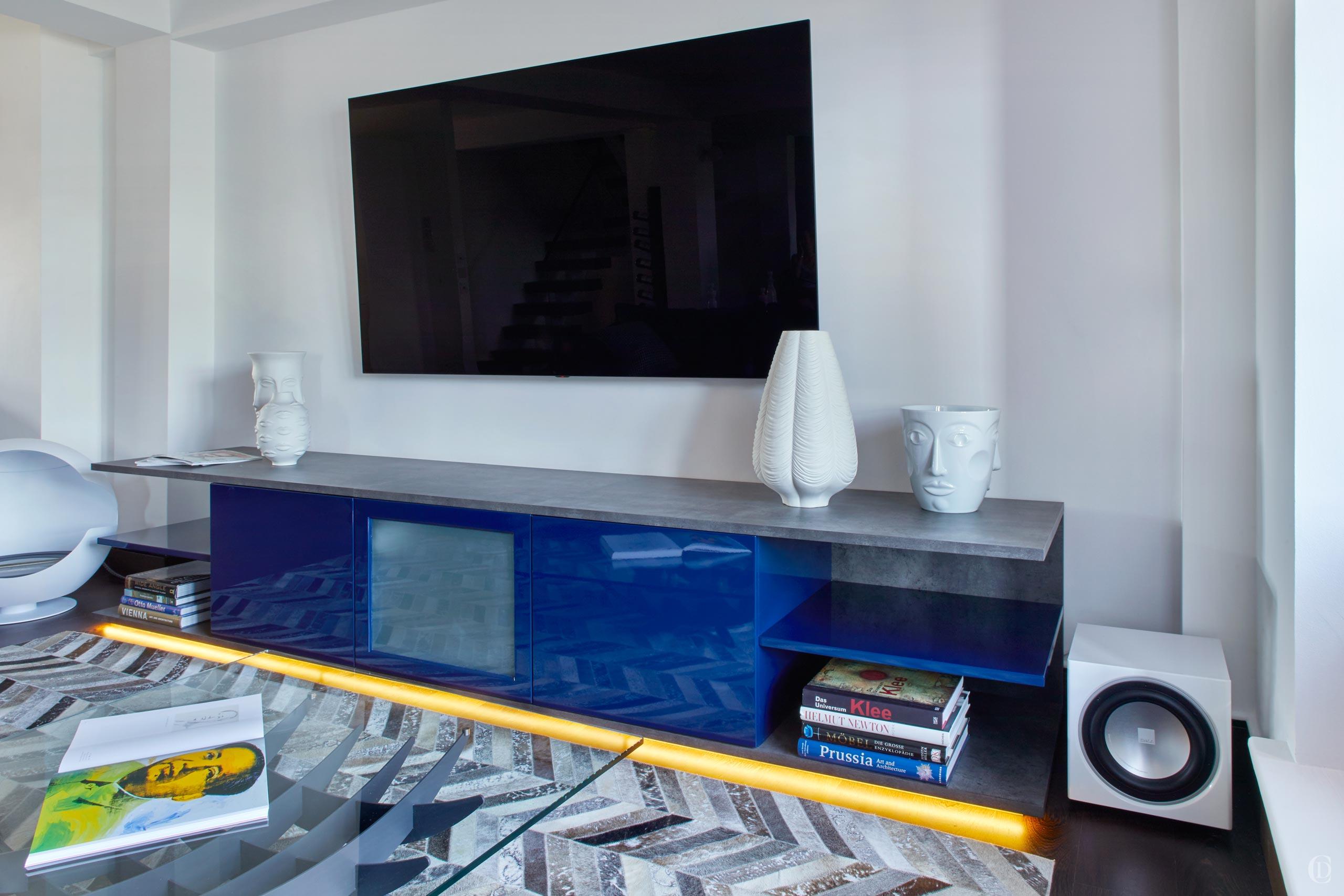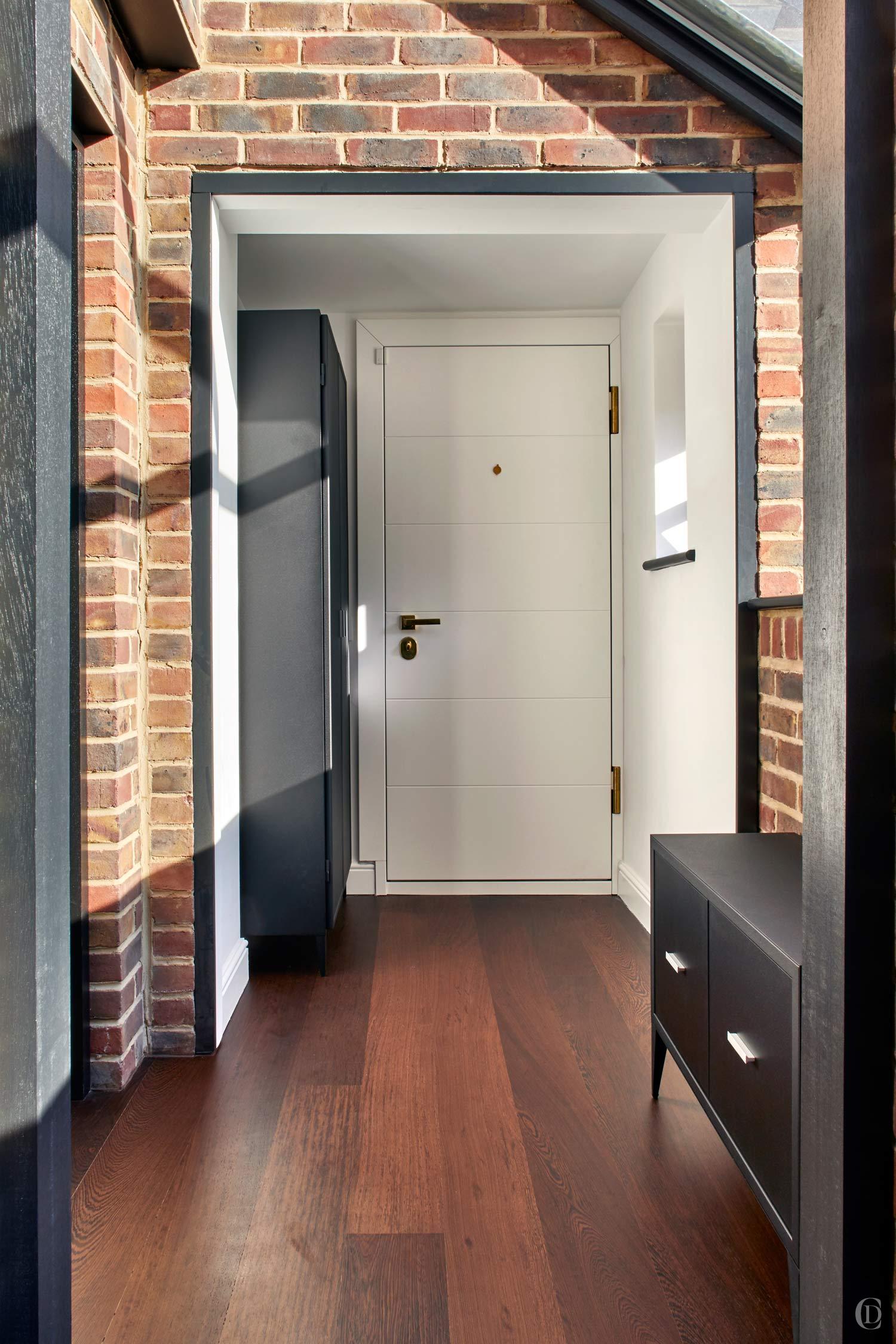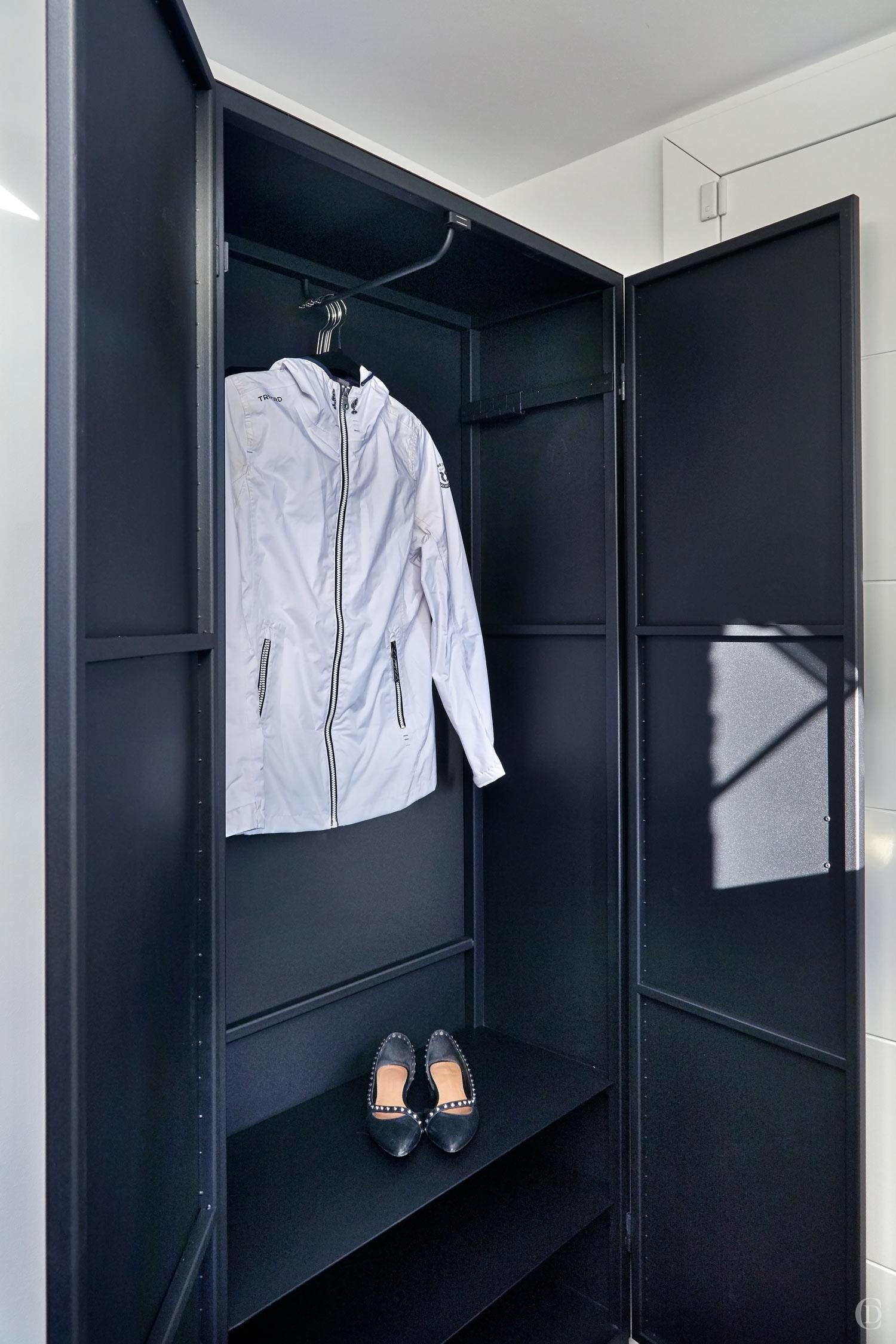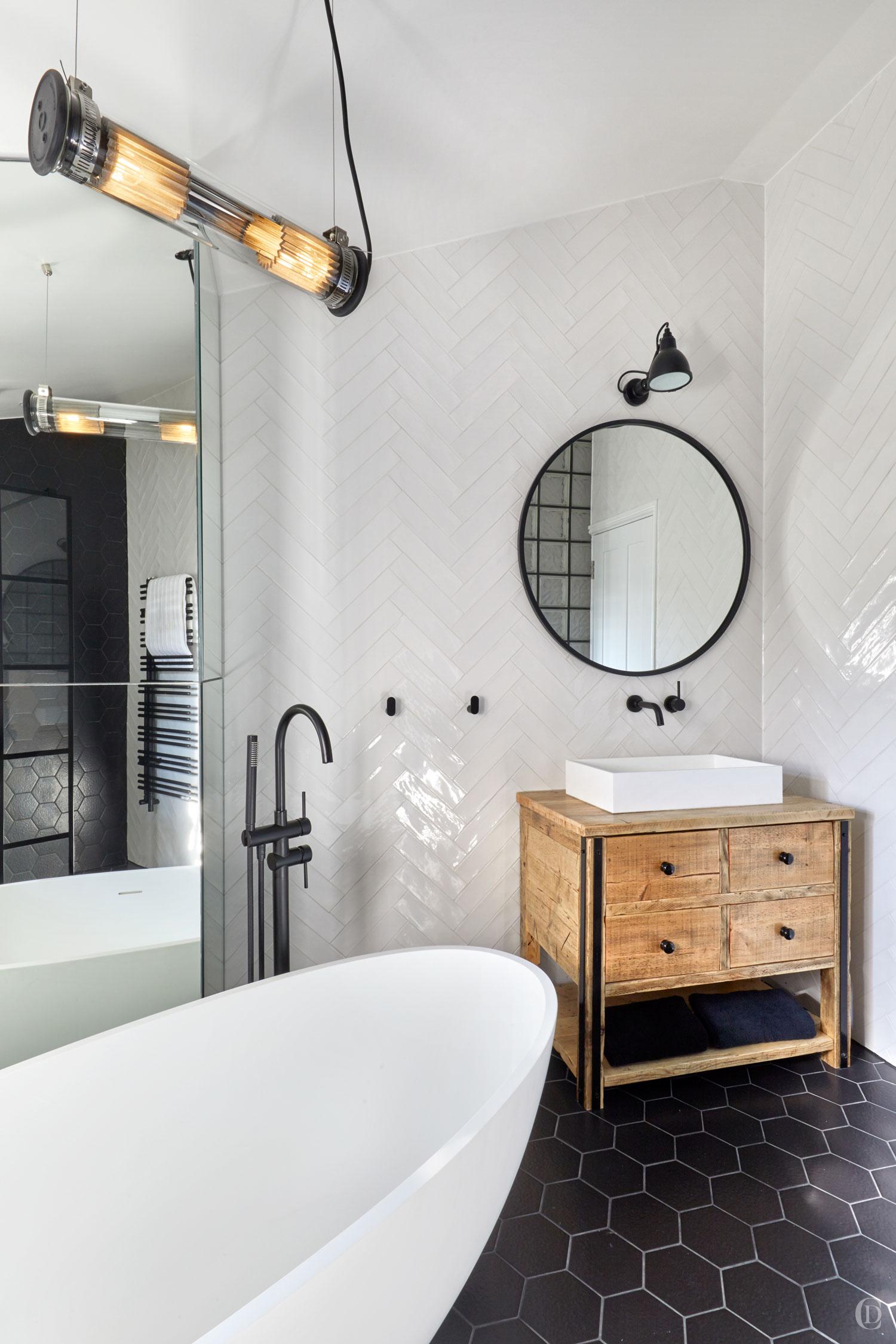 Bringing order into chaos
The clients loved our design for this dual purpose, hard-working, smart looking space which we fashioned out of a messy store room. Every inch in this little jewel has been meticulously planned to be practical and aesthetically beautiful.
We commissioned the flower press sculpture which is backlit with LED lighting.
The ceiling is painted in red gloss to match the red mosaic floor tiles. Walls and joinery are painted in black gloss paint.
We installed an entire wall of mirror with a cantilevered live edge vanity shelf and a wall mounted tap.
The opposite wall hides the laundry machines behind a sliding barn door made from reclaimed pinewood.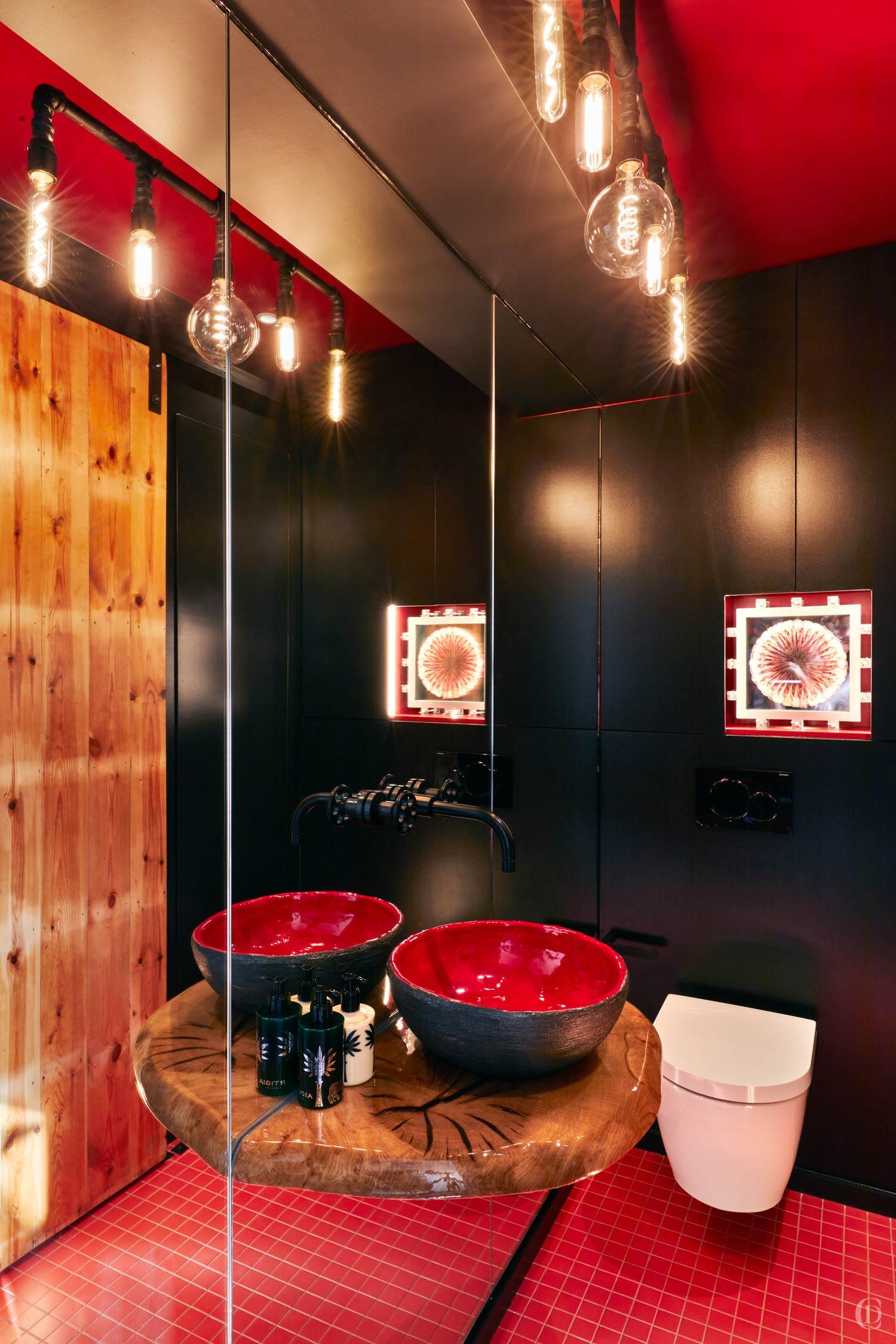 The upper floor was entirely transformed
We created a master bathroom out of two tiny rooms. We employed various techniques to increase the sense of space. Using glass blocs for a corner wall brings light through the stairs and adds a NY loft feel to the design. Black and white tiles in different shapes add a subtle luxury to a very restrained space. The black end wall in the shower adds depth to the room while the mirror clad corner storage unit also hides the boiler.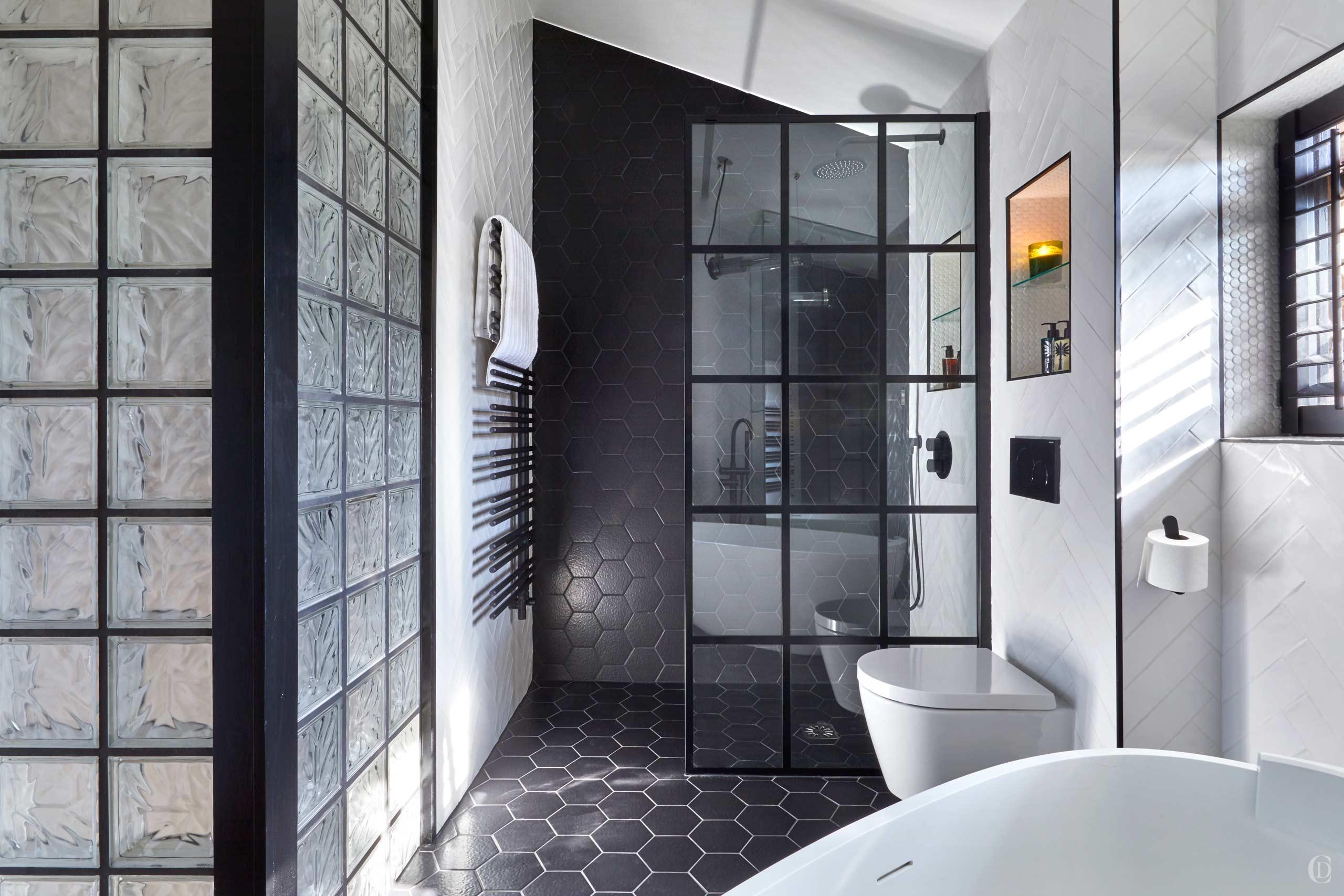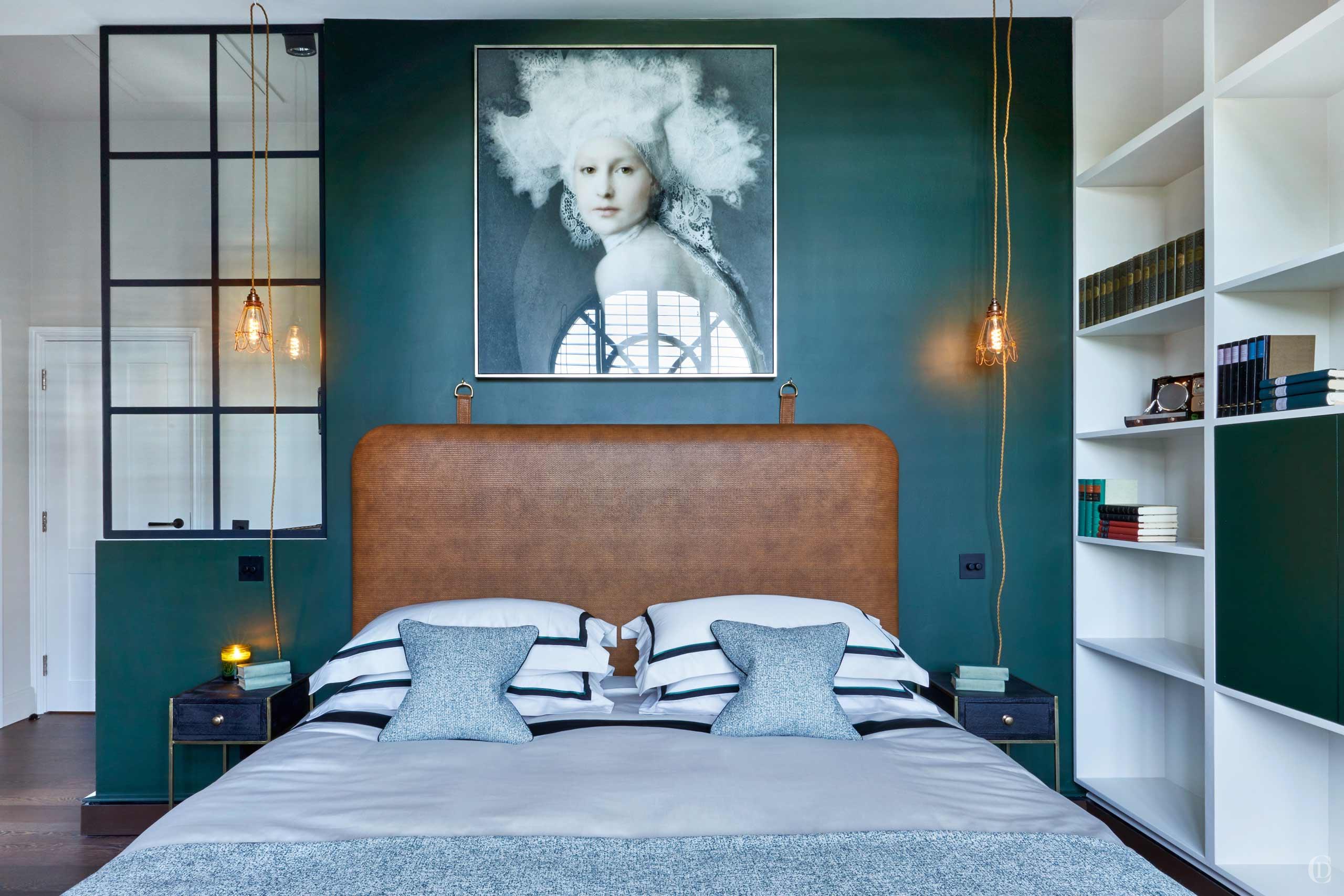 The master bedroom with its arched window and balcony enjoys the best canal views. Our client wanted to wake up with the sun on his face and the view of water. This informed the room layout. American shutters filter the light and a chaise longue in the window invites to enjoy the panorama. Built-in shelving keeps the room uncluttered. Dark colours and leather, metal and wood were chosen to balance with the softness of the artwork. We designed a Crittal style room divider which creates a sense of an entrance dressing space. Our artisans made the leather headboard and a solid walnut bedframe to our bespoke design. We used the full height to the attic to build a large walk in wardrobe with ladder system.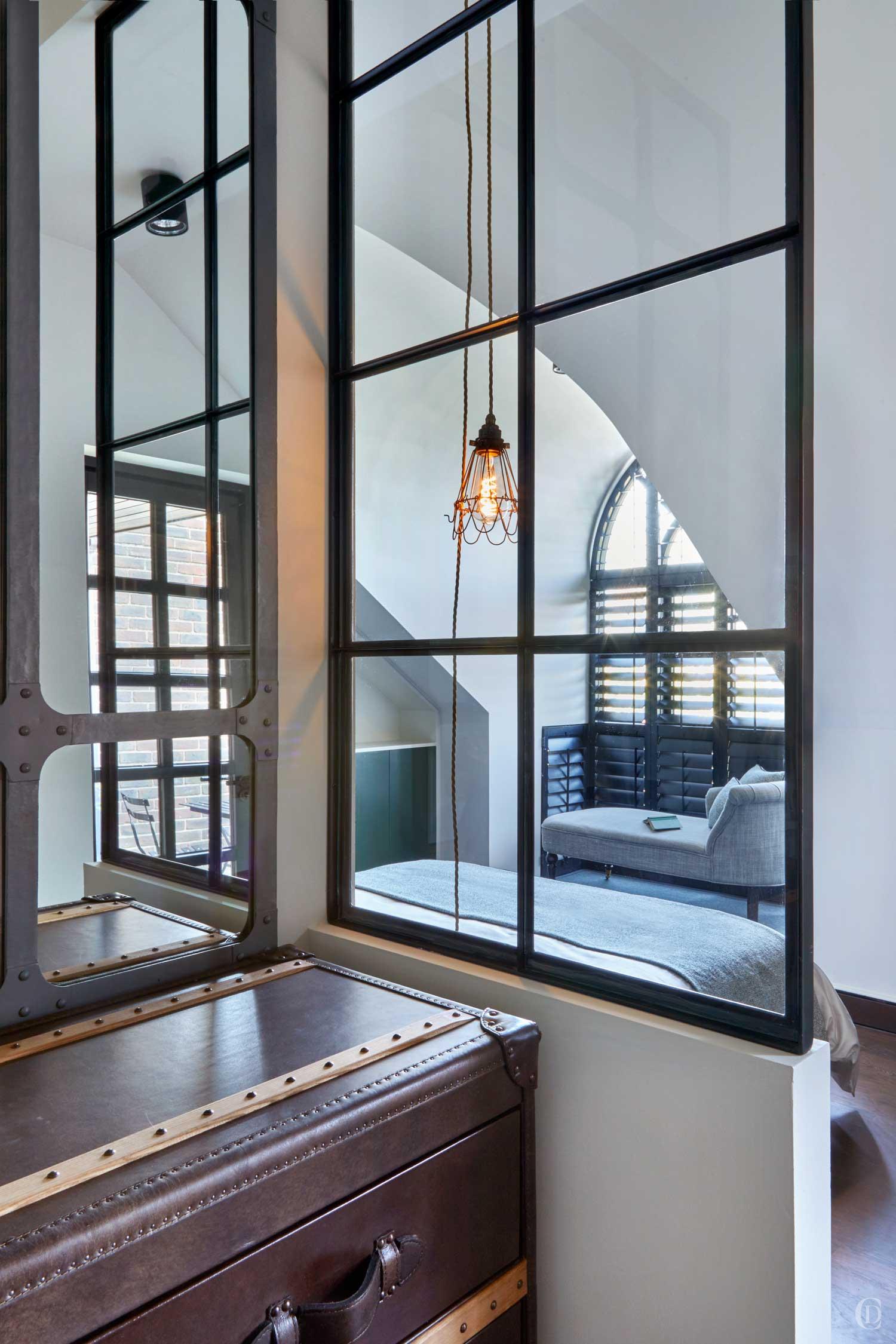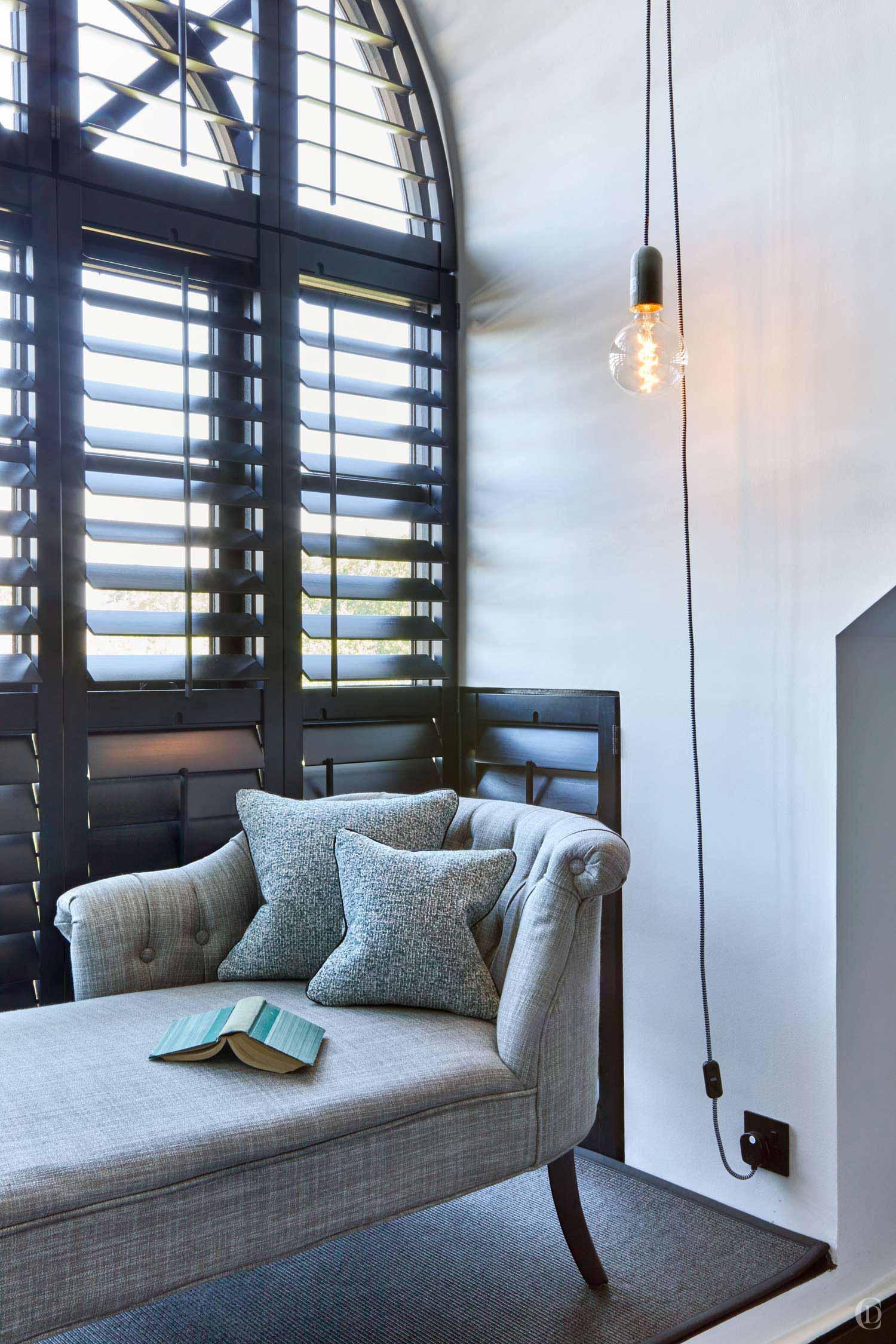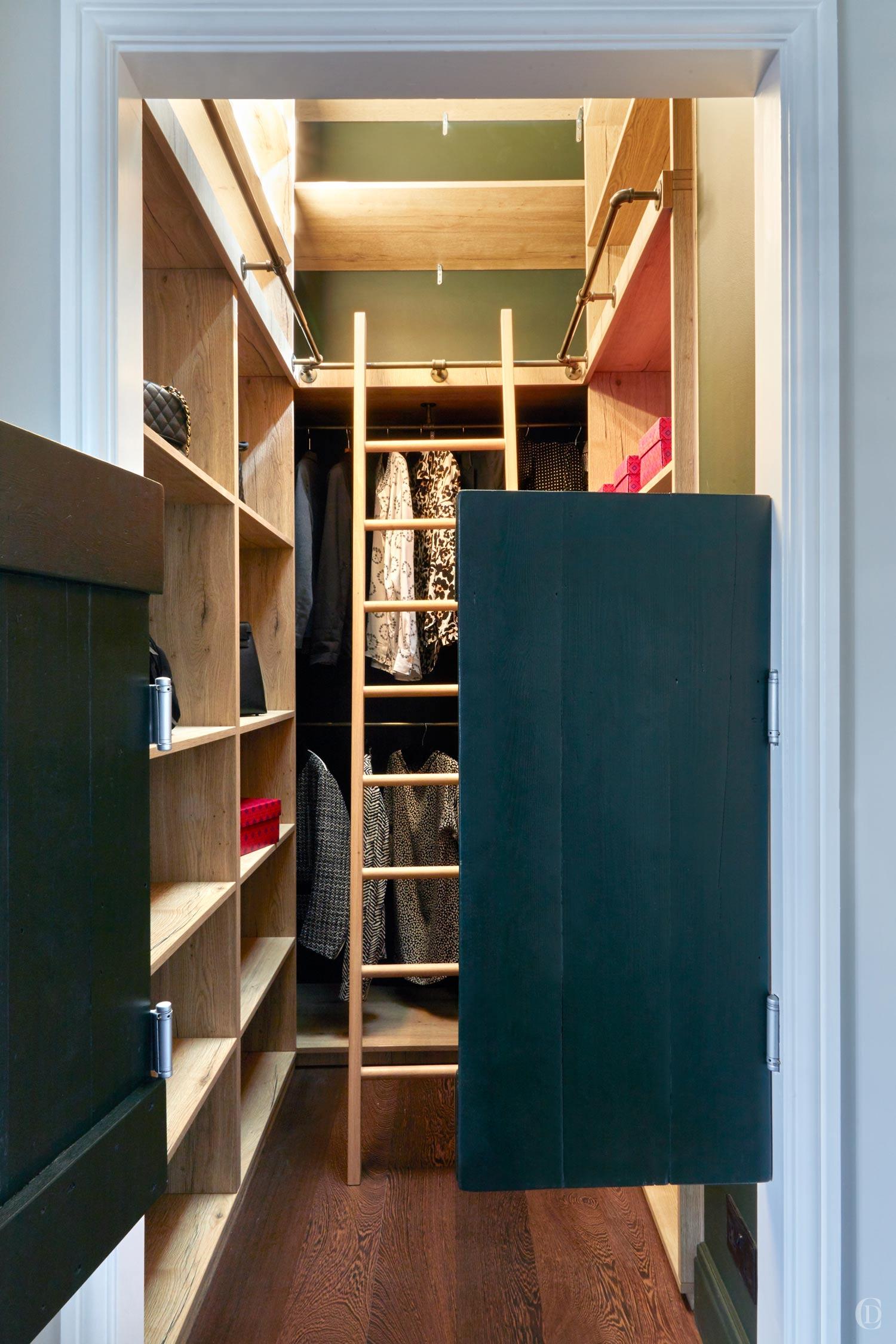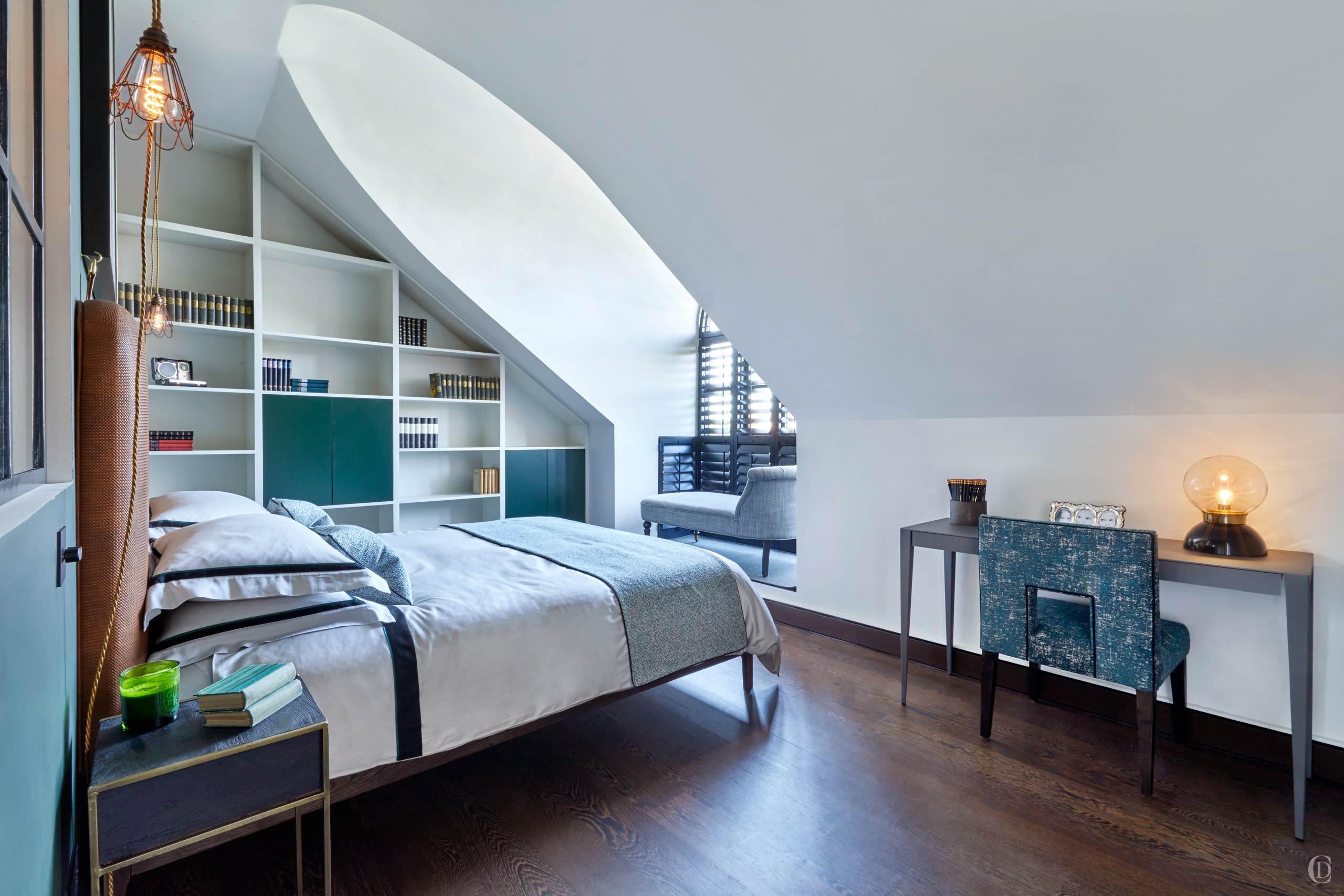 Commissioning personalised artworks
The man cave was the ultimate luxury for our client. He was closely involved in the spatial planning and choice of materials, colours and furniture such as the linen wallpaper, leather sofa and armchair, partner desk and bookcases. The piece de force of this room is a commissioned collage which the client designed in collaboration with one of the contemporary artists we introduced him to.