Proud to serve our clients with a trained and experienced team of designers.
Gabby is a brilliant designer with a flair for colours and mixing styles. She confidently steers complex processes, and loves working closely with clients , who trust her advice and appreciate her thoughtful and thorough approach through all the stages of their project. She attended Art school for 8 years, graduated with an Interior Architecture degree from Oxford Brookes university and then gained a diploma in Graphics design. She tried her hand at set design for theatre and film and then moved onto designing hotels, developments, showrooms, and styling for design shows throughout the UK. With this wide range of valuable experience in several sectors under her belt, Gabby is now dedicated to creating schemes of interior architecture, interior design and styling for high end private residential projects. Gabby manages the process from concept to completion and collaborates with the entire team.  Away from the office, Gabby enjoys painting, cooking, and visiting design shows.
TECHINICAL DESIGNER AND PROJECT MANAGER
Maxime studied carpentry for five years where he developed technical expertise in the realization of fitted and bespoke furniture. This background has afforded him a brilliant foundation for working in interior design. He continued his education with a degree in interior design at the prestigious High School of Design in Geneva, from which he entered the world of high-end luxury brands at a renowned French interiors boutique. Over a number of years, he honed his skills of producing detailed interior schemes in CAD and later as a project manager, as well as renovating properties himself. Moving to London, Maxime worked as a freelancer before joining Claudia Dorsch Interior Design Studio London in 2021 as technical designer. Maxime brings crucial ideas based on his understanding of furniture construction, his spatial design skills and vast knowledge of the industry, to all our interior concepts.Today Maxime is based in France again from where he leads the technical design and site coordination for multiple projects including chalets , beach villas and city projects.
Miguel is a trained and experienced architect with a masters degree from the Faculty of Architecture of the University of Porto. He joined our team to support us with the technical design skills for a growing number of increasingly complex renovation and new build projects. Miguel honed his skills at architecture practises in Portugal and the UK. His successful background in the development of architectural projects for residential, commercial, and institutional buildings are an asset to the studio. He is responsible for the production of conceptual designs which are presented to clients. These are then developed into 3D renders in collaboration with the design team to bring the visions to life and help clients walk through the spaces we design.  Miguel contributes the technical drawings and construction documentation required for project realisations. 
Tina has multiple degrees and boundless positive energy which equip her to keep our busy diaries, vast library of samples and complex project logistics in check. In China she graduated with a BA Business English degree and worked in the Export sector as a translator for foreign businesses operating in China in Floristry, Fashion and Interior Design. Before Tina joined Claudia Dorsch Interior Design Studio London, she graduated from KLC with BA (Hons) Interior Design and then added a Master's degree in Management at the University of Westminster in 2021. Tina ensures that our book of contacts is kept fresh and grows, she books multiple visits each week with suppliers and Tina carries out research into new products and manages our social media.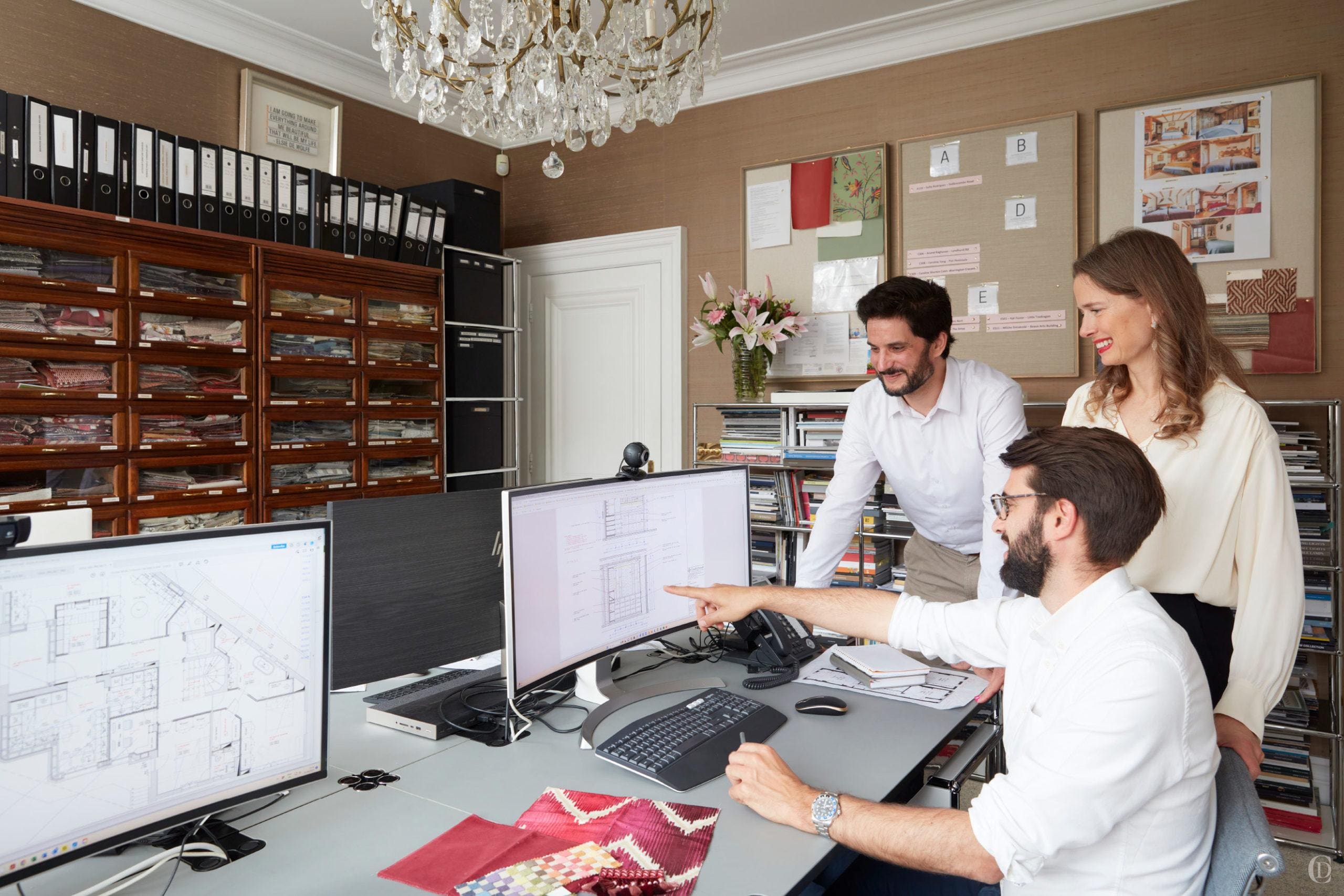 We work collaboratively as a team to bring technical, creative and organisational skills to each project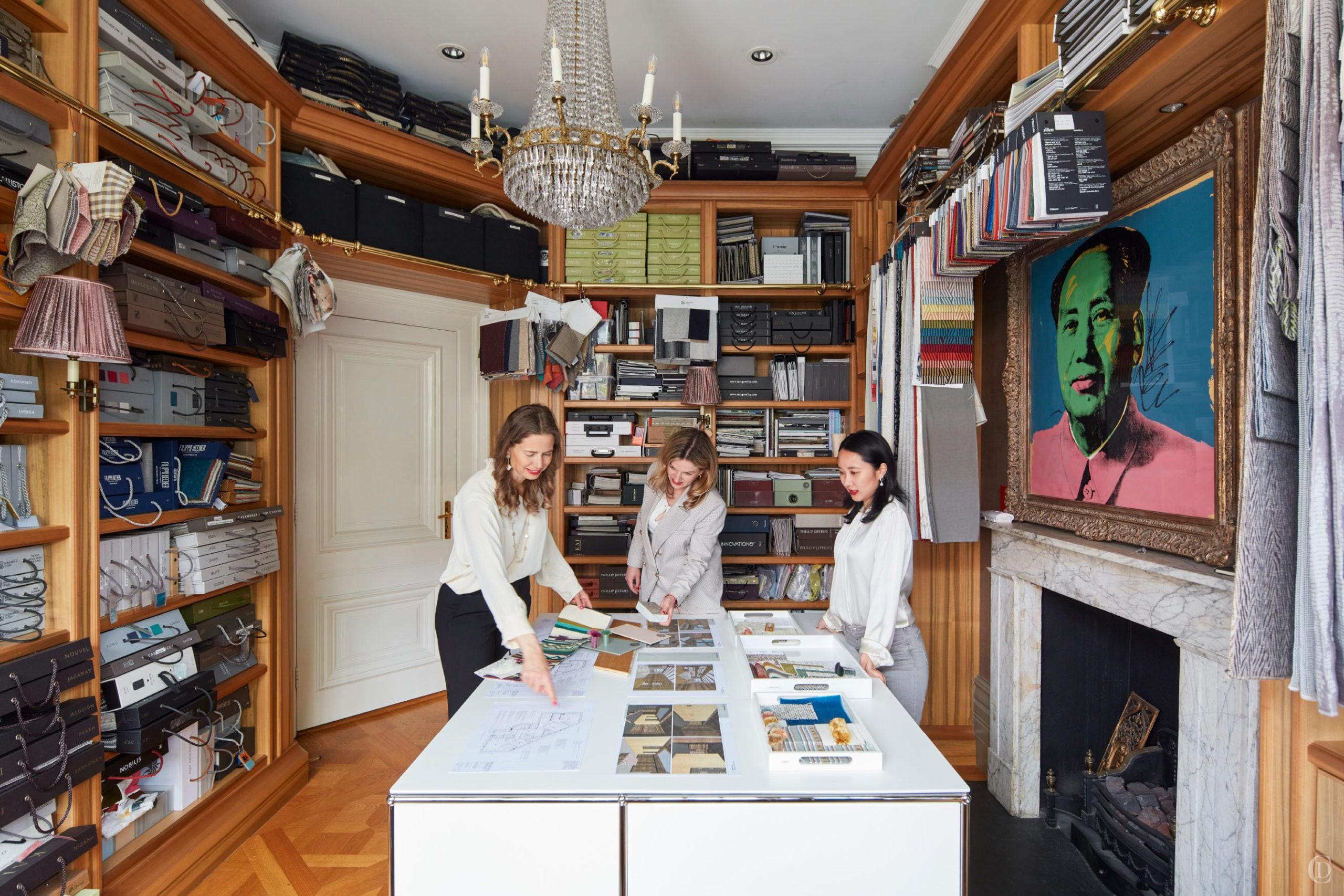 We use our vast library of resources and contacts to tailor each scheme for the clients' lifestyle and taste.